'Ahmad A-Shahat says he 'insisted on climbing on the roof and take down the flag of the Zionist entity because that was one of the goals of the revolution – to depose Mubarak and all his friends, among them the Zionist entity'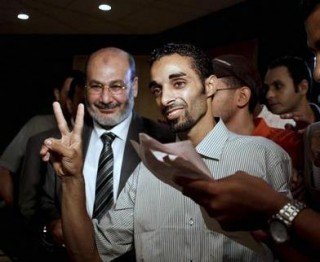 "When I went up the steps of the embassy, I thought of the blood of the Egyptian victims," that was how Ahmad A-Shahat described his "act of heroism," which won the support of the masses in Egypt – taking down the Israeli flag from  the building (approx. 20 floors) that contains the israeli embassy in Cairo
The unknown Egyptian managed to climb on the embassy's roof on Saturday, switch the Israeli flag with the Egyptian one to the cheers of thousands, and then burn the Israeli flag.
A-Shahat's star was quick to rise: "I insisted on climbing on the roof and take down the flag of the Zionist entity because that was one of the goals of the revolution – to depose Mubarak and all his friends, among them the Zionist entity," he told Al-Jazeera.
"If we want to take down Mubarak, we must take down all his allies and especially the Zionists in Egypt. They had many investments during Mubarak's era. We must expel them and their investments if we want to eradicate Mubarak's regime," A-Shahat said after coming down from the roof.
A-Shahat said he had succeeded in climbing on the roof by taking advantage of a swap between the security patrols. As expected, he also became a hit on Facebook and several glorifying fan pages have already been established in his honor.
The young Egyptian also linked his actions to events on the border on Thursday, when six Egyptian soldiers were killed, saying that it was "the simple reaction to what Israel did to Egyptian soldiers in Sinai." He expressed hope that his actions would be repeated by "a billion Arabs."
The incident on the border stirred a diplomatic crisis between Tel Aviv and Cairo. Egypt's cabinet said on Sunday that an Israeli statement expressing regret for the border deaths was not enough, but it stopped short of saying if it would recall its Tel Aviv envoy.
Special thanks to The Ugly Truth website
[youtube 7KICt8wT_Dc]
The song lyrics go as follows:
Listen Israel
I'm not a government …I'm not a regime
Not glib-tongued … reiterating sweet talk
I'm neither a president … nor a king, surrounded by saluting police officers.
Listen Israel
I'm a word …an ancient word … as ancient as the life of humankind
You there Israel,
My own son had been killed when the meaning of peace died
… My son thrown away under the debris
Hit by a treacherous arrow.
You there Israel
I will never say his blood has been sacrificed in vain
Rather, I'm saying he is very much alive
Standing tall and keeping his ground …
In Bethlehem, in Khalil (now Hebron) and in Lebanon
He is standing there … you can hear him saying …
Impossible
That we will ever relinquish
Our green fields, our blue sea and our sand
Do you know who am I?
I'm the word of all times
The grandest of all is my name
.. Egypt is my name.
***
As for what the people were chanting at the end of the video ?
They were reiterating the slogan that has been most popular after the Egyptian uprising that was actually born in Tahrir Square. They were chanting:
"Hold your head up high, for you are an Egyptian."
ATTENTION READERS
Due to the nature of independent content, VT cannot guarantee content validity.
We ask you to
Read Our Content Policy
so a clear comprehension of VT's independent non-censored media is understood and given its proper place in the world of news, opinion and media.
All content is owned by author exclusively. Expressed opinions are NOT necessarily the views of VT, other authors, affiliates, advertisers, sponsors, partners or technicians. Some content may be satirical in nature. All images within are full responsibility of author and NOT VT.
About VT
-
Read Full Policy Notice
-
Comment Policy