"Across the political spectrum, throughout the media, in private and public life, the…ritual declarations are second nature now: "warriors," "heroes," "mission"; "our young men and women in uniform," "our brave young men and women," "our finest young people." So common has this kind of language become, we scarcely notice it anymore." Essayist and Critic William Deresiewicz
The above quote is from an opinion piece –  An Empty Regard – that William Deresiewicz had published in the New York Times Sunday Review on 21 Aug 2011 with the theme being America's Sentimental Regard for the Military – An Empty Regard.
I wish to focus on parts of his piece that reinforce or complement my last VT post Devaluing Heroism – Do All of US Need to Be a Hero? (3 August 2011). I picked the title – The Cult of the Uniform, because it is a concept and phrase coined by William Deresiewicz that makes sense to me. He's telling it like it is.
ROBERT L. HANAFIN, Veterans Issues Editor, VT News
America's Sentimental Regard for the Military is an Empty Regard.
William Deresiewicz notes at the lead off to his opinion piece, something I and many Veterans can relate to when he says that:
"NO symbol is more sacred in American life right now than the military uniform. The cross is divisive; the flag has been put to partisan struggle. But the uniform commands nearly automatic and universal reverence. In Congress as on television, generals are treated with awed respect, service members spoken of as if they were saints. Liberals are especially careful to make the right noises: [respect for] the uniform having become the [definition] of patriotism, as anti-Communism used to be. Across the political spectrum, throughout the media, in private and public life, the pieties and ritual declarations are second nature now: "warriors," "heroes," "mission"; "our young men and women in uniform," "our brave young men and women," "our finest young people." So common has this kind of language become, we scarcely notice it anymore."
There is no question that our troops are courageous and selfless.
Deresiewicz notes that our troops "expose themselves to inconceivable dangers under conditions of enormous hardship and fight because they want to keep the country safe. We owe them respect and gratitude — even if we think the wars they're asked to fight are often wrong."
However, he also notes that the images we hold of our troops and what they do in our public psyche. But , discourse [lip service], and policy are not the same. Most any Veterans Service Organization, even the Old Guard VSOs, may agree that there are disconnects between how our active duty, Guard, and Reserve troops are presented and promoted as an image and how they are treated, especially when they become Veterans.
Deresiewicz says that "Pieties are ways to settle arguments before they begin." I see these pieties as insincere attitudes, conventional or hypocritical statements or observance of beliefs. I agree with William that "we need to question them, to see what they're hiding."
The new Cult of the Uniform
I believe that Deresiewicz coined the phrase – new cult of the uniform – accurately noting that it  began with the piety and call to "support our troops" during the Iraq war. The [political] slogan played on a collective desire to avoid repeating the mistake of the Vietnam War, when hatred of the conflict spilled over into hostility toward the people who were fighting it.
Supporting the Troops Now Meant You Had to Support the War(s).
William tells us that now the logic's inverted: "supporting the troops, we were given to understand, meant that you had to support the war. In fact, that's all it seemed to mean. The ploy was a bait and switch, an act of emotional blackmail. If you opposed the war or questioned the way it was conducted, you undermined our troops."
As the wars in Iraq and Afghanistan have dragged on, other purposes have come into play.
Patronizing Our Troops and Military Families
Deresiewicz doesn't use the word 'patronizing," but I believe that is what he means when he tells us: "The greater the sacrifice that has fallen on one small group of people, the members of the military and their families, the more we have gone from supporting our troops to putting them on a pedestal."
One critic of my views on how we tend to patronize and exploit our troops and military families chastised me for tending to separate our troops and military families from the rest of America, because they were us. I strongly disagree with that notion, because our troops do not reflect our society. They only represent a fraction of the American people and DO NOT represent the social class fabric of our nation which of course is the AWOL  elite upper class .
Lip Service – It's a lot easier to idealize the people who are fighting than it is to send your [own] kid to join them.
Noting that in WW2, when most everybody fought. I concur with Deresiewicz notion that "Soldiers were not remote figures to most of us; they were us." In response to critics who say I'm wrong to separate our troops and military families from the rest of American society I hold William's view that: "Now, instead of sharing the burden, we sentimentalize it. It's a lot easier to idealize the people who are fighting than it is to send your [own] kid to join them. This is also a form of service, I suppose: lip service.
A Wounded Empire's Need to Reassert Its Masculinity in the Wake of 9/11.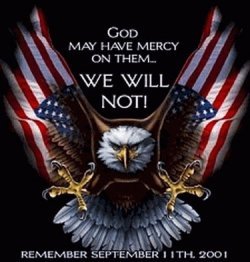 The cult of the uniform also symbolizes a wounded empire's need to reassert its masculinity in the wake of 9/11. "Dead or alive," "bring it on," "either you're with us or you're against us," "God May Have Mercy On Them WE WILL NOT": the tenor of official rhetoric in the ensuing years embodied a kind of desperate machismo. The war in Iraq, that catharsis of violence, expressed the same emotional dynamic. We'd been hit in the head with a rock; like a neighborhood bully, we grabbed the first person we could get our hands on and beat him senseless. Mission accomplished: we were strong again, or so we imagined, and the uniform — as George W. Bush understood when he swaggered across the deck of the Abraham Lincoln in a flight suit — was the symbol of that strength. The soldier is the way we want to see ourselves: stoic, powerful, focused, devoted.
Growing Opposition to the Wars Failed to Tarnish the Military's Reputation
This [need to reassert America's masculinity] helps explain why the souring of the wars failed to tarnish the military's reputation. There seems little doubt that our armed forces today are more professional, and at the small-unit level, at least, more effective, than they were in Vietnam. Regardless the difference in military readiness levels then and now, Deresiewicz notes quite accurately that: "Iraq still descended into stalemate, and Afghanistan gives little hope, 10 years on, of ever being anything else."
Real Questions We Have Not Been Willing to Ask Ourselves
These are the questions raised by William Deresiewicz. "Does the fault lie with our civilian leadership alone, or with our client states? Do "our brave young men and women fulfill every mission we ask them to," as the catechism goes? These are not rhetorical questions; these are the real questions that we haven't been willing to ask ourselves. At the very least, our generals ought surely to come in for some criticism — as they did, when it was appropriate, in other wars. And yet the cult of the uniform has immunized them from blame, and inoculates the rest of us from thought."
There are other questions.
Has the military really ceased to be the big, bumbling bureaucracy it was always taken to be? And if it is supremely efficient now, is that because there's something uniquely effective about its command structure and values — a frequent implication these days — or rather because we've given it a blank check? Is America the world's cop, as we like to say, or is our military something more like an imperial police force? (When it comes to places like Darfur or Ivory Coast, which are not felt to threaten national security interests, we leave the dirty work to someone else.)
It seems extremely unlikely anything like My Lai has taken place in Iraq or Afghanistan, but there have been some terrible crimes: the abuses at Abu Ghraib; the premeditated gang rape of a 14-year-old girl in Mahmudiya, Iraq, and the murder of her family; the executions of Afghan civilians by the self-described "kill team" from the 5th Stryker Brigade. Only the first has been widely discussed, likely because there were pictures. How many more of these have there been? Maybe none, maybe a significant number: until we ask — until we want to ask — we'll never know.
The Uniform Performs Another Psychic Function.
As the national narrative shifts from the war on terror to the specter of decline, the uniform performs another psychic function. The military is can-do, the one institution — certainly the one public institution — that still appears to work. The schools, the highways, the post office; Amtrak, FEMA, NASA and the T.S.A. — not to mention the banks, the newspapers, the health care system, and above all, Congress: nothing seems to function anymore, except the armed forces. They're like our national football team — and undisputed champs, to boot — the one remaining sign of American greatness.
"Heroes" is the Term Most Employed to Celebrate the Cult of the Uniform
The term most characteristically employed, when the cult of the uniform is celebrated, is "heroes." Perhaps no word in public life of late has been more thoroughly debased by overuse. Soldiers are "heroes"; firefighters are "heroes"; police officers are "heroes" — all of them, not the special few who undoubtedly deserve the term. So unthinking has the platitude become that someone referred to national park rangers on public radio recently as "heroes" — reflexively, in passing — presumably since they wear uniforms, as well. Stephen Colbert picked up on this phenomenon long ago, which is why he slyly refers to his viewers — and now, to the donors to his Super PAC — by the same term.
Patronizing Slogans like "Heroes," AND  "Support Our Troops," was USED early in Iraq.
Within a couple of weeks, Americans were treated to the manufactured heroism of Jessica D. Lynch, the young supply clerk who was rescued from an Iraqi hospital a few days after her capture by enemy forces (both events turning out to be far less cinematic than initially put out) and who finally felt compelled to speak out against her own [exploitation] as an instrument of propaganda. In the case of Pat Tillman, the former professional football player who died the following year in Afghanistan by friendly fire, not in an ambush as originally claimed, it was left to his family to expose the lies with which the Army surrounded him.
The irony is that our soldiers are the last people who are likely to call themselves heroes and are apparently very uncomfortable with this kind of talk. The military understands itself as a group endeavor – TEAM WORK.
Service Members Feel Uneasy When Strangers Thank Them for Their Service
Elizabeth D. Samet, a West Point professor, recently noted in her article On War, Guilt and 'Thank You for Your Service' that service members feel uneasy when strangers approach them to — as the well-meaning but oddly impersonal ritual goes — thank them for their service, thereby turning them into paradoxically anonymous celebrities.
It was wrong to demonize our service members in Vietnam; to canonize them now is wrong as well. Both distortions make us forget that…they are human beings.
What is heroism? Heroism Belongs to the Realm of Fantasy
What kind of psychological purpose does the concept of heroism serve? Heroism is bravery and selflessness, but more than that, it is triumphant action, and in particular, morally unambiguous action. In most of life — and certainly in public life — there is scarcely such a thing on either count.
     Politics is a muddle of moral and practical compromise. Victories are almost always partial, ambiguous and subject to reversal. Heroism belongs to the realm of fantasy — the comic book, the action movie — or to delimited and often artificial spheres of action, like space exploration or sports.
The Marine who saves his buddies in a firefight, the cop who rescues a child from a well — the challenges they face are clear and simple and isolated from the human mess. Capt. Chesley B. Sullenberger III, the pilot who successfully landed an airliner in the Hudson River, was, everyone agreed, a hero. But note how frequently the element of salvation or rescue comes up when we talk about heroism. It was a beautiful coincidence that Captain Sullenberger's moment came just five days before the last presidential inauguration, for heroism and rescue were the subtext of Barack Obama's campaign, especially for his legions of young believers. He was the one we'd been waiting for; you could almost imagine the "S" on his chest, underneath the suit. (Once in office, of course, he descended into the muddle, and showed himself a mortal after all.) Heroes are daddies: larger-than-life figures, unimpeachably powerful and good, who save us from evil and hurt.
Do we really "need heroes"?
"America needs heroes," it is sometimes said, a phrase that's often uttered in a wistful tone…, as if we were talking about a lonely child. But do we really "need heroes"? We need leaders, who marshal us to the muddle. We need role models, who show us how to deal with it. But what we really need are citizens, who refuse to infantilize themselves with talk of heroes and put their shoulders to the public wheel instead. The political scientist Jonathan Weiler sees the cult of the uniform as a kind of citizenship-by-proxy. Soldiers and cops and firefighters, he argues, embody a notion of public service to which the rest of us are now no more than spectators. What we really need, in other words, is a swift kick in the pants.
SOURCE:
William Deresiewicz is an essayist and critic, and the author of "Solitude and Leadership," an address delivered at West Point in 2009 and widely taught in the armed forces.
Readers are more than welcome to use the articles I've posted on Veterans Today, I've had to take a break from VT as Veterans Issues and Peace Activism Editor and staff writer due to personal medical reasons in our military family that take away too much time needed to properly express future stories or respond to readers in a timely manner.
My association with VT since its founding in 2004 has been a very rewarding experience for me.
Retired from both the Air Force and Civil Service. Went in the regular Army at 17 during Vietnam (1968), stayed in the Army Reserve to complete my eight year commitment in 1976. Served in Air Defense Artillery, and a Mechanized Infantry Division (4MID) at Fort Carson, Co. Used the GI Bill to go to college, worked full time at the VA, and non-scholarship Air Force 2-Year ROTC program for prior service military. Commissioned in the Air Force in 1977. Served as a Military Intelligence Officer from 1977 to 1994. Upon retirement I entered retail drugstore management training with Safeway Drugs Stores in California. Retail Sales Management was not my cup of tea, so I applied my former U.S. Civil Service status with the VA to get my foot in the door at the Justice Department, and later Department of the Navy retiring with disability from the Civil Service in 2000.
I've been with Veterans Today since the site originated. I'm now on the Editorial Board. I was also on the Editorial Board of Our Troops News Ladder another progressive leaning Veterans and Military Family news clearing house.
I remain married for over 45 years. I am both a Vietnam Era and Gulf War Veteran. I served on Okinawa and Fort Carson, Colorado during Vietnam and in the Office of the Air Force Inspector General at Norton AFB, CA during Desert Storm. I retired from the Air Force in 1994 having worked on the Air Staff and Defense Intelligence Agency at the Pentagon.
ATTENTION READERS
We See The World From All Sides and Want YOU To Be Fully Informed
In fact, intentional disinformation is a disgraceful scourge in media today. So to assuage any possible errant incorrect information posted herein, we strongly encourage you to seek corroboration from other non-VT sources before forming an educated opinion.
About VT
-
Policies & Disclosures
-
Comment Policy
Due to the nature of uncensored content posted by VT's fully independent international writers, VT cannot guarantee absolute validity. All content is owned by the author exclusively. Expressed opinions are NOT necessarily the views of VT, other authors, affiliates, advertisers, sponsors, partners, or technicians. Some content may be satirical in nature. All images are the full responsibility of the article author and NOT VT.