The National Archives is the keeper of the Declaration of Independence, the Constitution, and the Bill of Rights, but most Americans do not know much else about this important government agency which is entrusted with the safe-keeping of public the records of ordinary citizens—for example, military records of the brave men and women who have fought for our country, naturalization records of the immigrants whose dreams have shaped our nation, and even is even houses the canceled check from the purchase of Alaska.
"In a democracy, records belong to the people, and for more than seven decades, NARA has preserved and provided access to the records of the United States of America. Records help us claim our rights and entitlements, hold our elected officials accountable for their actions, and document our history as a nation. In short, NARA ensures continuing access to the essential documentation of the rights of American citizens and the actions of their Government."
I, like many fellow veterans, received an email regarding the recent relocation of the NARA – National Archives and Records Administration's National Personnel Record's Center (NPRC) to St. Louis, Missouri.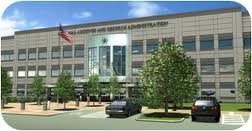 The new center employs 800 who will manage nearly 2.3 million cubic feet of records that were moved from three different St. Louis area locations. The state-of-art building was built to rigid specifications to insure long-term survival of the nation's most important records of the millions of men and women who have served in the armed forces. The storage areas will have particulate and ultraviolet filtration, which can age documents beyond recognition. Additionally, much detail to preserve records has been employed right down to the paint, sealants, caulking and the powder-coated finishes for the shelving which have been certified for minimal off-gassing of volatile organic compounds. The facility will also offer new, high-tech research and meeting rooms equipped with the latest video-conferencing technology along with leased office space for other area Federal agencies. The investment of $112 million in the facility should pay big dividend in record-keeping longevity.
In the forwarded letter I received, written by Dan Sickman Sr., a non-attorney veteran advocate, we were asked to, "pass this information on to the members of all organization that interface with veterans, and include this information, along with the preferred channel for submitting requests for information, in an upcoming issue, as well as posting reminder information on websites frequented by veterans and their families". I will insure I post this information on all 22 of the websites in which I am involve.
Many Americans are familiar with the National Archives Record Administration, but most Americans don't, and I imagine, believe all sacred and historical national documents are kept by the Magic Record Genie somewhere out there in Never-Neverland, along with the Michael Jackson carnival and zoo for Children.
I believe it is important for every American and especially those wanting to become US citizens to understand the reason and significance of why maintaining a complete chronological record of all important documents since the founding of the country, including this complete archive of personnel records, is so essential for the survival of the United States and to those who will be here long after we have departed. If we forget what sets America apart from other countries, and many of us truly believe that process has already begun, we are destined for the scrapheap of history.
Mr. Sickman's correspondence suggested that ALL retirees and Honorably Discharged veterans should ensure that their families know the location of their military Separation Document (DD Form 214 from 1950 to present and War Department Form 53-55 and other variations prior to 1950), but recommends against registering a copy at the county court house, which may be a custom in some parts of the country to insure safe-keeping, may make that document a public record.
Separation documents issued after 1969 often contains a Social Security Number which could be used for identity theft.
Storing the Separation Document in a safe deposit box may make it difficult to retrieve immediately upon the death of the retiree or honorably discharged veteran, because that, in most cases, would require a court order, and suggests other ideas…
1-Fire safe in a secure location of the house (not in the bedroom, as this is where most thieves search first). Be sure spouse/next-of-kin knows the location and has key/combination.

2-In a water-tight food container (Glad, Tupperware. etc.) in the refrigerator. Most refrigerators are fire resistant. Additionally, a refrigerator is heavy enough to fall through the floor of a building into the cooler part of the fire in the basement and better survive. Finally, a refrigerator is large enough to be easily located in the ash and ruble of a fire or other serious incident. Perhaps this is the reason my mother always stored her money in the refrigerator when she didn't have time to go to the bank.
The important thing to remember is that the spouse and relatives should be able to locate your separation document, as well as other important papers, in the case of death.
As to submitting a request to the National Personnel Records Center (NPRC), the fastest and preferred method is via the Internet, but cautions that in some cases using a browser other than Internet Explorer may create problems with data entry. The NPRC provides copies of documents from military personnel records to authorized requesters, and the web-based application will provide better service on requests by eliminating the mail-room processing time. Also, since the requester will be prompted to supply all information essential in order to process a request, delays can occur when the request is being handled by US Mail. To access records via the Internet, you can use the following link:
http://www.archives.gov/veterans/military-service-records/
For those not Internet savvy, or those who simply wish to file requests by mail, those needing information will have to file standard Form 180. You can order this form by phone or mail (delaying the process of obtaining information), or to those who are in the "computer challenged" classification, it is best to ask a friend to download the form from the website as periodic changes occur as with all government forms, and the NPRC will only honor requests when submitted on the proper form. In any case, all veterans need to make the spouse/next-of-kin aware that they must submit applications to the NEW LOCATION, because mail will not be forwarded after February 2012.
Following his service in the Marine Corps Ed Mattson built a diverse career in business in both sales/marketing and management. He is a medical research specialist and published author. His latest book is Down on Main Street: Searching for American Exceptionalism
Ed is currently Development Director of the National Guard Bureau of International Affairs-State Partnership Program, Fundraising Coordinator for the Warrior2Citizen Project, and Managing Partner of Center-Point Consultants in North Carolina.
Mr. Mattson is a noted speaker and has addressed more than 3000 audiences in 42 states and 5 foreign countries. He has been awarded the Order of the Sword by American Cancer Society, is a Rotarian Paul Harris Fellow and appeared on more than 15 radio and television talk-shows.
ATTENTION READERS
Due to the nature of independent content, VT cannot guarantee content validity.
We ask you to
Read Our Content Policy
so a clear comprehension of VT's independent non-censored media is understood and given its proper place in the world of news, opinion and media.
All content is owned by author exclusively. Expressed opinions are NOT necessarily the views of VT, other authors, affiliates, advertisers, sponsors, partners or technicians. Some content may be satirical in nature. All images within are full responsibility of author and NOT VT.
About VT
-
Read Full Policy Notice
-
Comment Policy