Time For Police to "Back Off"
By Gordon Duff, Senior Editor 
——————–
Back in 2000, Americans sat on their behinds while their government was stolen.  In New York, first responders, fire and police, were victims of a terror attack I am absolutely certain was planned in Washington.  We call such things "false flag."  9/11 wasn't the first and there have been many since, London, Madrid, Detroit, I could go on forever.
Like Vietnam vets, first responders at 9/11, police, fire, rescue volunteers and bystanders will enjoy shortened lives, poisoned by the imaginary "toxic soup" which we are now learning involved exotic explosives and ionizing radiation.   
Soon after 9/11, America's government went into a rampage of monstrous behavior, kidnapping, murder and illegal invasions and nobody spoke up.  We, "America," became everything we were all taught to hate and nobody spoke up, almost nobody. 
It was all part of the same crime, as any good cop recognized from "day one."  "Day one" was when it was time to speak up.  Some did as a few privately know and paid for it dearly, some but not enough.  Few, very few, stood by them.  Others…..
The "sworn," police and military were particularly silent.   I am ashamed.
Now we have NYPD, a police force I have always admired, where I have more than a few friends, playing the "petty thug" for Wall Street.
I am ashamed.
After the worst 10 years in American history, where we, all of us, police certainly, but also military, veterans and any American not delusional enough to live in the "Fox News haze," have seen our future and the future of our children and grand children stolen, a few are now standing up.
That combat vets have to be sent to protect American citizens exercising their constitutional rights from a police force that took a 4.6 million dollar bribe from a crooked bank, a simple bribe to encourage them to violate their oaths, their loyalty to America and continue to buy in on the propaganda, on the lies, on the cowardly actions of so many others…. I am ashamed.
Back during the 70's, police were seen by many as the enemy of all Americans.  Police died.  Police forces had become bands of rabble, ripping off drug dealers, shaking down prostitutes, stealing everything that wasn't nailed down.  Cops drank on the job, got high every day and, often as not shot themselves.  I have some experience with such things.
I am more than familiar with what "on the job" means. 
Let's talk a bit about 9/11.  I have friends in NYPD.  They know 9/11 was an inside job, that Building 7 was blown up that Mossad terror teams were chased all over town. 
More than a few were threatened with losing their pensions or being returned to uniform if they opened their mouths.
A policy department is a petty tyranny, run by small time crooks and no matter how many brave and decent officers make up a department, it is still run by crooked politicians. 
NYPD has a tough history, has had a lot to overcome and has brought itself back from a very sad state. 
Because of that, officers serving in NYPD can be proud or, at least could have until recently.
Now some of you have crossed the line.  I've been there.  This "us v. them" bull doesn't work anymore.  We have put veterans on the streets and we plan to send in more.  I don't care if every protestor is gay, communist or a rich college kid.
I could care less.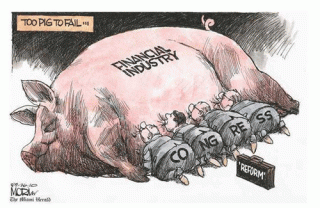 America's future was stolen by the banksters NYPD is now working for, trillions stolen, the lives of our children and their children, nobody did anything. 
Every New York cop knows what I am talking about.  They see this criminals every day, the privileged few that are above the law.  This is the real pain of wearing a badge.
I know police can't go into a bank and shoot down a rabid hedge fund manager like the dogs they are.
I am sorry about that.
They do things like that in China, you know, the country that still has money left?
When America really needed people to stand up for freedom, the police and military ran away as did the FBI and, certainly congress.
As for these protestors in New York, VT supports them.  We expect the same of you, even if an occasional command officer has to be "taken aside for a private discussion." 

They are where they need to be, doing what every decent American should.  They haven't gone nearly far enough, not by a long shot. You know what I mean, just because you are police doesn't mean you are stupid.
When you are off duty, get your friends together, get signs and hit the streets with them.  This is how you honor your oath. New York, "Wall Street" is the center, along with London, Zurich and Tel Aviv, of a worldwide criminal conspiracy.  This one is on your "patch."
The Mafia was nothing like this band of thieves. 
These aren't just thieves, they are war criminals.  Any armed governmental organization tasked with supporting their criminal activities, looting banks, organizing wars, secret prisons, torture, rigged elections, is fully complicit.
This is what those you are defending are doing, all of this and more.  They aren't just thieves, they are murderers.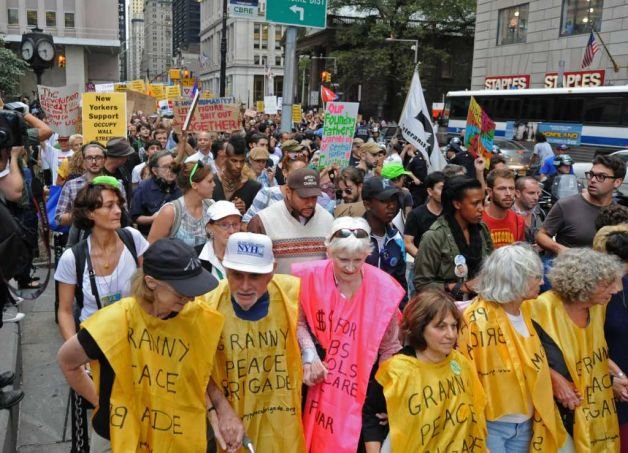 Time to start talking about going on strike.  Time to start talking to each other about what is required in being an American.
Some can only guess the price America has paid in the last 10 years of dictatorship.  Police know, they see it on the streets every day.
Also remember, that this whole thing began on 9/11, and began on your beat.  It was your department that suffered the casualties, your department that was ordered to look the other way, your department that had to sit and listen to Rudy run his mouth about terrorists that never existed.
And your department?  Thousands of you are veterans.  You are an integral part of the America that is being used up and thrown away.  You know how little "they," think of you.  You see "them" every day.
I remember Vietnam, the real Vietnam, he Vietnam of the Marine rifle squad, the senselessness of it, the suffering.  We all knew it as what it was, a huge con. 
Now, nobody doubts the War on Terror was the same thing, Afghanistan, the drug producing capitol of the world, Iraq, the farce staged by the Bushites to loot oil and empty America's treasury.
All of it made possible by dropping a couple of office buildings in the biggest insurance fraud in world history and rigging an investigation, something any cop has seen a hundred times over.
Now, a decade later, when it is time to speak up, you are chosen to club the real heroes into silence.
Look at those around you.  If you aren't hearing questions asked, questions about "right and wrong," maybe its time for you to find some place else to work.  On the best of days, being a cop is a nasty job.
These are not the "best of days."
If ever there were a way for America, Americans fighting for their rights and freedoms, its now.  There could be no dictatorship without the help of the police.  You don't think this is a dictatorship?  Who are you kidding?
Gordon Duff posted articles on VT from 2008 to 2022. He is a Marine combat veteran of the Vietnam War. A disabled veteran, he worked on veterans and POW issues for decades.
Gordon is an accredited diplomat and is generally accepted as one of the top global intelligence specialists. He manages the world's largest private intelligence organization and regularly consults with governments challenged by security issues.
Duff has traveled extensively, is published around the world, and is a regular guest on TV and radio in more than "several" countries. He is also a trained chef, wine enthusiast, avid motorcyclist, and gunsmith specializing in historical weapons and restoration. Business experience and interests are in energy and defense technology.
ATTENTION READERS
We See The World From All Sides and Want YOU To Be Fully Informed
In fact, intentional disinformation is a disgraceful scourge in media today. So to assuage any possible errant incorrect information posted herein, we strongly encourage you to seek corroboration from other non-VT sources before forming an educated opinion.
About VT
-
Policies & Disclosures
-
Comment Policy
Due to the nature of uncensored content posted by VT's fully independent international writers, VT cannot guarantee absolute validity. All content is owned by the author exclusively. Expressed opinions are NOT necessarily the views of VT, other authors, affiliates, advertisers, sponsors, partners, or technicians. Some content may be satirical in nature. All images are the full responsibility of the article author and NOT VT.