Veterans Today exclusive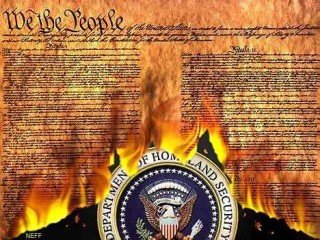 An internationally-famous 9/11 hero was detained for ten hours and harassed by Homeland Security agents on the eve of the 10th anniversary of the attacks.
The detention and harassment appears to have been a set-up designed to curtail the subject's media interviews and punish him for telling the truth about what he experienced on September 11th, 2001.
The subject's testimony, widely repeated in his speeches and media interviews which have reached hundreds of millions of people, supports contentions that the World Trade Center skyscrapers were taken down in controlled demolitions.
The subject, whose name has been withheld from this story at his request, was arrested at 26 Federal Plaza in New York City on Friday, September 8th – two days before the 10th anniversary of 9/11. He had been invited to an interview with Voice of America, the federal propaganda outlet, which had mildly surprised him but had not, unfortunately, set off alarm bells. After all, he had been doing nonstop interviews with just about every other big media outlet on the planet, so why not Voice of America?
At the 26 Federal Plaza security check, the subject was suddenly and brutally arrested, without explanation or charges, by Homeland Security agents. Despite repeated requests, the agents would not tell him why he was being arrested. He was taken to a NYPD booking station, where he witnessed other arrestees being released on their own recognizance. The police told him that he could not be so released, because he was a Homeland Security detainee. He was instead thrown into a cell filled with common criminals.
Fortunately the subject was allowed a phone call, and was able to reach one of New York's best-known lawyers, who happened to be the head of a leading civil liberties group as well as a personal friend. The lawyer went into high gear, and the subject was released in a matter of hours. The official explanation for the arrest: The subject had followed his usual practice of showing his fully-legal Fugitive Recovery Agent badge as identification, which provided an excuse for his arrest for "impersonating a police officer." Since DHS, which has detained the subject in airports many times, would have known about the subject's habit of using his Fugitive Recovery Agent ID, it seems likely that the whole affair including the VOA interview invitation was a set-up.
After his release, the subject and his family went to Chinatown to reclaim his car, where he was suddenly set upon by the Homeland Security agents who had arrested him! They insisted that he allow them to search his car. The subject's response: "You are welcome to search my car. Just show me the court order." The DHS agents became extremely unfriendly. They claimed it would take days to get the court order, and they would remain there with him until it arrived.
Once again, the subject called the well-known lawyer who had sprung him – and this time the lawyer was only minutes away. His arrival forced the DHS agents into high gear. They got their court order to search the subject's car in less than thirty minutes, found nothing, and went home.
The subject missed many interviews during his detention, but not as many as he might have missed had he been unable to reach the well-known lawyer. If the feds' intention was to prevent him from reaching the world with his testimony about the multiple explosions he witnessed in the North Tower on 9/11 – including the massive one that devastated the North Tower sub-basements before the plane hit – they were obviously unsuccessful.
ATTENTION READERS
Due to the nature of independent content, VT cannot guarantee content validity.
We ask you to
Read Our Content Policy
so a clear comprehension of VT's independent non-censored media is understood and given its proper place in the world of news, opinion and media.
All content is owned by author exclusively. Expressed opinions are NOT necessarily the views of VT, other authors, affiliates, advertisers, sponsors, partners or technicians. Some content may be satirical in nature. All images within are full responsibility of author and NOT VT.
About VT
-
Read Full Policy Notice
-
Comment Policy