I recently was invited by a good friend who lives in the Berkshire mountains of western Massachusetts to participate in a panel discussion about PTSD and TBI .  This discussion was to be held after a "reading" of a new play called "Make sure it's me" written by playwright "Kate Wenner" of Southfield Ma.   The play tells the story of TBI from a few different perspectives but leaves those who have seen it with a better understanding of the complexities of TBI, the way it effects families and especially wives.  I wasn't there to critique the play, which I thought was very good by the way, but to participate on a panel discussion about PTSD, TBI and where as a nation we have fallen down in the after care and subsequent treatment of the veterans of Iraq and Afghanistan who have suffered with TBI.
Traumatic brain injury (TBI) is a complex injury with a broad spectrum of symptoms and disabilities. The impact on veterans, so graphically portrayed in this play and especially to  the caregivers left to pick up the pieces of these broken lives can be devastating. The purpose of this play was to educate and empower caregivers and survivors of traumatic brain injuries and to help the general American public understand, in a "visceral" way, the impact that this injury has on our military.
I thought that the director of the play "Jim Frangione"  did a super job working with a group of amateur actors (minus the lead role of the doctor and another actor who portrayed a "Lt. Col" from the Pentagon).  These two roles appeared to me to be either "semi-professional" or professional actors and they added much to the performance. Even the amateurs , who gave their all,  captured a good part of what I think the playwright was attempting to deliver.   Most Americans are somewhat distant from the effects of Trumatic Brain Injury.  We know, by watching NFL football, that some of our favorite quaterbacks are not playing a game this week, due to the "concussioin" that the player received the week before, but we as a nation are ignorant of the brain injuries our veterans have endured.
[youtube YCfnIUsmLkg nolink]
Warren Lockette, chief medical officer of Tri-care insurance, the military insurance used by veterans with TBI, on CBS news said,  "Tri-care does not cover most "cognitive care" calling it "Not supported by reliable scientific evidence".  What the hell  is wrong with this guy?   The young marine you see in the attached youtube video is proof that "cognitive care" does work.   This is part of the "Great Lie" that the DOD and the VA are perpertraing on our veterans with TBI.
In the play "Make sure its me", a reference by one of the actors speaking to his mother as he is heading off to war, he says to his mother, "if I come home in a body bag, make sure its me", there is a gripping scene by a doctor, attempting to give cognitive care to a select few veterans under a DOD grant, where she says "TBI is the "Agent Orange" of the wars in Iraq and Afghanistan.  For twenty years, the goverment denied any responsibiliy to those Vietnam veterans afflicted with cancers and other diseases from Agent Orange and they are doing the exact same thing to vets with TBI who served in OIF-OEF.
Research shows over 300,000 veterans are suffering with TBI.  When are we as a nation going to "Wake up" and demand better treatment for these Americans?
In the panel discussion, I was with the playwright, Kate Wenner, Anne O'Dwyer, associate professor of psychology and academic dean of Bard College at Simon's Rock, and an un-named VA counselor who works treating vets with PTSD.  I have left her un-named as I think the VA would arrange for a big "Bitch-slap" for attempting to lead any credence to the argument that TBI is underfunded and under cared for in most VA facilities.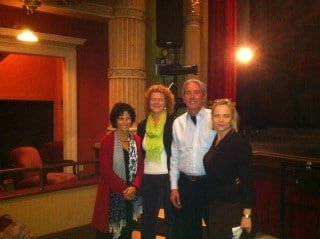 After the panel discussion, I met with an Iraqi veteran in attendance who said he was part of four (4) different IED explosions and now is experiencing headaches.  Is it me?   Is it that obvious to me that when your brain is jumbled by four different IED's, and your now experiencing headaches that you should be "service connected" disabled?   I would like the readers to send this article along to as many as congressional contacts as possible, in an attempt to get some additional noise to those who can make a difference and maybe, just maybe, the Veterans Affairs committee will conduct a "sub committee" hearing on this outrage.
Thank you Kate, your play is helping.
new york state department of education
bowling green ky
american express online
amd phenom ii
black swan movie
ATTENTION READERS
Due to the nature of independent content, VT cannot guarantee content validity.
We ask you to
Read Our Content Policy
so a clear comprehension of VT's independent non-censored media is understood and given its proper place in the world of news, opinion and media.
All content is owned by author exclusively. Expressed opinions are NOT necessarily the views of VT, other authors, affiliates, advertisers, sponsors, partners or technicians. Some content may be satirical in nature. All images within are full responsibility of author and NOT VT.
About VT
-
Read Full Policy Notice
-
Comment Policy