Let's turn back the clock to December 1, 1941. Europe was embroiled in a war with Germany. Hitler's troops were running roughshod over Eastern European Countries in what became called the Blitzkrieg by western journalists, meaning "lightening war".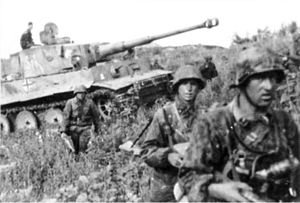 Between the years of 1938 to 1941, the German military successes were unparalleled in history. Although historians will argue the date WWII actually started, most agree that is started with the occupation of Austria in March 1938, which was specifically disallowed by the Treaty of Versailles. The take-over of Czechoslovakia occurred by March 1939, and because France and England, with pacifists running the governments, only offered lip-service objection to German aggression, Hitler decided to invaded Poland in September 1939. Denmark and Norway were next, followed by Belgium and Holland. By the time France woke up, it was too late, and it fell as well to German's fast-moving armored attacks.
In 1941, Italy joined with Germany and attacked Yugoslavia, Greece, then invaded Russia, and almost in a simultaneous move began the African Campaign because the fertile oil fields that were needed to propel Germany's armored divisions. Things were pretty much on schedule in Hitler's goal of world dominance, and so began the ethnic cleansing to rid the world of Jews, homosexuals, and others felt to be inferior to German ethnicity. This left only England to stand in Hitler's path of controlling all of Europe, and left open the total take-over of Northern Africa.
On the other side of the world the Japanese had invaded Manchuria in 1931 to create a buffer against Russia and Shanghai in 1932. The Sino-Japanese War moved westward into Mongolia with the viciousness of a rabid dog, often far more deadly to civilian populations than on military objectives, and then to French Indo-China in 1940. On December 7, 1941, the Japanese bombed Pearl Harbor, HI, in a Sunday morning surprise raid which occurred while diplomats in Washington DC were addressing avenues to peace with the Japanese government. America was horrified, shocked, and was suddenly thrust into a global conflict which became known as World War II.
It could have been much worse. Our carrier fleet of seven aircraft carriers (CVs) and one aircraft escort vessel (AVG) was not in Pearl Harbor that Sunday morning, and the Japanese mistakenly thought if America was to come into war with Japan, the battleships would play the most decisive role. Therefore their main target was Battleship Row, and the devastation was tremendous with 21 ships being damaged or sunk, including eight battleship ships, but because of the shallow harbor waters, six of the eight battleships were returned to service before the end of the war.
On December 11. 1941 Germany and Italy announced that they were at war with the United States. The US immediately declared war on the two Axis countries. Because we had already ramped up production of military assets to supply Britain which was the only country standing between Germany and the total domination of Europe, kicking our War Production Board into high gear was already underway following the attack on Pearl Harbor. Resolutions against Germany and Italy were passed without debate. The only person who did not vote for war was pacifist Congresswoman Jeannette Rankin who had also voted against our entry into WWI. In the Senate the vote was unanimous. Both Democrats and Republicans agreed to "adjourn politics" for the duration of the war and focus on national defense.
Following the shock of Pearl Harbor, American citizens flocked to volunteer for the US Navy and Marine Corps which did not take conscripts. The US Army, which had already grown tenfold since the draft was introduced in 1940, was also inundated with volunteers.
This is a far cry from the way many Americans feel today about the willingness to defend liberty and fight for this great country, particularly those of the left-liberal persuasion in the "Hollywood elite". The contrast is starling. What happened and how have things become so out of whack?
Let's started with the premise that only a fool would want a war to breakout, but history repeats itself and most fail to learn anything from it. To quote Edmund Burke, "All that's necessary for the forces of evil to win in the world is for enough good men to do nothing." As was shown in WWI and again in WWII, acts of aggression and policies geared toward dominance of one nation over another need to be addressed early-on when diplomacy has a very narrow window in which to work. The longer people stand ideally by, war becomes a certainty, and the longer injustice is allowed to stand, the more it becomes a tacit approval of the action of the aggressor. This does not mean all wars entered into by politicians are "just wars", because only history can make that call.

World War II, however was the perfect example of a global failure to learn from World War I; to recognize tyrannical objectives brought on by punitive treaties that decimated economies and impoverished and imprisoned citizens, and led to the rise of tyranny in the name of nationalism in both Japan and Germany. In today's world the threat of war is almost at every turn in the road in every corner of the world. Many on the left would have us think that capitalism is the cause of global economic disparity, when in fact, democratic free societies seldom go to war with each other. Capitalism is the only economic system that can create wealth. Central government planning and socialism can only stymie ambition, take from the successful, and will in all cases, eventually fail, much to the horror of those who belkieve in social justice and socialism (history is rife with examples).
Usually unrest in a country starts with a lack of economic opportunity, much in part due to limited educational and technical skills of its citizens, which seemingly exacerbate all other potential causes that can be attributed to "causes of war", like lack of natural resources, lack of food, high costs, inflationary pressures, and a government unwilling to take corrective action.
I am not advocating that America be the Global Cop, but to prove Edmund Burke's theory of allowing evil to exist, is as valid as the theory of gravity, and that "wait and see" pacifism has never proven to solve any global problem. Why this discussion is of importance is because we are witnessing America's demise in global leadership and have entered into a world that is unstable at best, led by rogue states and terrorism. With our Greatest Generation now gone, who will defend the world from tyranny and keep American free?
Some have disagreements with Tom Brokaw's conclusion that the World War II generation will be marked by history as "The Greatest Generation", considering all the other generations that have perpetuated the American experiment. Our political demise is graphically illustrated by the Hollywood elite, past and present.
With the background leading up to World War II, those who made up the entertainment industry were cut from a different material than those making the millions today. So, I decided we all could use a little history about those actors/actresses and entertainers who suspended their careers to serve in the United States Armed Forces after America was attacked on December 7, 1941 …
Eddie Albert – U.S. Navy. Mr. Albert, better known for his roles in The Longest Yard, Brother Rat, Roman Holiday, and a TV career on Falcon Crest and Green Acres, saw combat on Saipan and Tarawa. He was a genuine war hero. A thousand Americans and 4,800 Japanese lives were lost in bloody battle at Tarawa, a Pacific island, and Albert fought in the first wave of the three day combat. Afterward, he was ordered to salvage usable military equipment off the battlefield, and
was awarded a Bronze Star for finding and rescuing wounded men, who had been abandoned under heavy fire.
Gene Autry – U.S. Army Air Corps. Mr. Autry, the Singing Cowboy, gained fame with his music – "Back in the Saddle Again", "Here Comes Santa Claus", and "Have I Told You Lately That I Love You", and his ownership of the California Angels baseball franchise. He flew cargo planes in China, Burma and India, as a flight officer with the Air Transport Command from 1943 until 1945. When the war ended, Autry was assigned to Special Services, where he toured with a USO troupe in the South Pacific before resuming his movie career in 1946.
Josephine Baker- The French Resistance. Josephine was known as the "Créole Goddess" and for her contributions during the civil Rights movement in the Sixties. Ms. Baker was a Vaudeville sensation and starred in the movie, Moulin Rouge. She was the first American-born woman to receive the French military honor, the Croix de guerre, and despite prejudice and segregation here in the US, believed in the American dream of freedom and democracy for all.
Because we should all learn from history, I promise to disclose all those great "Hollywood Heroes" in coming articles, most of whom are gone today. They were the hope and future of America…The Greatest Generation.
Following his service in the Marine Corps Ed Mattson built a diverse career in business in both sales/marketing and management. He is a medical research specialist and published author. His latest book is Down on Main Street: Searching for American Exceptionalism
Ed is currently Development Director of the National Guard Bureau of International Affairs-State Partnership Program, Fundraising Coordinator for the Warrior2Citizen Project, and Managing Partner of Center-Point Consultants in North Carolina.
Mr. Mattson is a noted speaker and has addressed more than 3000 audiences in 42 states and 5 foreign countries. He has been awarded the Order of the Sword by American Cancer Society, is a Rotarian Paul Harris Fellow and appeared on more than 15 radio and television talk-shows.
ATTENTION READERS
Due to the nature of independent content, VT cannot guarantee content validity.
We ask you to
Read Our Content Policy
so a clear comprehension of VT's independent non-censored media is understood and given its proper place in the world of news, opinion and media.
All content is owned by author exclusively. Expressed opinions are NOT necessarily the views of VT, other authors, affiliates, advertisers, sponsors, partners or technicians. Some content may be satirical in nature. All images within are full responsibility of author and NOT VT.
About VT
-
Read Full Policy Notice
-
Comment Policy