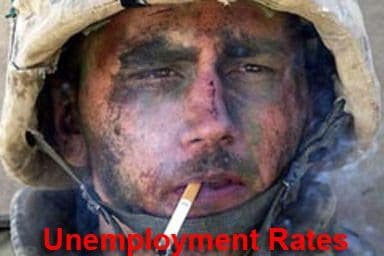 "I have been to no less than twenty five

interviews"
"I fought in Iraq and Afghanistan, and now I can't find a job."
~ Bob G., OIF-OEF Veteran, Father, Husband, Son and new Friend'
I was called recently by someone I know, who asked me to talk to a veteran that he knew who was in trouble.  Since I do that all the time, I asked "What are we going to talk about?"  and my friend said, "Jobs" and the lack of.  The phone call went something like this:
Hello, may I speak to Bob?
Sure hold on a moment said a woman,  (I could hear young children laughing in the background).
Hi, this is Bob, may I help you?
Hi Bob, this is Ken Smith, and I am a journalist, and Bill P asked me to call you.  Do you have a minute?
Bob said sure, let me tell my wife that she is now tasked with getting the kids out of the tub and I will walk outside so we can chat.
Over the next hour and half Bob told me his story.  He was in the military for over 10 years, joining right after 9-11 and he was determined to do his part for his country.  He married his high school sweetheart right after graduation from Army OCS and he now had two kids, a boy five and a girl three.
His wife works part time as a teachers aid, and Bob told me that he has been looking for steady work since April of this year, with no luck.
Do you have any idea how hard it is to find work?  he said.  
"I have been to no less than twenty five interviews", and they all say the same thing,  either I am "over qualified" or "not qualified" and I am not trying to turn my nose away from any work offers, and I dress right for each interview and actually study as much as I can about each company the night before I show up, and I tell them I will take any job, any job at all.  I can write, I know a little about the internet, I am a good dad, I love my kids and my wife and I am just trying to get a "toe hold" back into society and for reasons that are not being explained to me or to other veterans, I just can't seem to get any traction.
Do you think you could help?
Now, as some of you already know, I have my own software company and write this column in my spare time but I was intrigued by the fact that he was an officer and couldn't find any work, so I told him I would call him back in a few days.
A few phone calls to the DOL VETS rep in this guy's area, and all of a sudden, there is hope for Bob.  He has a "temp" job, paying $16.50 per hour for now, good work through the holidays and he has a strong chance of landing a job with the county government (after additional help from the DOL vets rep).  What was intriguing to me was that this officer was ignorant of that kind of help out there.
I would think, and maybe it's just me, that anyone who is on "Unemployment", that registers in any state, and says they are a veteran it should be automatic that they get help from the office of "DOL-Vets"
I happen to know some of the people at DOL-Vets, actually the central HQ in Washington DC folks, and I know, they are good people, dedicated to veterans and focused, and I wonder to myself, are they missing something?
I think that every vet who has served his country, regardless of rank, deserves special help and consideration and wonder to myself?
"How many Bob's are out there tonight?" 
ATTENTION READERS
Due to the nature of independent content, VT cannot guarantee content validity.
We ask you to
Read Our Content Policy
so a clear comprehension of VT's independent non-censored media is understood and given its proper place in the world of news, opinion and media.
All content is owned by author exclusively. Expressed opinions are NOT necessarily the views of VT, other authors, affiliates, advertisers, sponsors, partners or technicians. Some content may be satirical in nature. All images within are full responsibility of author and NOT VT.
About VT
-
Read Full Policy Notice
-
Comment Policy