"We could all temporarily lose sight of who is pulling the strings in this counter-revolution currently playing out in Egypt … but make no mistake, the thousands in Tahrir square will not lose hope nor can they afford to."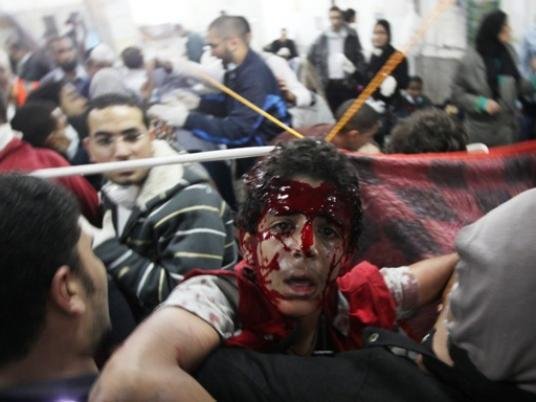 Egypt, a land embedded in ancient history with an old legacy of oppression and abuse of power, its people are awakening and refusing to yield to any kind of tyranny or autocracy be it of civilian or military authority.
But obviously somebody, and that somebody is unfortunately in command right now, doesn't seem to get this message.
Some political analyst once said "An autocracy or a tyranny is a far simpler form of social and political organization than a democracy." … I think he is absolutely right considering the complexity of Egypt's transitional phase towards what a lot of people hope to be a true and functioning democracy.
I also believe that he would have rephrased his statement had he had the chance to witness the police brutality confronting the occupy movements in the democratic United States of America.
You could lose your eye sight (hit by a rubber coated bullet in the eye), you could lose your laptop or your briefcase -as in my case.
In the protest pandemonium and you could very well lose your life choking on tear gas or get run over by an armored vehicle but one thing you definitely would not lose and that is your self-respect and dignity.
And that is why Egyptians are back in Tahrir square again to regain their lost dignity.
They are taking to the streets by the thousands, not only because they are not satisfied with the performance of the interim government or the lack of security and the decline of the economy.
The last couple of days revealed through the violent confrontation with the police and military that Mubarak may be gone but his regime is very much still alive and operating.
We all could temporarily lose sight of who is pulling the strings of this counter-revolution currently playing out in Egypt … but make no mistake, the thousands in Tahrir square will not lose hope nor can they afford to.
Quite a few suspects on Egypt's counter-revolution list. We have the still surviving lords of Mubarak's regime with their smuggled billions. We have Mubarak-loyal state security apparatus with an army of on the payroll thugs.
We have the ambitious Islamists and their Gulf financiers eying the biggest chunk of the cake, and the White House and State Department playing the universal patrons of freedom and democracy while backstage stabbing the Arab spring in the heart.
And then of course, we have got the Israeli cousins placing all their money on a chaotic Egypt and pushing hard for the friendly and American aided Egypt military to continue running the show in this leading Arab country.
Don't grumble, the Americans do it. too.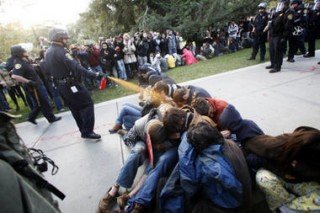 The generals- all Mubarak appointees- of Egypt military council of armed forces (SCAF), battling thousands of angry protesters who seem adamant on occupying Tahrir square once again, have defended their use of excessive and unjustified force against protesters.
They have drawn an embarrassing comparison between their brutal performance and the tactics of the American police forces who are dealing violently with the Occupy protests all over the United State.

Pepper spray or rubber bullets, two different tactics but both serve the same purpose, to silence dissent.
It seems that the American democracy, with the long legacy of respect for human rights which used to be a prominent model to follow, has lately turned into an inspirational and a credible reference for brutality against civilians and protesters.
But even though the comparison bears some eligibility, the Egyptian police and army forces in their recent barbaric crackdown on the Tahrir revolutionaries and activists has gone way beyond any world competition.
[Editor's Note: Both of the UC Davis campus policemen who used the pepper spray on these peaceful protestors were suspended, as was the campus police chief the following day. University faculty and staff have filed complaints over treatment by the police while they were protesting, and they have called for the Chancellor to resign…Jim W. Dean]
Watch for yourself, only to be sure that the fighters for human freedom and dignity can't afford to lose hope nor can they stop struggling on behalf of the silent 99%.
[youtube zJ7FHUtxePw Egypt Military police barbaric onslaught on Tahrir protesters on Monday 21 November]
"The military can rule, only in one case … over our dead bodies" chanted the thousands in Tahrir square as they swarmed the iconic revolution hub to denounce the SCAF reluctance to hand over power to a civilian government.
Tahrir saga 2
Ashraf Ezzat is an Egyptian born in Cairo and based in Alexandria. He graduated from the faculty of Medicine at Alexandria University.
Keen not to be entirely consumed by the medical profession, Dr. Ezzat invests a lot of his time in research and writing. History of the ancient Near East and of Ancient Egypt has long been an area of special interest to him.
In his writings, he approaches ancient history not as some tales from the remote times but as a causative factor in our existing life; and to him, it's as relevant and vibrant as the current moment.
In his research and writings, Dr. Ezzat is always on a quest trying to find out why the ancient wisdom had been obstructed and ancient spirituality diminished whereas the Judeo-Christian teachings and faith took hold and prospered.
Dr. Ezzat has written extensively in Arabic tackling many issues and topics in the field of Egyptology and comparative religion. He is the author of Egypt knew no Pharaohs nor Israelites.
He writes regularly at many well-known online websites such as Dissident Voice and What Really Happened.
Dr. Ezzat is also an independent filmmaker. His debut film was back in 2011 The Annals of Egypt Revolution and in 2012 he made Tale of Osiris a short animation for children.
In 2013 his short The Pyramids: story of creation was screened at many international film festivals in Europe. And he is working now on his first documentary "Egypt knew no Pharaohs nor Israelites".
ATTENTION READERS
Due to the nature of independent content, VT cannot guarantee content validity.
We ask you to
Read Our Content Policy
so a clear comprehension of VT's independent non-censored media is understood and given its proper place in the world of news, opinion and media.
All content is owned by author exclusively. Expressed opinions are NOT necessarily the views of VT, other authors, affiliates, advertisers, sponsors, partners or technicians. Some content may be satirical in nature. All images within are full responsibility of author and NOT VT.
About VT
-
Read Full Policy Notice
-
Comment Policy