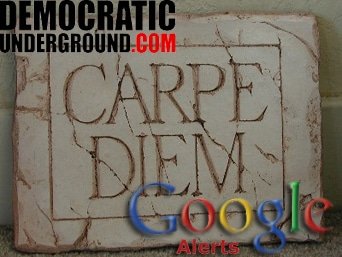 This morning's email included this Google Alert for "eileen fleming":
Which led to this posting on Jan 2, 2012 @ DemocraticUnderground.com
8. Alison Weir and Eileen Fleming are listed among Salem-News staff writer
That ought to be enough for anyone.

The OP is Omar Barghouti's (unattributed) opinion about a video from a year-old interview with someone. I don't doubt that he is truthfully stating his opinion.

The guy talking in the video is speaking in Hebrew. I can't speak to the accuracy of the English translation.

If we want to open things up to posting shocking things said on video, there are loads of Arabic-language ones translated into English and posted on sites with at least as much legitimacy as "salem-news" that I'm sure folks could dig up.

Do we really want to go there? 
I DO, but as the 'Democratic Underground' censored me years ago, instead I carpe diem/seize this day to repeat why I was censored by the Democratic Underground and again cite Alison Weir and what every American needs to know about Israel Palestine: ifamericansknew.org
Daily U.S. Military Aid to Israel and the Palestinians
Fiscal Year 2011
During Fiscal Year 2011, the U.S. is providing Israel with at least $8.2 million per day in military aid and $0 in military aid to the Palestinians. (View Sources & More Information)
On October 24, 2007, I wrote:
Censoring Gravitas, Blowing Out Doors and Tearing Down Walls
This reporter has now become a proud member of the banned voices who have dared speak out for equal human rights for Palestinians and the truth about the injustices committed by the state of Israel on the supposedly progressive free speech sites known as the Daily Kos and the Democratic Underground.
This week I was banned from the Democratic Underground, which smells just like the censoring I received  from the Daily Kos and reported about on June 7: "It Sure Smells Like a Right Wing Zionist Cabal at The Daily Kos
Although locked out of my own blog on the DK, the attacks and conversation about me continued:
"Her advertising and crossposting on a hate site were simply irrelevant and could not possibly have factored into her departure in any way. If you think otherwise, you're a victim of Zionist mind control, just like the DKos editors. And it wasn't even really a decision the DKos editors agreed with; they were simply cowed into banning Eileen by a well-organized campaign of email harrassment that was most likely promulgated through GIYUS [ED Note: GIYUS/ Give Israel Your United Support, is a project of the World Union of Jewish Students] and I'll bet there were thousands of emails from Tel-Aviv pretending to be from Poughkeepsie…No other possible explanation could possibly be possible, especially the plain and simply one given. She is clearly another victim of the Infantophagy Lobby…Remember when someone was hopping up and down about how this controversy is really all a put-on by Thuh Zionist Thought Police, and that we secretly didn't give a damn about the hate site, just about trying to silence Eileen's daring an controversial… by zemblan on Mon Jun 04, 2007 at 11:26:13 AM PDT [IBID]
What piqued my interest immediately is that I have a link attached to my website that informs me, where my readers are coming from.
The 24 hours from June 3rd at 4 AM until June 4th, proved that visits from Israel increased so greatly, that Israel went from 17th place into 5th place out of the total countries who had visited my site during that time period.

That week I posted two previously published articles on the Democratic Underground's Israel Palestine forum and both were locked down within the first 24 hours with this inane message from Lithos, DU Moderator:

"Personal blogs without distinct gravitas concerning I/P are not considered acceptable sources."

I responded with an email ALERT to Lithos, but never received a reply. When I attempted to post a new article on October 23, 2007, I received this message:

Your posting privileges have been revoked… We read all correspondence sent to us. If you do not get a response to your appeal, it is because your request was denied.
What follows is my first email to Lithos on October 22:
"GRAVITAS" you say,

My article "FREE RADICALS" most certainly has dignity and propriety and is in good taste: for it contains THE TRUTH.

This article has been published by legit web sites and cross posted all over the web!

Here's just a few:

OpEdNews.Com Progressive, Tough Liberal News and Opinion Hom…
Eileen Fleming: Free Radicals Keren and I have both been questioned regarding our eye witness reports from occupied territory. We both have been accused of …
 [+ED NOTE-Original article can be read @ http://www.wearewideawake.org/
index.php?option=com_content&task=view&id=668&Itemid=179

Voices – Free Radicals
Free Radicals. eileen fleming. It was on the second Saturday in September, 2007, while in Arlington, Virginia, at George Mason University attending the 6th …

Dissident Voice : Free Radicals
Free Radicals. by Eileen Fleming / October 4th, 2007. It was on the second Saturday in September, 2007, while in Arlington, Virginia, at George Mason …
 
Annie's letters: Free Radicals by Eileen Fleming
Free Radicals · Eileen Fleming. October 06, 2007 06:18 PM. Keren and I have both been questioned regarding our eye witness reports from occupied territory. …

Arabisto.com
Free Radicals. October 06, 2007 06:18 PM … Eileen Fleming. I haven't an ounce of Arab blood within me — but I have been to Israel/Palestine five times …

Free Radicals | CrossLeft
However, for many years the existence of free radicals was dismissed as ….. Eileen Fleming, Reporter and Editor of http://www.wearewideawake.org/ …

Anarchist news dot org | News for anarchists and their frien…
Free Radicals. Submitted by worker on Tue, 2007-10-09 22:42. Tags:. Anarchist People · Movement. From The Peoples Voice – by eileen fleming …

What's really YOUR problem? -e
No response ever came and as I already know the truth, so should you dear American reader:
"Israel 's Government has thrown its weight behind efforts by supporters to counter what it believes to be negative bias and a tide of pro-Arab propaganda. The Foreign Ministry has ordered trainee diplomats to track websites and chatrooms so that networks of US and European groups with hundreds of thousands of Jewish activists can place supportive messages.
"In the past week [July 28, 2006] nearly 5,000 members of the World Union of Jewish Students (WUJS) have downloaded special "megaphone" software that alerts them to anti-Israeli chatrooms or internet polls to enable them to post contrary viewpoints. A student team in Jerusalem combs the web in a host of different languages to flag the sites so that those who have signed up can influence an opinion survey or the course of a debate." [1]
The attack on free speech, deep thought, eye witness accounts from occupied Palestinian territory and "intellectual freedom in the US that has grown more aggressive in recent months…Over the past few years, Israel's US defenders have stepped up their campaign by establishing a network of institutions (such as Campus Watch, Stand With Us, the David Project, the Israel on Campus Coalition, and the disingenuously named Scholars for Peace in the Middle East) dedicated to the task of monitoring our campuses and bringing pressure to bear on those critical of Israeli policies. By orchestrating letter-writing and petitioning campaigns, falsely raising fears of anti-Semitism, mobilizing often grossly distorted media coverage and recruiting local and national politicians to their cause, they have severely disrupted academic processes, the free function of which once made American universities the envy of the world.
"When professors Stephen Walt and John Mearsheimer drafted an essay critical of the effect of Israel's lobbying organizations on US foreign policy, they had to publish it in the London Review of Books because their original American publisher declined to take it on. With the original article expanded into a book that has now been released, their invitation to speak at the Chicago Council on Global Affairs was retracted because of outside pressure…When President Carter published Palestine: Peace not Apartheid last year, he was attacked for having dared to use the word "apartheid" to describe Israel's manifestly discriminatory policies in the West Bank." [2]
Learn More:
Vanunu Mordechai Freedom of Speech,about all world Media, May 23-2010.
1. http://www.timesonline.co.uk/tol/news/world/middle_east/article693911.ece
Eileen Fleming founded WeAreWideAwake.org. She produced videos "30 Minutes with Vanunu" and "13 Minutes with Vanunu".  She has authored many books including; A USS Liberty Remembrance of 50 years USA Government Cover-Up of Israel's 8 June 1967 Attack on USA Spy-Ship, Wabi Sabi Body ETERNAL SPIRIT, and Heroes, Muses and the Saga of Mordechai Vanunu. Click here to see her latest books. Visit Eileen's YouTube Channel
ATTENTION READERS
We See The World From All Sides and Want YOU To Be Fully Informed
In fact, intentional disinformation is a disgraceful scourge in media today. So to assuage any possible errant incorrect information posted herein, we strongly encourage you to seek corroboration from other non-VT sources before forming an educated opinion.
About VT
-
Policies & Disclosures
-
Comment Policy
Due to the nature of uncensored content posted by VT's fully independent international writers, VT cannot guarantee absolute validity. All content is owned by the author exclusively. Expressed opinions are NOT necessarily the views of VT, other authors, affiliates, advertisers, sponsors, partners, or technicians. Some content may be satirical in nature. All images are the full responsibility of the article author and NOT VT.