Yes – It's happening in America…Our Trickle Down System in Action
To Six Year Old Girl…"How did you feel about having to eat rats?"…"Sad."
No folks, I would not pull your leg about something this serious. Hungry kids are not on my satire writing list. I'm still in a bit of shock myself…me, who is not shocked by anything anymore, but I was.
Having no kids I was not up to speed on the school lunch programs. A nurse friend from North Georgia told me once that they even had breakfast programs.
This was back before the crash, in the boom times, which surprised me. And are you ready for this?
The kids were sometimes bringing relatives to eat lunch with them on the school program. The land of food and plenty was upon us. Names were not taken, as none were required…only that X-number of meals were served. Neither the kids, parents or grandparents were eating rats then. That would come later I learned yesterday.
The flip side of this was when I would treat myself to a lunch buffet during the week, taking my fifty cent senior discount, I would not only see Mexican blue collar workers by the ton, but even families going out to all you can eat buffet…on a week day.
If I looked around I would even seen Hispanic mom's and their kids (two families), no dads, going out for lunch. I never experienced this even once growing up as a kid. Despite my dad having a lumber company and a Buick dealership at one time, I never ever KNEW a family who did such a thing.
When my mother and I both had pneumonia together when I was about six, the doctor who came to the house everyday to check on us just had to walk across the street where he came home for lunch every day.
But fast forward to the 2012 recession and here were are in Las Vegas, not the backwoods somewhere, and rats are on the menu when the cash runs out.
[youtube LQDtebbr9Tk]

There were many Mexican kids, families working in the textile mills in Dalton Georgia where the $15 to $20 an hour jobs got pulled down to $10 to $12/hr…or zero if you got replaced by someone south of the border.
It seems that because the Feds were paying for it all the schools did not mind loading up the numbers. It pumped more money into the local economy as the families had more money to spend in the stores. So that had me thinking that kids going hungry was impossible with parents only have to cover dinner.
But the British Panorama show had a segment up today called 'We don't have dinner at home'...and it was a heart breaker. They were shooting in Las Vegas where cafeteria managers were describing how kids were loading up on ketchup packets to take home to make tomato soup for dinner.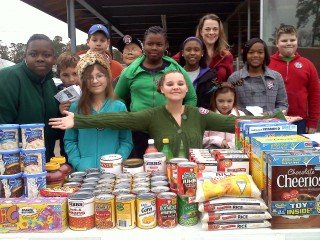 Weekends were another tough time for them and groups have stepped in to put weekend care packages together for the kids to get them through to Monday. Unfortunately a lot of it looked like your usual unhealthy processed food.
The clip below is not long, just a few kids describing about sometimes there is nothing to eat for dinner and they go hungry till school the next day.
I had thought that everybody would have some crackers, rice with onions, or beans stashed away for 'really' tough times, but it seems not.
My mother grew up on a farm where they thought they were poor because they made their own clothes and went barefoot to save their shoes for school and church.
She would walk there barefoot and then wash her feet and put her shoes on before going in. But on a 120 acre farm there was always food, and a smoke house to die for.
As a little boy I got a taste of the old farm, being bathed in front of everybody on the back porch in washtub with the other little kids, the introduction to the outhouse, and getting water from the well.

But hunger never crossed my path despite never being able to catch a chicken. Egg gathering I just loved, but ran in terror when I crossed the pig pasture to go fishing with a 250 pound sow barreling after me, usually just making it to the fence in a nick of time.
The little girl at the end of the Panorama clip, the shy one, drops the bomb about the rats. Only ate them once though. A little six year old girl is not expensive to feed.
I can't imagine a parent or parents not being able to find someone to ask for a meal for a hungry kid. Like who would say no, really? But as a bachelor I do not walk in their shoes.
What I got a look at tonight was a quick glimpse of hunger PTSD for kids. 
Gordon and I have had many long discussions about some of our well respected political and business leaders having had not problem scamming us with things like ethanol production from corn for fuel use.
This not only pushed up food cost for the poor overseas with the spike in corn prices, but hurt our poor here. But hey, it was a good vote buyer for all those corn growing farmers in the Mid-West.
And then stage two was upon us when despite the recession and reduced demand for gas, and storage facilities all over the world filled to the brim, oil prices continued to stay way higher than any market demand could account for.
All the new big oil reserve finds may not be common knowledge to the regular folks, but all the oil biz people, economists and politicians know.
I wonder why they don't tell us? Gosh, what could they possibly be hiding.
These rigged oil prices have now worked their way all through the food production chain which is again, giving us a hike in food prices when they should be going in the other direction.

My point today is that these food costs have hit the poor families' kids more than anyone else. And it was all been done out of multinational greed and political corruption.
I took a flyer writing up my article on the Sicily 'Pitchfork Revolt' where a bunch of grass roots sections of society closed the island of five million down for over a week and a half.
A huge gas tax increase, part of the Italian austerity adjustment was pushing the price of their already high fuel 40% higher. To my surprise it got 10,000 hits here at VT and tens of thousands more on other blogs and websites who borrowed it.
Trickle down economics…was a con job. It was a mirage. The numbers are in and we know now that we had a 'flow upwards', despite the real estate and stock losses.
The growth of the service industry, the shifting of our industrial base offshore…has left us with too many people trying to pick the others pocket for a living. The Greece austerity measures are going to have an average worker making about $600 to $750 a month.
What kind of economic turnaround can be built on that? And how many Greek kids are going to experience the taste of rat meat in the next year.
But maybe they will copy our method of having local folks replace what the multinationals are sucking out of our communities, their lifeblood.
Jim W. Dean was an active editor on VT from 2010-2022.  He was involved in operations, development, and writing, plus an active schedule of TV and radio interviews.
ATTENTION READERS
Due to the nature of independent content, VT cannot guarantee content validity.
We ask you to
Read Our Content Policy
so a clear comprehension of VT's independent non-censored media is understood and given its proper place in the world of news, opinion and media.
All content is owned by author exclusively. Expressed opinions are NOT necessarily the views of VT, other authors, affiliates, advertisers, sponsors, partners or technicians. Some content may be satirical in nature. All images within are full responsibility of author and NOT VT.
About VT
-
Read Full Policy Notice
-
Comment Policy