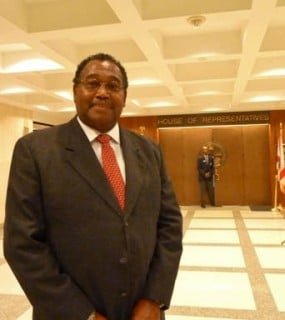 [Tallahassee, Fl.]–Last week, Tea Party advocates and activists for homeowner's rights converged in the state capitol during mental health week on Homeless Advocacy Day.
On Thursday, the Florida House of Representatives unanimously approved House Bill 531, sponsored by Rep. Betty Reed (D-Tampa) that authorizes the collection of voluntary contributions in the amount of one dollar to be added to motor vehicle registration and driver's license fees (both initial and renewal fees) to aid the homeless.
Reed said, "It only takes the loss of a few paychecks and anyone of us could be homeless. Middle Class people who thought they were set for life are now homeless. We need a day for members of our government to think about and visit the homeless, so that we can prevent it. We need a Day of Awareness and we must end homelessness."
The President of the Florida Supportive Housing Coalition, Shannon Nazworth added, "The face of homelessness is not changing-it's expanding and it's the people in your pew at church. People who once volunteered and donated at shelters are now coming for help."
Dana Humphrey, is an unpaid lobbyist for multiple social justice causes and I saw her last in Melbourne, Fl. on 25 February 2008, when she had long brown locks at: The Walid Shoebat Show and "America is Beautiful, but she has an ugly side"
Dana's hair now is "raspberry-komikaze pink" and she barely took a breath as she explained why she took a bus from New Smyrna Beach to oppose the Orwellian labeled 'Fair Foreclosure Act' [House Bill 213, Senate Bill 1890] because if passed it will turn Florida into a non-judicial state without due process for homeowners. The bill violates constitutional and property rights and if passed into law it will expedite the foreclosure process through an unconstitutional process that favors the lender and thus will create more homeless families.
Central Florida Realtor Gerri Gallo, added that US Congress is now considering a program called HARP, which is designed to help struggling homeowners who purchased homes before 2007. Because home values have dropped and homeowners are unable to sell the Federal government could help homeowners' instead of banks with the passage of HARP. It will offer Fannie Mae or Freddie Mac mortgages to be refinanced at a lower rate and without any appraisal. Those with adjustable mortgages will be able to obtain a fixed rate at the current rate of about 3.0%, thus enabling many to remain in their home.
Cliff Johnson Jr. and his son represented the Republican Liberty Caucus, a movement within the GOP that recruits and endorses candidates who support individual liberty and limited government.
Cliff Johnson III said, "The Tea-Party lost their vision and we are working within the party to bring it back to its constitutional roots. It is difficult work as many hardliners are about electing anyone but Obama but we have a perfect opportunity to elect a liberty minded individual and liberty means freedom. These words-right, left, progressive, conservative have lost meaning but there is right and there is wrong and there is liberty or tyranny."
Another advocate for the homeless added that the issue is rooted in job security and education is the way out of poverty.
I live in Lake County, which has a population of about 300,000. In the 2006-2007 school year, the Florida Department of Education identified 195 homeless children in the county. In 2010-2011, 2,992 homeless children were identified. Homelessness is defined as living in emergency or transitional shelters, FEMA trailers, cars, parks, public and private places not ordinarily used by human being to live and sleep in and all those who have been abandoned.
Tea Party people sported buttons that read, "It's the Spending STUPID" but I was unable to find any who would discuss the moral imperative to do something to stem the epidemic of homeless children within their own communities.
'Stupid spending' by the Federal Government is one reason why the States are struggling to meet the basic needs of residents in their communities.
As the federal debt continues to climb, President Obama has increased his request for military aid to Israel to $3.1 billion from $3.075 billion in 2012.
From 2009 to 2018, the United States is scheduled to give Israel, which is already the largest recipient of U.S. assistance, $30 billion in military aid, which is used to sustain the illegal 44-year military occupation of the Palestinian West Bank, East Jerusalem, and Gaza Strip.
Israel also misuses U.S. weapons in violation of U.S. law to kill and injure Palestinian civilians, destroy Palestinian civilian infrastructure, blockade the Gaza Strip, and build illegal settlements in West Bank and East Jerusalem.
Taxpayers from Florida provide $1.5 billion to Israel, which could instead be used to provide affordable housing for 17,845 people, or 24,397 green jobs, or 43,455 children could be engaged in early reading programs or we could fund primary health care for 1,190,215 citizens.
Find out how much your community provides Israel and what those funds could instead cover by keeping that money in America in the map below: How much military aid do you provide?
Learn how the methodology of these numbers came about by clicking here.
Eileen Fleming founded WeAreWideAwake.org. She produced videos "30 Minutes with Vanunu" and "13 Minutes with Vanunu".  She has authored many books including; A USS Liberty Remembrance of 50 years USA Government Cover-Up of Israel's 8 June 1967 Attack on USA Spy-Ship, Wabi Sabi Body ETERNAL SPIRIT, and Heroes, Muses and the Saga of Mordechai Vanunu. Click here to see her latest books. Visit Eileen's YouTube Channel
ATTENTION READERS
We See The World From All Sides and Want YOU To Be Fully Informed
In fact, intentional disinformation is a disgraceful scourge in media today. So to assuage any possible errant incorrect information posted herein, we strongly encourage you to seek corroboration from other non-VT sources before forming an educated opinion.
About VT
-
Policies & Disclosures
-
Comment Policy
Due to the nature of uncensored content posted by VT's fully independent international writers, VT cannot guarantee absolute validity. All content is owned by the author exclusively. Expressed opinions are NOT necessarily the views of VT, other authors, affiliates, advertisers, sponsors, partners, or technicians. Some content may be satirical in nature. All images are the full responsibility of the article author and NOT VT.