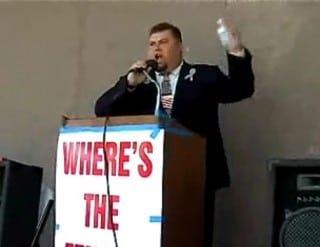 Cover Up in Arizona, Cartel Murder Suspected, Military, FBI, ICE, Homeland Security Flood Area(Updated hourly)
Editor's note:  We have been in contact with sources through Arizona including among the military community at Ft Huachuca, where all border surveillance is managed, all technologies developed and special operations units nest.  We want to thank Mike Harris for being on scene, to the FBI for having sufficient respect to not tell us outrageous lies.
Jason was not a perfect man but he may well have been the best hope for the State of Arizona to protect its borders, stand up to the cartels, Jason had a wealth of backbone.
What he wasn't was a "neo-nazi" and those members of the press that run with that embarrass only themselves.  The second idiotic story is about the need for Army units to dispose of dangerous ordnance Jason kept.  It is claimed he had a couple of dozen of what we once called M79 grenades.  When used in a launcher, such a weapon can cause a small explosion and even injure people.  As a weapon, Marines found it nearly useless.  Then again, the most common rounds were "inert," so slow you could catch them with a baseball glove. 
Work on those cover stories guys.
Miltary trucks are arriving at the murder scene in Arizona,  The FBI, ICE, Homeland Security, State and local forces all there for what the news across the nation and the world had wrongly reported as a murder suicide involving a believed one time militant extremist.
The police press conference today, blaming the incident in domestic violence is a "cop out" as far as we are concerned.  The police say the military has to be there because the "ammunition and ordinance" stored in the home was too confusing for normal people to deal with, like, perhaps, to "leave there" as they should.
An informant has revealed that the neighborhood schools were put on lock-down as the Police were in the process of securing the crime scene. If the Police really suspected that this was a domestic violence murder-suicide, why the school lock-down?
What Law Enforcement does not want the American public to realize is that the Mexican Cartels can operate with impunity in any American neighborhood and there is nothing law enforcement can do to protect the public. Once Americans realize that the Cartels can murder them, and their entire families in their own homes  Americans will panic. Law enforcement is trying to prevent wide spread panic in the civilian population and potential racial reprisals against illegal aliens in the USA.
The chemical drums found may very well be rain water.  After the Gabby Giffords shooting, Gabby and so many others, police statements along with military presence has become something of a signature we have begun to understand, the more departments and agencies, the further from the truth we get.
Our sources tell us that Jason Todd Ready, originally thought to be the killer, was an FBI Confidential Informant.  But informing on what?  White supremacists he was one time aligned with, the "occupy movement" he attempted to join or cartel drug smugglers that his organization, US Border Guards, has been working to stop.
Ready's group, sometimes a few, sometimes Ready alone, military gear, armed to the teeth, patrolled the Arizona border with Mexico and publicly claimed to be putting a "dent" into cartel business.
Whether this is the reason for the deaths, now considered mass murder or some other reason, one potentially complex as any dealings with so many agencies can be, is the reason, only time will tell.
The possibilities now expand with every moment, drugs, weapons, diamonds, terrorists, local political payoffs, racially motivated killings, any of these, all of these are possible.  What has happened is that a "murder/suicide" that would have rated a detective and coroner has now brought a military task force and every FBI agent from the region.
Why other members of the press missed the FBI agents, the military uniforms is testimony to how you can shoot a Federal judge or member of congress in broad daylight and stand trial unscathed.  There is a smell in Arizona, millions in cartel money flowing in, Operation Fast and Furious running guns to drug terrorists with taxpayer money, government officials only inches away from millions of dollars that make the difference, a very thin difference between Arizona being part of the United States and a minor "outcropping" into "Gringoland" for billionaire cartels who have the wherewithal to test any and all, threats, money, it is all on the table.
Or is this just a family murder and a government with too much time on its hands?
Earlier this evening: 
Just in, Democrat Candidate for Pinal County Sheriff Jason Todd (JT) Ready killed in murder rampage in Gilbert Arizona, killing 4 adults and a 2 year old child.  A multi-departmental Federal Task force is currently searching the scene.  Agents report "chemicals," other evidence.
Ready has long been a highly visible political activist and outspoken opponent to the open borders policy of the Obama administration. Possible hit by Mexican Drug Cartels.
[youtube rjOwSIsgE8c]
Ready was running for the Sheriff's position in Pinal County being vacated by current Sheriff Paul Babeu, on the platform issues of anti-drug and anti-illegal immigration.  Ready was actively involved with the US Border Guard, a search and rescue group which assisted in the rescue of lost hikers and illegal immigrants in the desert. Ready also actively reported on the high volume of  narcotics trafficking into the USA to the US Border Patrol and other Law Enforcement Agency's.
The wide open US-Mexico Border was a very important issue for Mr. Ready, who feared not only drugs and illegal aliens entering the USA, but also Al Queada and other terrorist organizations.
[youtube Fa3jgT55pbg]
Ready came to the national spotlight in his attempt to defend "Occupy" protesters in Phoenix from police reprisals.  However, that relationship was not deemed to last.
Whatever could be said of Ready, he was a "Constitutionalist," highly intelligent but quirky, quick to anger and had aliented many of his supporters.
This year, Ready approached VT, as have other candidates for sheriff and other offices in Arizona, for endorsement.  That organization had decided to withhold any endorsements until political positions had become more clearly established and a candidate, both "constitutionalist" and electable,  came to the forefront.
In 2006 Ready ran an unsuccessful campaign for a seat on the Mesa Arizona City Council.  At one time Ready had been an entry level member of the National Socialist Movement, an official spokesman for the NSM stated that Ready had quit the organization almost 3 years ago, and was no longer involved with the organization.
The investigation is being handled by A multi-departmental task force, comprised of the Gilbert Arizona Police Department, the Maricopa County's Office Attorney's Criminal Investigations Division, and the FBI. Ready was also suspected to be an informant for the FBI.
Ready was also a former Marine.
It has been reported that 5 people have been killed 4 adults and a 2 year old toddler. The other victims have not yet been identified. There are no further details available at this time.
News Update: Unidentified chemicals were found upon the scene, the quantities and composition are unknown.
Mr. Harris has enjoyed 30+ yrs in the manufacturing, financial, and technology sectors. He's been core to numerous domestic and international start-ups, acquisitions, and mergers, skyrocketing profit margins through a highly cooperative/collaborative team approach.
His sharp intellect and a fluid intuition was significant boon during his 2005/6 run for the Governor of Arizona where he emphasized the need to initiate immediate, practical, working solutions to the issues at hand.
From 1995 to 2000 Mr. Harris served as a technical advisor to the Committee on Science and Technology of the US Congress, as well as sitting as Chairman of various boards over the years. With an MBA in finance, from a foundation of Applied Physics and Economics, he has proven an exceptional ability to function well above and beyond "the box".
Dubbed "Iron Mike" through his many years as a martial artist, Mr. Harris has clearly demonstrated the resiliency to take blows and to come back fighting. This extraordinary skill-set he now brings to his ultimate Vision for a free, abundant, and prosperous society.
ATTENTION READERS
We See The World From All Sides and Want YOU To Be Fully Informed
In fact, intentional disinformation is a disgraceful scourge in media today. So to assuage any possible errant incorrect information posted herein, we strongly encourage you to seek corroboration from other non-VT sources before forming an educated opinion.
About VT
-
Policies & Disclosures
-
Comment Policy
Due to the nature of uncensored content posted by VT's fully independent international writers, VT cannot guarantee absolute validity. All content is owned by the author exclusively. Expressed opinions are NOT necessarily the views of VT, other authors, affiliates, advertisers, sponsors, partners, or technicians. Some content may be satirical in nature. All images are the full responsibility of the article author and NOT VT.