Since the Zionist-instigated false-flag attacks of 9/11, the United States of American has been at war with the religion of Islam.
The neocon cabal of Zionist Christians and Jews behind 9/11 have tried to disguise their war on Islam as a "war on terror." But occasionally one of them blurts out the truth: "I always thought it was a mistake not to say what Iraq really was, that is, a war against an expanding Islam," opined neocon think-tanker James Schall of Georgetown University.*
The election of Barack Obama turned down the rhetorical volume of the war on Islam, but didn't fundamentally change the policies: continued criminal occupations of Afghanistan and Iraq, support for anti-Muslim operations in Somalia, Sudan, and elsewhere, drone strikes and kidnappings of Muslim leaders and innocent bystanders, false-flag attacks attributed to Muslims, rabid islamophobia blanketing the media, preparations for war with Iran, and the looting of the US treasury and destruction of the American economy to pay for it all. (All of this despite the fact that no Islamic country poses the slightest geo-strategic threat to the United States, while China surges past us economically and, soon, militarily, fueled by money and stolen military technology from the Rothschilds and their Zionist crime center in Occupied Palestine.)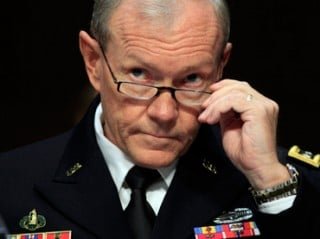 But now, a cornerstone of the war on Islam – the brainwashing of US military personnel to hate, fear, and mass-murder people because they happen to be Muslim – has been removed by none other than General Martin Dempsey, Chairman of the Joint Chiefs of Staff. Mikey Weinstein of the Military Religious Freedom Foundation reports:
On Tuesday, April 24th, 2012, the nation's top soldier, Chairman of the United States Joint Chiefs of Staff (JCS) General Martin Dempsey, initiated a truly seminal message. He finally generated the long-overdue, mandatory edict that all training and educational materials throughout the U.S. military must be immediately reviewed within one month's time to ensure that no anti-Muslim or anti-Islam references or content remain. Henceforth, officers and enlisted members will no longer be taught and institutionally indoctrinated that "the United States is at war with Islam and we ought to just recognize that."
In the elective class "Perspectives on Islam and Islamic Radicalism," officers from all four branches of the military were indoctrinated with vile Islamophobic programs masquerading as "anti-terrorist" education.
What JCS Chairman Gen. Dempsey seeks to investigate is a heinous curriculum of systemic, anti-Muslim hatred that has warped the cultural competence of United States service members, leading to grim results in combat theaters within which the U.S. has been engaged since 9/11. In 2012 alone there have been reports of bodies being urinated on by U.S. Marines, the proud and brazen display of the Nazi Waffen-SS banner by U.S. Marines, soldiers posing with corpses, and most insultingly, the burning of copies of the Qur'an at Bagram Air Field.
The long-overdue review of the appalling Islamophobic materials used to train our servicemen and servicewomen is a classic case of the proverbial closing of the barn door long after the farm animals have left. President Obama's surprise visit to Afghanistan on Tuesday, May 1, 2012 starkly illustrated this fact. The ink had barely dried on the Strategic Partnership Agreement signed by himself and Afghan President Hamid Karzai before car bombs and gunfire rattled Kabul in a daring Taliban attack centered on the high-security Green Village compound.
In hindsight, the Department of Defense-sanctioned anti-Muslim training programs have proven to be a quintessentially formidable propaganda asset in the Taliban fight against the "Crusading" NATO forces. Indeed, they provide grist for the mill of regional resentment and strain alliances to a breaking point.
Listen to my interview with Mikey Weinstein:  http://www.americanfreedomradio.com/archive/Truth-Jihad-32k-042312.mp3
But will Gen. Dempsey's changes stick? The false-flag attacks of 9/11/2001 created tremendous islamophobic momentum in US and Western popular culture and the minds of policy-makers – as they were designed to do. Philip Zelikow, the self-professed expert on the creation and maintenance of public myths like Pearl Harbor, which continue to impact public opinion and policy down through the generations presumably helped write the script for the 9/11 attacks with this multi-generational effect in view. The purpose of 9/11 was not only to launch wars on Iraq and Afghanistan, but more importantly to bring the US into a long-term, multi-generational war against Israel's enemies – namely, the world's 1.5 billion Muslims. One order by Gen. Dempsey to the military won't be enough to overcome this momentum.
If General Dempsey really wants to end the war on Islam, he should go to whatever lengths are necessary to expose the truth about 9/11. To that end, he ought to consider a Constitutional Counter-Coup in which all those complicit in 9/11 and its cover-up are suddenly and without warning detained and charged by military courts rather than the neocon-owned federal judiciary. Obviously the media criminals who have been covering up 9/11 would need to be detained and charged, in order to prevent them from lying their way out of the predicament they created for themselves. And, equally obviously, US forces would have to be put on high alert, with all the big guns pointed at Israel, to prevent more 9/11-style chicanery and deter resistance to the Constitutional Counter-Coup.
* International Herald Tribune, 1/11/2005
Dr. Kevin Barrett, a Ph.D. Arabist-Islamologist is one of America's best-known critics of the War on Terror.
He is the host of TRUTH JIHAD RADIO; a hard driving weekly radio show funded by listener donations at Patreon.com and FALSE FLAG WEEKLY NEWS (FFWN); an audio-video show produced by Tony Hall, Allan Reese, and Kevin himself. FFWN is funded through FundRazr.
He also has appeared many times on Fox, CNN, PBS, and other broadcast outlets, and has inspired feature stories and op-eds in the New York Times, the Christian Science Monitor, the Chicago Tribune, and other leading publications.
Dr. Barrett has taught at colleges and universities in San Francisco, Paris, and Wisconsin; where he ran for Congress in 2008. He currently works as a nonprofit organizer, author, and talk radio host.
ATTENTION READERS
We See The World From All Sides and Want YOU To Be Fully Informed
In fact, intentional disinformation is a disgraceful scourge in media today. So to assuage any possible errant incorrect information posted herein, we strongly encourage you to seek corroboration from other non-VT sources before forming educated opinion. In addition, to get a clear comprehension of VT's independent non-censored media, please read our
Policies and Disclosures
.
Due to the nature of uncensored content posted by VT's fully independent international writers, VT cannot guarantee absolute validity. All content is owned by the author exclusively. Expressed opinions are NOT necessarily the views of VT, other authors, affiliates, advertisers, sponsors, partners, or technicians. Some content may be satirical in nature. All images are the full responsibility of the article author and NOT VT.
About VT
-
Comment Policy