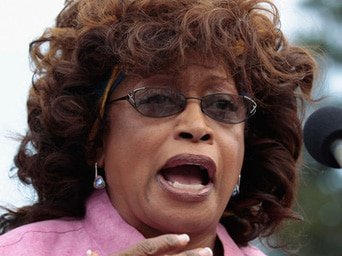 Two thousand years ago The Cross had NO symbolic religious meaning and was not a piece of jewelry.
When Jesus said: "Pick up your cross and follow me," everyone back then understood he was issuing a POLITICAL statement, for the main roads in Jerusalem were lined with crucified agitators, rebels, dissidents and any others who disturbed the status quo of the Roman Occupying Forces.
Corrine Brown has been a member of the US House of Representatives since 1993.
I am running against her as a NPA candidate of conscience in District 5, Florida.
Brown is a Baptist.
I am a struggling Christian Anarchist and I attempted to engage Corrine Brown in a civilized conversation on her Face Book Wall.
Brown responded in a most lame attempt to CENSOR me by DELETING my comments and BLOCKING me from adding more.
What Brown accomplished is to make this race personal because I have faith enough to believe that when "enough Christians follow the Gospel, they can bring any state to its knees."- Father Phillip Francis Berrigan
One of the comments Brown censored was regarding the "Eat and Greet" all state and federal candidates had been invited to in Sanford, Fl. on June 11th.
Brown did not attend or send a representative, but I schlepped over an hour to offer 'concerned citizens' reams of information about the 45th Anniversary of USS Liberty Attack and all about the money that we the people who pay taxes in this nation are being forced to pay to prolong an immoral, illegal and untenable 45 years of Military Occupation of the indigenous Palestinians courtesy of US Campaign to End the Israeli Occupation,
While my two-minute introduction was well received, I got shot down immediately by the 'concerned citizens' when I brought up the Occupation of Palestine!
99% of those I tried to enlighten believed that God made a real estate deal with the ancient Hebrews, and all were clueless that the deal was contingent upon the ancients upholding their end of the bargain!
"From Moses to Jeremiah and Isaiah, the Prophets taught, that the Jewish claim on the land of Israel was totally contingent on the moral and spiritual life of the Jews who lived there, and that the land would, as the Torah tells us, 'vomit you out' if people did not live according to the highest moral vision of Torah. Over and over again, the Torah repeated its most frequently stated mitzvah [command]:

"When you enter your land, do not oppress the stranger; the other, the one who is an outsider of your society, the powerless one and then not only 'you shall love your neighbor as yourself' but also 'you shall love the other.'"
John Hagee CUFI conference in Miami
Because there is nothing Christ like about Zionism and the First Amendment of The CONSTITUTION upholds:
Freedom of Religion and that Congress has NO RIGHT to prohibit "the free exercise thereof; or abridging the freedom of speech, or of the press; or the right of the people peaceably to assemble, and to petition the Government for a redress of grievances" I begin my fervent battle to unseat Corrine Brown and provoke the Tea Party 'Christian' Zionists here:
Christian Zionism is an extremist Christian movement, which supports the claims of those who believe that the State of Israel should take control of all of the land currently disputed between Palestinians and Israelis. It views the creation and expansion of the modern state of Israel as a fulfillment of biblical prophecy toward the second coming of Jesus.
Christian Zionism is a modern theological and political movement that embraces the most extreme ideological positions of Zionism, thereby becoming detrimental to a just peace within Palestine and Israel. The Christian Zionist program provides a worldview where the Gospel is identified with the ideology of empire, colonialism and militarism. In its extreme form, it laces an emphasis on apocalyptic events leading to the end of history rather than living Christ's love and justice today.
Believing that God fights on the side of Israel, Christian Zionists call for the unqualified support for the most extreme political positions. They do not have eyes to see or ears to hear their sisters and brothers in Christ, or cousins in the family of Father Abraham who are caught in the crossfire of the military minded.
Christian Zionist spokes persons have also attributed Hurricane Katrina to God's wrath over America's failure to stop Israel from "disengaging" from Gaza in 2005, although Israel has never ceased their total control over air, land and sea borders!
They also consistently oppose any moves towards a solution to the conflict, which would validate the political aspirations of both Palestinians and Israelis.
Christian Zionism has significant support within American Protestant fundamentalists, and number between 10 and 20 million. Its reach is broad, by virtue of its favorite themes related to the "End Times" and an Israel-fixated Christian media.
Christian Zionism is both a political movement and a way of misinterpreting current events. Its focus on Israel and the Middle East is an ideology and a movement. Its promoters share many beliefs but are not organized through any one institution.
Throughout history Christians have at times twisted scripture to justify violence: for the Crusades, for Antisemitism, and for slavery.
Too often the Church has been slow to respond to these biblical distortions and with disastrous results.
Today Christian Zionists – particularly those with dispensationalist leanings – are well organized and although their motives are couched in terms of compassion toward the Jewish people they base their theology on literal readings of scripture.
The political agenda of territorial expansion advocated by Christian Zionists has given rise to the brutal injustices against Palestinians, which fuels the fires of militancy in the Middle East.
While Jewish Zionism began with the hope that all Jewish people would have a safe and peaceful dwelling place, these corruptors of the gospel Christ preached, adhere to a 200 year old convoluted interpretation of disparate scriptures that they have chosen to weave together to support their fear based judgmental narrow minded doctrine.
This heretical theology of Premellenial Dispensation worships a god of Armageddon and not the God of love, forgiveness and compassion that Jesus/The Prince of Peace modeled even while being nailed to a cross.
The "Left Behind" series of fiction is the epitome of what millennium of theologians have always understood to be what the term anti-Christ is truly about
The term "Antichrist" only appears five times in the Bible, but a cult not based on sound theology has created an urban legend that seeks Armageddon.
The term "Antichrist" never appears in John's Revelation or Daniel, two disparate works of literature written three centuries apart and under very different circumstances, yet the Left Behinder's weave them together.
The small texts that mention the "Antichrist" were written to attack the Gnostic understanding of whom Christ was. A Gnostic relies on intuition and not on dogma and doctrine. Gnostic's were most certainly free spirits and most all of the writings we have about Gnostics, have been the attacks upon them. That all changed when the Nag Hamadi Library was translated and published, for what had been deemed heretical by those in power in the fourth century can now be read in most every language.
Biblical scholars today agree that many books of the Bible were written by others in the name of an apostle, for the quickest way to gain credibility is to trade on another's reputation. We may never know if the author who coined the term "Antichrist" was actually the apostle John who wrote I John and 2 John-the only sources where the term appears.
John also say's much more: "Dear Children, as you have heard that the Antichrist is coming, even now many have come."- I John 2:18
"This is how we know who the children of God are not: anyone who does not do right; nor anyone who does not love his brother."-I John 3:10
"If anyone has material possessions and sees his brother in need but has no pity on him, how can the love of God be in him? Let us love with actions and in truth."-I John 3:17
"God is love. Whoever lives in love lives in God, and God in him. There is no fear in love. Perfect love drives out all fear because fear has to do with punishment [and God is love]."-1 John 4:18
The theology promoted in the "Left Behind" fiction is a theology based on fear and punishment.
The "Left Behind" Christians worship a punitive father as God and they do not have eyes to see that nature is God's primary temple, and war the greatest abomination.
The theology of the fictional "Left Behind" series is the epitome of the spirit of the anti-Christ: which is the evil within ones own heart that leads one to fear "the other" and compels them to violence.
According to Christ, to be his follower, one must do what the Father requires. The Hebrew prophet Micah summed it up best: "What does the Lord require? He has already told you o'man: Be Just, Be Merciful and walk humbly with your God." -Micah 6:8:
To be just is to be fair and reasonable. To be merciful means to treat all people the way we want to be treated. To be humble is knowing oneself; the good and the evil, for both cut through every human heart.
Jesus taught that the only way to resist evil is with good and he modeled that one must always work for peaceful resolutions, even to the point of returning violence with compassion and forgiveness.
Wisdom forgives but never forgets and I have only just begun to address how Palestinians have become:
The New Black by The Mavrix – Official Music Video
I am Eileen Fleming for US HOUSE and I approve of ALL of my messages!
Eileen Fleming founded WeAreWideAwake.org. She produced videos "30 Minutes with Vanunu" and "13 Minutes with Vanunu".  She has authored many books including; A USS Liberty Remembrance of 50 years USA Government Cover-Up of Israel's 8 June 1967 Attack on USA Spy-Ship, Wabi Sabi Body ETERNAL SPIRIT, and Heroes, Muses and the Saga of Mordechai Vanunu. Click here to see her latest books. Visit Eileen's YouTube Channel
ATTENTION READERS
Due to the nature of independent content, VT cannot guarantee content validity.
We ask you to
Read Our Content Policy
so a clear comprehension of VT's independent non-censored media is understood and given its proper place in the world of news, opinion and media.
All content is owned by author exclusively. Expressed opinions are NOT necessarily the views of VT, other authors, affiliates, advertisers, sponsors, partners or technicians. Some content may be satirical in nature. All images within are full responsibility of author and NOT VT.
About VT
-
Read Full Policy Notice
-
Comment Policy