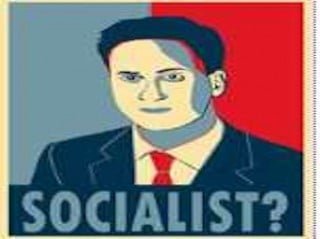 In a desperate attempt to capture the imagination of patriots and nationalists, Labour leader Ed Miliband today promised new measures to prevent the British people being "locked out" of their own jobs by foreign workers. But what jobs is he talking about? Everyone knows there are no jobs. For forty years now, all British governments have gone out of their way to dismantle any manufacturing in this country and with devastating results – British industry and engineering belong to the past and the British governments have done little to change the situation.
Desperate to maintain his political relevance, Milliband distances himself from his predecessor, Gordon Brown's, rhetoric. He (Brown) went on record saying: "I am not going to promise 'British jobs for British workers'". Here, I must mention, that the reference to 'British workers', used so often by Labour politicians, is obviously and completely out of date. Our elected politicians care nothing for the 'worker'. They are far more interested in transforming those who used to be workers, into consumers. In fact, all Western governments are there to regulate consumption and are therefore, openly and completely submissive to big monopolies and global interests.  Accordingly the rest of us, immigrant or a native, have but one simple role in life: to buy, or more accurately, to spend money we don't have.
'Immigration' is obviously another spin. The real problem in Britain and in the West in general is pretty obvious. We are paying a heavy price indeed for the fatal collapse of manufacturing. We hardly produce anything and, as time passes, lose any chance to ever produce anything again.
So Miliband diverts our attention from the real issues. He blames Brown for being "disconnected from the concerns of working people."  Now, I wonder, what could Ed Milliband, that political toddler, possibly know about 'working people' or for that matter, work in general? Did Ed Milliband ever spend one day of his life in a factory or farm? Did Ed Milliband ever produce anything except empty rhetoric?
Milliband picks on immigration because he is, quite simply, a banal populist. He longs to appeal to some imaginary British national collective. At first he is apologetic: "Why didn't we listen more?" he says as if he, Ed Milliband, could ever manage to listen. Then, he 'empathises' with the weak: "We lost sight of who was benefiting from that growth – and the people who were being squeezed. And, to those who lost out." As the son of an immigrant Jewish cosmopolitan socialist, I would expect nothing less of Milliband than to transcend himself beyond any such fake, righteous British tribalism.  If Ed Milliband really cared about the 'squeezed' then he would be perhaps a universalist and care about all those who fall behind – both indigenous Britons and immigrants.
Ed Milliband speaks about 'immigration' today because to him, the very concept of production and manufacturing is alien.  It is so much easier for his lame mind to appeal to the lowest form of British xenophobic feelings.  But the truth is, as ever, quite simple: if Britain wants to save herself and to stand again on her own two feet, she must flee the service economy and pursue real production that would imbue the presently archaic notion of 'British worker', with a new and vibrant meaning.
The Wandering Who? A Study Of Jewish Identity Politics, phony socialism and more..

The book can be  ordered  on Amazon.com  or Amazon.co.uk
Gilad Atzmon is an Israeli-born British jazz saxophonist, novelist, political activist and writer.
Atzmon's album Exile was BBC jazz album of the year in 2003. Playing over 100 dates a year,[4] he has been called "surely the hardest-gigging man in British jazz." His albums, of which he has recorded nine to date, often explore the music of the Middle East and political themes. He has described himself as a "devoted political artist." He supports the Palestinian right of return and the one-state solution in the Israeli-Palestinian conflict.
His criticisms of Zionism, Jewish identity, and Judaism, as well as his controversial views on The Holocaust and Jewish history have led to allegations of antisemitism from both Zionists and anti-Zionists. A profile in The Guardian in 2009 which described Atzmon as "one of London's finest saxophonists" stated: "It is Atzmon's blunt anti-Zionism rather than his music that has given him an international profile, particularly in the Arab world, where his essays are widely read."
His new book The Wandering Who? is now availble at Amazon.com
ATTENTION READERS
Due to the nature of independent content, VT cannot guarantee content validity.
We ask you to
Read Our Content Policy
so a clear comprehension of VT's independent non-censored media is understood and given its proper place in the world of news, opinion and media.
All content is owned by author exclusively. Expressed opinions are NOT necessarily the views of VT, other authors, affiliates, advertisers, sponsors, partners or technicians. Some content may be satirical in nature. All images within are full responsibility of author and NOT VT.
About VT
-
Read Full Policy Notice
-
Comment Policy