On the Road with Jim Dean – A Lesson in Bad Play and Nice Play
This is a virtual on the road this weekend as I have been catching up on piles of things waiting for me after being away for five weeks. But plenty has been going on, the good, the bad and the ugly.
First up, Jerry Sandusky goes down for forty five counts, both he and the wife, and family in total denial the whole way.
You can't do this for as long as he and all of the rest of them that do this stuff without having the denial game down pat.
He used his position as so many do, thinking that it will protect him, and it almost did. I expect some prosecutions of those who knew and did not report it. That's a felony folks.
Washington, DC is the upper class pedophile capital of the country. Diplomats with their immunity are plied with kids to blackmail them into spying, etc. The Honey trap is paired with the Kiddie trap to snare those they need control over, politicians, contractors, you name it.
Gordon Duff has written here about how they are used as Washington party favors for special guests after the normal people have gone home. Many of the disappeared children end up in this entertainment business. Main stream media also look away when powerful people are involved.
But the sad story is that these 'incidents' are usually covered up by all involved, often including the parents who do not want it made public. Society is to blame for that.
People fear being tainted more than they do leaving the predators out on the prowl. This is our own form or 'honor killings'. The victims can tell you all about it. I know someone who was kidnapped as a boy and held captive for almost a year before escaping and saving his life. The family actually hid this from the relatives not in the area.
I had a lady friend (really just a friend) years ago who was the ex-wife of a minister of a major Protestant church group.
Their method of handling incidents say with youth directors, usually with teens, was to 'swap them' with an offender from another church.
That's right folks. The pastors would get on the phone and work out the 'I'll take yours if you will take mine."
Neither the church members or their boards knew of this recycling solution, a la Vatican style. The theory was that by scaring them and giving them once last chance they would be cured.
Goodbye Jerry. In case you don't know, prison life for child abusers…well, it ain't pretty. Get yourself in shape for being abused as you are going to get plenty of it. Nailing guys like you gets one a gold star in the joint. And if you think you can file charges, they will just deny it.
_________
Enter Stage Left…Uncle Drew and the Pepsi Video
….Featuring Kyrie Irving, Pepsi, and the New Jersey Pick Up Hoop Team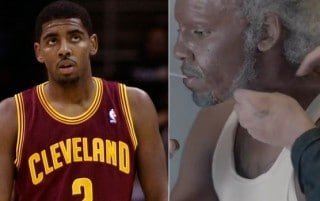 Now for something a bit more uplifting, but within the same genre as people are often not as they seem. This one has a good ending.
We often cover international Intel stories here at VT that mainstream media is afraid to do.
One of our problems involves the old adage of truth is stranger than fiction, ie.. the problem of we "if we tell folks they probably won't believe it anyway so why bother and risk the flack?"
This excuse is used by many who know horrible stuff but take a pass by doing nothing. This week Gordon covered the West Point curriculum scandal, something that most of us have heard nothing. Despite it's unpleasantness the story was told here because the problem needs to be fixed and exposure is always the first step.
But my next stop is a fun story that has a tie in with Uncle Drew.
If Kyrie Irving, rookie of the year from Cleveland who played at Duke last year can spent four hours in makeup to transform himself into an old man in his 70's.

He then hustled a bunch of streetwise New Jersey pick up ball players, challenging them to let an old man show them how the game is played. 
A lot of pretending, penetration and acting go on in the Intel biz. Believe me, they could compete for the Emmy awards easily. The public thinks that all the faking is done against outside enemies, but much of it, too much of it is done against the home folks.
Taxpayers fund a lot of it but there is a lot of off the books funding that enables no reporting to Congress. The extent and scale of the black flag operations are beyond the imagination of most.
I thought of that as I watched this fabulous goof video by Kyrie Irving on some neighborhood hoop players. Be sure to watch it all as you have the Jim Dean satisfaction guarantee.
Four hours in the make up room transformed him into an old man  in his 70's, and I mean full Hollywood style.
With some old man voice training he was ready to go and this excerpted video shows he did a marvelous job.
Our congratulations to the creative agency people who came up with this. I hope some bonuses were given out.
But when you are finished watching this video, I leave you with the thought of if an amatuer actor can pull something like this off, just think what tens of thousands of people can do with multi billion dollar budgets.
And yes, you will buy it. When it's done to the bad guys, then that is chalked up to 'All's fair in love and war'. But when it is done to the taxpayers, then we are getting the Jerry Sandusky treatment.

Jerry's victims did not pay his salary but we pay a lot of Sandusky types to play with us. That is a bad play for us, as is the collective denial problem.
So keep your guard up and be suspicious. And when you see whistle blowers getting roasted by the system, if you do nothing to help them then you are bringing misery on your own people. The Sandusky types will feel they are too big to be nailed…and keep on doing the nailing.
My call for some solidarity lecture is over. Here is the video. No hype…it really is fabulous. Twelve million views is also a good endorsement. Thanks Kyrie, for being a sport. You made a good book end for Sandusky, and all like him.
[youtube 8DnKOc6FISU]
Jim W. Dean was an active editor on VT from 2010-2022.  He was involved in operations, development, and writing, plus an active schedule of TV and radio interviews.
ATTENTION READERS
We See The World From All Sides and Want YOU To Be Fully Informed
In fact, intentional disinformation is a disgraceful scourge in media today. So to assuage any possible errant incorrect information posted herein, we strongly encourage you to seek corroboration from other non-VT sources before forming an educated opinion.
About VT
-
Policies & Disclosures
-
Comment Policy
Due to the nature of uncensored content posted by VT's fully independent international writers, VT cannot guarantee absolute validity. All content is owned by the author exclusively. Expressed opinions are NOT necessarily the views of VT, other authors, affiliates, advertisers, sponsors, partners, or technicians. Some content may be satirical in nature. All images are the full responsibility of the article author and NOT VT.