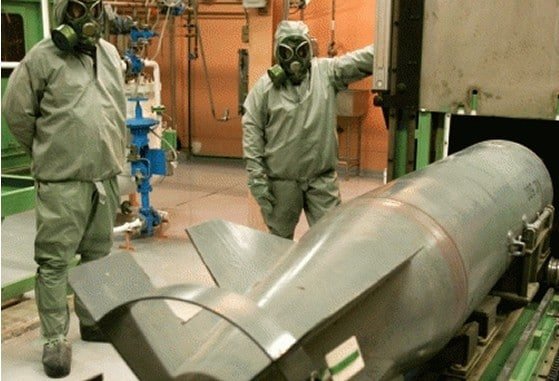 Syria Moving Parts of Chemical Arsenal Says U.S.A.
WORLD NEWS TOMORROW – WASHINGTON : Syria has started moving some parts of its huge stockpile of chemical weapons out of storage, American officials said Friday, but it was uncertain whether the transfer was a precaution as security conditions across the country rapidly deteriorated, or something more sinister. Some analysts and lawmakers said Syria's president, Bashar al-Assad, might use chemical weapons in a last-ditch attack against an increasingly potent rebel force, possibly as part of a campaign of ethnic cleansing. Other officials said Syrian security forces might be moving parts of the arsenal to prevent it from falling into rebel hands.
"The truth is, we just don't know," said one American official who has been monitoring intelligence reports since the Syrians began moving the chemical weapons in recent days. "There's a big gaping hole in what we know."
Over the past four decades, Syria has amassed one of the largest undeclared stockpiles of chemical and biological weapons in the world, including sarin nerve agent, mustard gas and cyanide, the officials said. It is unclear which agents are being moved, how big the transfers have been, and where the weapons are being taken.
Spokesmen for the Pentagon, the State Department and the Central Intelligence Agency declined to comment on the movements, which were reported on Friday by The Wall Street Journal.
But Andrew J. Tabler, a senior fellow and Syria expert at the Washington Institute for Near East Policy, said some chemical weapons had been moved in an area around Homs, where some of the heaviest fighting has taken place in recent weeks.
"The Assad regime is losing control of its territory," Mr. Tabler said. "You don't move this stuff unless you have to, and they obviously felt they had to move it."
A second United States official with access to classified intelligence reports said rebels were placing increasing pressure on Syrian security forces across the country.
"The armed opposition is becoming more effective," said the official, who like the first official spoke on the condition of anonymity to discuss the assessments. "It's using guerrilla tactics more frequently to attack regime forces and improving tactical coordination."
"It appears the insurgents are now operating in larger chunks of territory," the official continued. "The situation is not at a tipping point as the regime still has significant military capabilities, but the military ground underneath Assad is increasingly unstable."
Israel and the United States have been monitoring movements of all Syrian weapons, and are believed to have allowed the Syrians to move some conventional weapons over the border into Lebanon without protesting, said one analyst with long experience in Syria, speaking on the condition of anonymity. The rationale for Israel's not speaking up is that any interference would play into the government's accusation that the entire uprising is an Israeli plot, the analyst said.
Obama administration officials, who have maintained from the beginning of the turmoil in Syria that the country's chemical and biological arsenal remained secure and in storage, warned the Assad government on Friday to keep it that way.
"We have repeatedly made it clear that the Syrian government has a responsibility to safeguard its stockpiles of chemical weapons, and that the international community will hold accountable any Syrian officials who fail to meet that obligation," said Victoria Nuland, a State Department spokeswoman.
But Representative Mike Rogers, a Michigan Republican who is chairman of the House Intelligence Committee, said in a statement, "We cannot discount that the Assad regime could make a decision to use these weapons in an act of desperation, and we must act accordingly." He neither confirmed nor denied that Syria had moved the munitions.
George Little, the Defense Department spokesman, said: "We would caution them strongly against any intention to use those weapons. That would cross a serious red line."
American intelligence analysts had probably observed the movement of chemical weapons or the preparations to move them in satellite imagery and communications intercepts, security specialists said.
Jeffrey White, a former Defense Intelligence Agency intelligence officer who now studies Syria at the Washington Institute for Near East Policy, said if the munitions were being deployed to firing units, that would suggest that preparations were being made for their use. If they are being concentrated at a smaller number of secure sites, that would suggest concerns about enhancing security.
Mr. White said that moving the chemical weapons raised concerns that government convoys could come under attack with the risk that deadly agents could be released or could fall into the hands of rebel forces.
Moving the munitions around would also pose new challenges to Western analysts trying to keep track of them. "Presumably the intel community will be checking all known C.W. facilities, but they could be going anywhere," Mr. White said.
ATTENTION READERS
We See The World From All Sides and Want YOU To Be Fully Informed
In fact, intentional disinformation is a disgraceful scourge in media today. So to assuage any possible errant incorrect information posted herein, we strongly encourage you to seek corroboration from other non-VT sources before forming an educated opinion.
About VT
-
Policies & Disclosures
-
Comment Policy
Due to the nature of uncensored content posted by VT's fully independent international writers, VT cannot guarantee absolute validity. All content is owned by the author exclusively. Expressed opinions are NOT necessarily the views of VT, other authors, affiliates, advertisers, sponsors, partners, or technicians. Some content may be satirical in nature. All images are the full responsibility of the article author and NOT VT.