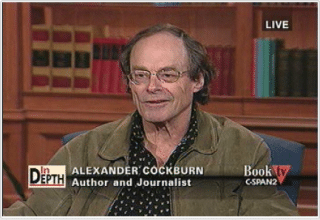 This essay was first published at Press TV

Alexander Cockburn, who founded the "Counterpunch" website, recently passed away after a long, unadvertised battle with cancer.
Cockburn was one of the all-time great journalistic truth-tellers. He was one of the few writers of our time who bears comparison with people like George Orwell and H.L. Mencken: his incisive wit, precisely chiseled sentences, and total commitment to the truth as he saw it put him in that league. He never understood the biggest story of the 21st century – the 9/11 inside job, with all of its implications -but his failure was not one of cowardice, but of "his trusting nature as the world went black" (Gordon Duff). Unlike most 9/11-deniers of the left, Cockburn was untainted by bad faith.
Ironically, it was Alexander Cockburn who first alerted me to evidence that 9/11 was a false-flag operation. In the fall of 2001, Cockburn published several references to Justin Raimondo's research on the massive Israeli spy ring that facilitated the 9/11 operation. (Raimondo's work on the subject was ended by a freak heart attack, which curtailed his 9/11 truth research, but not before his book The Terror Enigma was finished.)
One thing I learned from Alexander Cockburn was that simply telling the truth about certain subjects could come off as amusingly preposterous…and that this serio-comic, understated-hyperbolic style could awaken readers to the sorry reality that the truth was even more outrageous than the apparently preposterous assertion. (It was this technique, ripped off from Alex, that won me the "Most Obnoxious Thing on the Internet" award from Matt Taibbi and Rolling Stone magazine, when I called for the taxpayer-funded construction of the world's biggest mosque on New York's Ground Zero as atonement to Muslims for the 9/11 blood libel.)
One of Cockburn's best uses of this technique was his call for every sovereign nation to be issued a few dozen nuclear weapons along with its flag and its seat at the United Nations. Though it sounded tongue-in-cheek, this proposal was actually dead serious. Cockburn, like top foreign affairs analyst Kenneth N. Waltz, author of "Why Iran Should Get the Bomb" (Foreign Affairs, July/August 2012) saw that nuclear balancing means stability, while asymmetrical nuclear capabilities make it more likely that the bombs will go off. Therefore, the whole idea of "nuclear non-proliferation" is absurd. If nuclear weapons are monopolized in a few hands, those hands will eventually cast the bombs at opponents who cannot retaliate; whereas if every country could credibly threaten to annihilate any prospective attacker, aggression would be impossible, and peace would reign.
The inescapable conclusion: Every peace-loving person should be working as hard as possible to make sure that nations like Iran, Syria, North Korea, Venezuela, Cuba, and others threatened with aggression should have a robust nuclear capacity. Every nation should have the ability to completely annihilate any prospective attacker.
And though this statement sounds crazy at first glance, anyone who considers it long and hard enough will conclude that it harbors a great, unspeakable truth.
Alexander Cockburn ripped through mealy-mouthed platitudes about "the urgency of non-proliferation" the way George Orwell ripped through earlier examples of double-speak. His call for every nation on earth to have enough WMD for mutually assured destruction to put war on the proverbial scrap-heap of history is especially relevant today.
For we are living in a hellish time: Neocon neo-Nazis have torn up the judgment of Nuremburg, which deemed aggression the supreme war crime, in order to wage aggressive war without end on the entire world. After demolishing the World Trade Center and extinguishing 3,000 lives, these unspeakable monsters have murdered more than two million human beings in their wars of aggression, and ruined the lives of tens of millions more. While reducing Iraq and Afghanistan to depleted-uranium-tainted wreckage, these avatars of pure evil have waged aggressive war on dozens of nations, both overtly and covertly: Slaughtering whole families in cowardly drone attacks, orchestrating false-flag bombings, murdering Iranian scientists, paying fanatics and mercenaries to cut people's throats, and God only knows what else, the psychopaths of empire are running roughshod over the entire planet as they seek to establish a one-world empire under their dominion – a fate worse than death for the rest of humanity.
I don't think Cockburn imagined that giving every country a few dozen guaranteed-deliverable nuclear weapons would be a permanent solution. Instead, it would be a stopgap measure that would keep the peace for a couple of generations until the habit of war, like the earlier habit of slavery, is finally broken.
This is precisely what the neocon psychopaths don't want. They are not just addicted to war (like the US economy), they are philosophical defenders of war as the noblest expression of humanity's essence. They hate the way nuclear weapons have made World War III impossible. As neocon flag-bearer Bill Kristol put it, "What's the good of nuclear weapons if you can't use them?" That's why neocon strategists, led by Paul Wolfowitz, have spearheaded the development of "usable nuclear weapons" including the mini-hydrogen-weapons of the kind allegedly used by the Israelis in Beirut, Bali, and possibly the Twin Towers.
Today, the Zionist-dominated US empire is seeking to establish a near-monopoly of nuclear weapons, which would allow that empire to use these weapons at will. To prevent their use, as Alexander Cockburn saw, we must arm the prospective victims.
The first step toward the destruction of all nuclear weapons – a goal shared by all sane human beings – is the provision of a robust deterrent capability to all nations that are potential victims of imperial aggression. Today, that would be Syria and Iran. Tomorrow, who knows what countries will become targets of the Empire's mad dogs.
For these reasons, as Alexander Cockburn saw only too clearly, we should work and pray for nuclear proliferation today, and complete and universal nuclear disarmament tomorrow.
Or – better yet – the immediate overthrow of the psychopathic empire, and complete and universal disarmament today.
Dr. Kevin Barrett, a Ph.D. Arabist-Islamologist is one of America's best-known critics of the War on Terror.
He is the host of TRUTH JIHAD RADIO; a hard driving weekly radio show funded by listener donations at Patreon.com and FALSE FLAG WEEKLY NEWS (FFWN); an audio-video show produced by Tony Hall, Allan Reese, and Kevin himself. FFWN is funded through FundRazr.
He also has appeared many times on Fox, CNN, PBS, and other broadcast outlets, and has inspired feature stories and op-eds in the New York Times, the Christian Science Monitor, the Chicago Tribune, and other leading publications.
Dr. Barrett has taught at colleges and universities in San Francisco, Paris, and Wisconsin; where he ran for Congress in 2008. He currently works as a nonprofit organizer, author, and talk radio host.
ATTENTION READERS
We See The World From All Sides and Want YOU To Be Fully Informed
In fact, intentional disinformation is a disgraceful scourge in media today. So to assuage any possible errant incorrect information posted herein, we strongly encourage you to seek corroboration from other non-VT sources before forming an educated opinion.
About VT
-
Policies & Disclosures
-
Comment Policy
Due to the nature of uncensored content posted by VT's fully independent international writers, VT cannot guarantee absolute validity. All content is owned by the author exclusively. Expressed opinions are NOT necessarily the views of VT, other authors, affiliates, advertisers, sponsors, partners, or technicians. Some content may be satirical in nature. All images are the full responsibility of the article author and NOT VT.