Being a recipient of many Veteran newsletters and wire services, plus a lot of emails to articles I have written, it is apparent a lot of Veterans as well as much of America has fallen on tough times. I have written many articles that have been critical of government largess, bone-headed moves, and worthless projects and programs that affect every taxpayer in the country. In short, there seems to be no oversight as to where our tax dollars go.
We have bureaucrats taking lavish vacations on government money (termed of course, business meetings); handing out money in entitlements to many people who just won't go to work; advertise aggressively trying to hook every American on food stamps and other goodies to garner votes, and yet, when it comes to budget cutting, the Veteran seems to be the first sacrificial lamb Washington puts up for slaughter.
Promises made by most Americans are bonefide obligations that we have been taught to fulfill. When we signed-on to military service, we innocently listened to the promises made by recruiters of the noble service we were about to perform, and that Uncle Sam would have our back. We were told we don't leave our wounded and dead on the battlefield and that we can be assured that we won't be forgotten when it comes to the reward of educational, heath, and retirement benefits. Right…and the tooth fairy will put a dime under your pillow when you lose a tooth.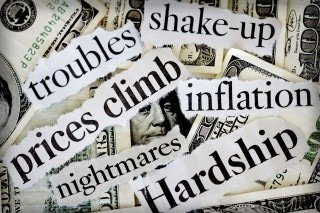 I remember being at a gathering of Veterans and a question came up about the term "COG" that was noted in the fine print on a government document pertaining to Veteran benefits…mmmm, what does that mean? After a lengthy silence, I pointed out that COG mean Convenience of the Government. In short, the government can do just about anything to negate an obligation if it sees fit. That's the whole problem with a government that has the power to give you everything you want. It also has the power to take everything you have…at the convenience of the government. A good review of COG and the theory behind it is covered under SUBPART 49.3—ADDITIONAL PRINCIPLES FOR COST-REIMBURSEMENT, CONTRACTS TERMINATED FOR CONVENIENCE of the Federal Acquisition Regulations.
Convenience of the Government, as extended to the military has been adjudicated and courts almost always sides with government, as a catch-all for why government does what it does. As an example in cases that lead to termination of military service… "These have varied over time and by service, but they consist of the three categories used to separate plaintiffs in this case: weight control failure, unsatisfactory performance, and convenience of the government."
Additionally, the convenience of the government upon the application and interest of the military (also translated into the Veteran) member because of special or unusual circumstances including, but not limited to, the following: Sole surviving family member or for overweight/obesity or lack of physical fitness. "But not limited to" is short for doing whatever the government wants for the sake of expediency, with the one on the short end of the stick (i.e. the Veteran), who must then go through the lengthy process of litigation. The Veteran in all cases is not always right, but it is a two-way street. Every time I hear COG, upon investigation, surprise, surprise, the Veteran is the loser.
COG is an ace up the sleeve of government and it doesn't just apply to the military and Veterans. It seemingly can be applied at their discretion as in the case of government contracts, i.e. "Interim Clause 252.204-7009 provides for terminating the contract for the convenience of the government in the event that during the course of performance the contractor becomes aware that it will generate or need access to export-controlled items." From the AAU Association of American Universities COGR Council on Governmental Relations.
So, what does all this have to do with those who have fallen on tough economic times? To be honest about it, probably not a whole lot to the large majority of Americans who never have to encounter contracts with the government, but for the Veteran, some of the situations we find ourselves in, can be directly related to actions, or should we say, inactions of the government.
Take those who have come home and are lost in a world of PTSD, or those who are physically and/or mentally disabled because of their service to the country. For that matter, let's throw in those who are on Veteran's pensions that seem to be continually devalued by inflation with little remedy except the hopes the government will provide a cost of living adjustment (which, by the way, doesn't take into consideration the escalating cost of food and transportation). Everything pertaining to Veterans' issues gets pushed to the back of the stove whether we are discussing Agent Orange, ongoing physical therapy needs, employment opportunities and continued job training, education, or family counseling during the transition period between military and civilian life. Simply put, it sometimes appears we just don't count anymore.
A family without vast financial resources can easily disintegrate as it tries to cope with the financial burden that often occurs when dealing with the aforementioned challenges. It is what it is, and we can moan about the facts until we are blue in the face, or we can get off the dime and, as a group, begin the massive task of seeking change. Before we all give a collective grunt in futility, understand change really can occur.
We have the power of the VOTE. We don't have to sit back and wait for the next shoe to drop on our house of cards. We need to be informed voters, and by the way, the Veteran Voting Block is much larger than most of the other special interest groups. We are 25 million strong and with our spouse and children number closer to 50 million, more than enough to turn the tide if we truly study the candidates and get better people into office.
For the last year we have been developing a new website which we hope to have completed shortly. Its URL is www.yourmilitaryvoter.us. Though our team of volunteers is working as fast as it can, there's still a way to go. The site is totally non-partisan and gives the facts and figures on the incumbent (how they vote, and where their money comes from), and the challenger (as much as we can dig up from scouring the Internet and other sources). It is a massive task, but a little homework looking around the Internet at the Afghanistan Iraq Veterans Association; Project Vote Smart; and On the Issues, will let you know more about your candidates than any public relations literature their headquarters put out, any "puff-piece" you'll read or see in your local media, or hear from one of your neighbors who may have his/her own agenda going.
If you are struggling financially because of circumstances beyond your control, regardless of your physical condition, there are many opportunities to earn extra money on the Internet, or if you are physically able, to pick-up a part-time job for a few hours a week. Some will tell you it is impossible, but I have had to do it, and while it may not be the most glamorous thing in the world, it is possible. In fact there are ways to earn and save money at the same time if you just look around and network with friends. I would be happy to share many of these Internet opportunities with you on a one-on-one basis if you ask.
The problem most America face is the feeling of hopelessness that comes from the relentless barrage of news that pours out of radio, television, and on the headlines of the nation's newspapers every day. When you combine the negative news with your own financial situation and possibly having to deal with the Veterans Administration piled on top, it is easy to feel like you are being rolled under the bus.
As many of my readers know I am fortunate to have Richard's Coffee Shop, "the most patriotic coffee shop in America", to turn to for shelter and advice, where we have Veterans helping Veterans every day. We truly are a band of brothers, with common interests (though not always on the same political page), and I for one, have always been there to help a fellow Veteran if at all possible. Seek and perhaps you too will find.
Following his service in the Marine Corps Ed Mattson built a diverse career in business in both sales/marketing and management. He is a medical research specialist and published author. His latest book is Down on Main Street: Searching for American Exceptionalism
Ed is currently Development Director of the National Guard Bureau of International Affairs-State Partnership Program, Fundraising Coordinator for the Warrior2Citizen Project, and Managing Partner of Center-Point Consultants in North Carolina.
Mr. Mattson is a noted speaker and has addressed more than 3000 audiences in 42 states and 5 foreign countries. He has been awarded the Order of the Sword by American Cancer Society, is a Rotarian Paul Harris Fellow and appeared on more than 15 radio and television talk-shows.
ATTENTION READERS
Due to the nature of independent content, VT cannot guarantee content validity.
We ask you to
Read Our Content Policy
so a clear comprehension of VT's independent non-censored media is understood and given its proper place in the world of news, opinion and media.
All content is owned by author exclusively. Expressed opinions are NOT necessarily the views of VT, other authors, affiliates, advertisers, sponsors, partners or technicians. Some content may be satirical in nature. All images within are full responsibility of author and NOT VT.
About VT
-
Read Full Policy Notice
-
Comment Policy