Bankrolled By Adelson and Koch, as "Swiftboaters" Were Paid by Warren Buffet
There are well established military groups, "OPSEC" is not one of them.  What surprised me this year is that senior Special Forces, many of whom live in the Southwest, now say they are voting Obama. 
With new ads for Romney coming out of an imaginary and obscure phony military group, time for some "truthing."
Least of all, those of us who fought in Vietnam are likely to listen to those Special Operations forces who we know were and are the heart of the narcotics business that is destroying the United States.
"It wouldn't be possible without your active participation and silence."  VT editor Colonel Eugene Khrushchev, Soviet and Russian Airborne Forces, explains:
[youtube qh7g7x6U8lY]
I know the leaders of the Special Forces and SEAL communities personally.  One works as my Chief of Staff, a Special Forces Colonel who served as A Team leader in Vietnam, headed our first HALO team and has a four page resume.
I spent a vacation with friends, including "Grandfather of the SEALS," Master Chief Petty Officer Herschel Davis, two years ago.  Davis is NOT an Obama supporter, still active working with Blackwater.  Our relationships go well beyond politics and I have always found room in the special ops community for America over money and pimping.
Imagine, not only Paul Ryan, the man who hates Social Security, but Mitt Romney, someone who spent the Vietnam War living in a chateau in France doing "bible study" or whatever that thing is that Mormons read.
I have read it and it isn't the bible but that's just my personal opinion.
This stuff started with Kerry and the Swiftboaters.  Kerry's enemies were proven liars, Warren Buffet promised to pay a million dollars to Paralyzed Veterans of America, I pushed him on it and he wrote me.
I simply asked him to pay the money or to take a more active interest in real veterans problems and keep his nose out of politics, something he seems quite ignorant about.  He did, however, bother to contact me.
Now I still hear from him, his personal email account was hacked and it says he needs me to send him money.  No, I am not kidding.
Then we can talk CIA.  This is where things get interesting.  Rather than attacking Romney and supporting Obama I will simply tell the truth.
I interviewed one of Osama bin Laden's handlers.  This was what was said.
"Bin Laden never left the CIA, not as long as he was alive.  His primary job was to manage relations between the CIA and Saudi intelligence.  His last project, in 2001, involved funding a CIA operation in China. At no time did he ever go "off the books." 

My last meeting with him was in Peschawar, before I retired, became a diplomat and got involved in a fight with George H.W. Bush over "the Reagan fund" which Bush wanted to steal.  He had me arrested and jailed by the Swiss. 

Bin Laden managed all of America's Stinger missiles used in Afghanistan and, when asked, rounded up all but 4, selling us back 116.  He spoke very good English, insisted on getting paid and was highly respected and trusted.

He had a number of health problems and spent considerable time in US hospitals along with hospitals in Pakistan.  The CIA authorized his treatments and paid his expenses" … Leo Wanta, CIA Station Chief Vienna, former National Security Coordinator under Reagan and former Inspector General of the Department of Defense.
____________________
Thus, when I hear talk about claims of killing bin Laden who died in 2001, verified by CIA Director Panetta, DOD Director Gates, ISI Director Gen. Pasha, ISPR Director Maj. Gen Abbas, former ISI Director Maj. Gen Gul, I tend to believe he was dead. You can touch no more bases.
I also questioned "Colonel Imam," top US operative in Pakistan, later murdered for verification.
This is the conundrum, a word I love more and more.
The group called "OPSEC," are, by old timers, and I am one with considerable "trigger time," consider the younger guys, and their skills are good, as having considerably easier wars than us and being less intelligent.  Iraq and Iran, wars?  Oh come now.
These were Reagan/Cheney/Rumsfeld oil robberies and surrogate Netanyahu butt kissing.  These weren't and aren't wars.
As for the Special Ops guys, do remember.  We lost more Marines in Vietnam than World War 2.  We lost 38 SEALS.
Time the "Special Ops" community began using the "reach around" for what it was meant and to stop continually patting themselves on the back.  This is sickening.  We talk to each other and don't take cash from gamblers, American enemies like the Koch Brothers or from Warren Buffett.
Once you do that, you are no longer "one of us."  Additionally, if you weren't in Vietnam, consider yourself a bit of a poser.  The war was stupid but it was a thousand times Iraq and Afghanistan.
_________________
The other half is our real duty. We are here, not to kiss the butts of millionaire draft dodgers but to look after our own fallen.  We have 500,000 sick and wounded, thousands of dead, crooked wars and some Bin Laden truth that needs to be told:
Bin Laden was CIA.  He was one of "ours."  Give him his star at Langley and end all insults, be it Obama, Bush or whoever.
Anyone so stupid they would brag about killing a top America operative is bad enough.  Bragging about killing one dead for a decade is too much.
No more phony political associations based on military and government service.  It is illegal and sickening, even cowardly.  Colonel Bud Day and his Medal of Honor, the only one based on an unverified personal account that sounds more like a Marx Brothers movie is bad enough.  He and "Hanoi John" McCain, the POW "Songbird" with his presidential pardon is what should be aired first.  If you can't tell the truth, shut up.
I don't expect Obama to admit that the phony killing of Bin Laden was to prevent General Petraeus from staging his own phony killing of Bin Laden.
Lying about bin Laden, about 9/11, is an insult to "one of us."  If you are going to brag about killing CIA agents, why not kill each other.  Bin Laden overthrew the Soviet Union.  What did you do?  Just because Coward Bush (43) turned on a close family friend and tried to put a knife in the back of a dying hero is no reason to keep the myth going.
I am assuming Obama is just too ignorant to make an effort at getting real information.  But then, what do you expect from a president who failed to arrest Bush, Cheney, Rumsfeld and half the Pentagon, the torture and kidnapping "war crimes" brigade?
__________________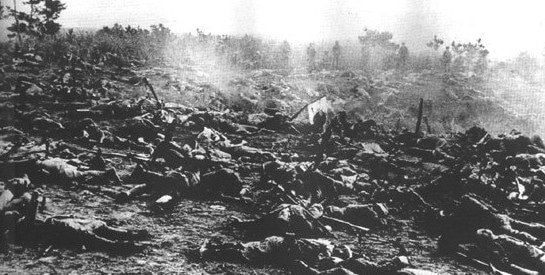 As a Marine, when around the veterans of "the Canal" or "Makin" I learned to keep my mouth shut in respect.  We also all knew what "Frozen Chosen" meant.
For our mouthy young people, whatever you think, you know nothing of war.  Vietnam was beyond your wildest dreams.  We were humbled by those that went before us but also can now put 2 million dead on our roster.  Look at your roster?  We know how long it is, how much you were paid, how you were spoiled, over fed and babied.
As for those who sacrificed, they are our brothers, because of what they lost, not because of the war.  Sorry boys, Vietnam was us fighting on  the wrong side, Iraq was war crimes as is Afghanistan, where running heroin is more important than fighting an enemy that never existed.
You are using a powerful military with advanced weapons on innocent "iron age" civilians. Then you have the nerve to brag about it despite the fact you have had your ass kicked. I have some personal experience with losing wars, albeit one a thousand times larger.
A real America would be out there telling the truth, talking about heroin, talking about phony intelligence, talking about peace and supporting veterans and the real military.
The Marines that died in Vietnam made $100 a month, few slightly more.  We starved, slept on the ground every day and were outnumbered 20 to 1. We had no air support, seldom saw a helicopter and used weapons that jammed if you looked at them wrong.
We also, when we got home, stopped the war, brought our brothers home and didn't take fat jobs at $300,000 a year working for defense contractors.
Got the message?  Time for heads down, mouths closed and move on with life.  We are sick of the bragging and back slapping.  Frankly, we are sick of the whoring, you can't call it anything else.
That a few shameful butt kissers have lining up behind Wall Street and the drug running crowd, we do keep track you know, have decided to cash in on the oaths never kept, the honor never served and the courage we never saw….
In a war of kidnapping, drug running and torture, one might think those who had full access to all knowledge of the criminal aspects, and Special Ops people do, a few more would show some guts.

We are sick of the leftovers of the right wing "Crusader/Evangelist" army of bible thumpers. The real boys, the "Children of Odin" are sick of the blithering of

VT Editor, Colonel Eugene Khrushchev, top Soviet Special Ops Airborne cites America's massive drug dealing in Afghanistan

snot nosed brats.  Take your money, buy your yachts and country club homes and disappear.
For those out there, simply "doing the work," I give my thanks.  Navy SEALS have saved my rear end more than once and I won't forget them and others who put themselves in harms way so I can still say what I say.
For our civilian friends out there, let me explain war. If you sleep in the mud, if you starve, go without water, do it for $25 bucks a week, 24 hours a day, on the line 365 days a year, you know war.
If you do two days a month, get paid $20,000 plus a month private, $12,000 plus a month "active duty" and spend the rest of your time in air conditioning and drinking "single malts," you don't know war. You are a tourist.
As for patriotism, if you are part of a trillion dollar industry, managed from Wall Street, that wars on "militants," who are the real patriots, then "Pogo" was right and you are proving it as I had done myself.
"We have met the enemy and they is us." 
Editing:  Jim W. Dean
Gordon Duff posted articles on VT from 2008 to 2022. He is a Marine combat veteran of the Vietnam War. A disabled veteran, he worked on veterans and POW issues for decades.
Gordon is an accredited diplomat and is generally accepted as one of the top global intelligence specialists. He manages the world's largest private intelligence organization and regularly consults with governments challenged by security issues.
Duff has traveled extensively, is published around the world, and is a regular guest on TV and radio in more than "several" countries. He is also a trained chef, wine enthusiast, avid motorcyclist, and gunsmith specializing in historical weapons and restoration. Business experience and interests are in energy and defense technology.
ATTENTION READERS
We See The World From All Sides and Want YOU To Be Fully Informed
In fact, intentional disinformation is a disgraceful scourge in media today. So to assuage any possible errant incorrect information posted herein, we strongly encourage you to seek corroboration from other non-VT sources before forming an educated opinion.
About VT
-
Policies & Disclosures
-
Comment Policy
Due to the nature of uncensored content posted by VT's fully independent international writers, VT cannot guarantee absolute validity. All content is owned by the author exclusively. Expressed opinions are NOT necessarily the views of VT, other authors, affiliates, advertisers, sponsors, partners, or technicians. Some content may be satirical in nature. All images are the full responsibility of the article author and NOT VT.