Geopolitical Disputes are Not Only Exploited by Countries and Multi-Nationals, but by So-Called Activists, also.
       …by  Jim W. Dean, VT Editor           ….with  Press TV's News Analysis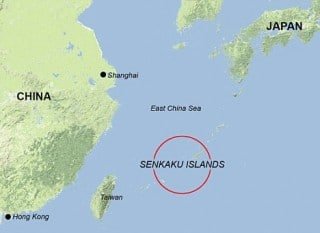 Last Sunday I did a Press TV show on the Japan-China dust up on the Senkaku Islands SW of Okinawa.
Both countries have decided for the usual self serving reasons to crank up nationalist fervor over these two outcroppings. Left with hardly a mention is Taiwan who also has a dog in the fight.
Of course the battle is over the usual thing, natural resources, gas and oil around the islands and fishing rights.
China is a late comer on its claim, 1971,only putting one in after petrochemical deposits were found around the islands.
[youtube hejifHkr5PI] -1
Japan claims a roughly one hundred plus year historical right to the islands due to their 400 km proximity to Okinawa. That is the killing ground where 100,000 Japanese  were lost (plus 70,000 civilians) fighting to buy time for Japan to finish building its first nukes so they could detonate them in places like San Fransisco and other major ports via submarine delivery.
[youtube Lf6-6RvVoJA] -2
And field testing their biological weapons on the American heartland was coming right behind the nukes. Hundreds of thousands of Chinese had been cruelly exterminated during the Japanese military's extensive human testing, which included vivisection…dissecting live victims so the damage to 'fresh' organs could be observed.
[youtube VNJPWjGnYj0] -3
It was interesting to be on a show with Steven Lendmann after two years  of working with VT. But I was still the 'other guest', as brother Steven does not read anything on VeteransToday or know who anybody is here other than Gordon. He is busy with his own thing, which seems to be a steady diet of America bashing in any and all circumstances. Chicago is famous for them, and crooks.
[youtube mPD1G6cQjx0]
Mr. Lin Din from Philadelphia I found to be very professional, with no bias or ideology on his sleeve, and was well versed on the subject. He was a pro, and it's always a pleasure to work with them.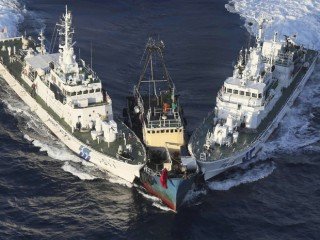 My first shock came when Lendmann declared that this whole island dispute between to heavily populated countries with huge needs for energy imports was an American provocation using 'vassal' Japan as it's proxy.
He stuck with this position despite Mr. Din explaining that the ultra nationalist mayor of Tokyo, and a true blue America hater, had cranked up the current dispute on the Japanese side.
Lendmann presented Okinawa as almost a open Gaza type prison camp run by a Neo-Nazi American military.  There was no mention of the Japanese extermination of one million people in North China as part of a depopulation' strategy to deny support to the Chinese guerrillas with Mao.
And of course no mention of the Chicoms killing more of their own people after taking post war control than the Japanese killed during the war, and they were good killers.
I learned that only America was the big Satan, like there are no legitimate reasons for these long time historical adversaries to fight other that their playing some roll in an America monopoly game. As our readers know, one of the things we sell here at VT is background and framing as that is all A,B,C stuff in intelligence analysis.
An analyst that is only concerned with the material that supports where he wants to go, and ignores everything that doesn't, is less than worthless.  He's an in-house threat. They usually get canned.
Having hosted over a hundred HTV shows here in Atlanta, and being my first live one with PressTV, I did not hog the micro phone as it wrecks the host's question rhythm for the show. Accordingly I got half the airtime of the others, so my sample clips below are short. But I did bring some material I knew they would not because that is usually why we are invited.
Brother Lendmann claimed that Japan did America's bidding out of having no ability to stand up to China. I had anticipated that so I dropped the bomb about all of Japan's nuclear weapons that no one is supposed to know about. Bless their hearts they have them disassembled, but those folks certainly have a deterrent, one in spades.
Japan also has a space program with super booster rockets that can carry a six ton payload…a school bus or the space shuttle on the nose.
Most folks have missed that any country that can put something into orbit can deliver a nuclear warhead, or many of them on a six ton warhead, simply by steering them with a few jets to where they want them to go.
I share my short clips as an example of once again VT is spreading our journalism and commentary to a wider audience. And what we putting out there is just not stuff that we know, but all that comes in from our many sources, readers, and yes…even critics.
We have a major piece of work getting cranked up this week, a potential game changer. You will know it when you see it.
We try to give you the real deal and fill in the holes on info we know that controlled media and controlled activists leave out. You can let me know in the comments if I should stick with my day and night and weekend job at VT 🙂
Jim W. Dean was an active editor on VT from 2010-2022.  He was involved in operations, development, and writing, plus an active schedule of TV and radio interviews.
ATTENTION READERS
We See The World From All Sides and Want YOU To Be Fully Informed
In fact, intentional disinformation is a disgraceful scourge in media today. So to assuage any possible errant incorrect information posted herein, we strongly encourage you to seek corroboration from other non-VT sources before forming an educated opinion.
About VT
-
Policies & Disclosures
-
Comment Policy
Due to the nature of uncensored content posted by VT's fully independent international writers, VT cannot guarantee absolute validity. All content is owned by the author exclusively. Expressed opinions are NOT necessarily the views of VT, other authors, affiliates, advertisers, sponsors, partners, or technicians. Some content may be satirical in nature. All images are the full responsibility of the article author and NOT VT.