by Press TV
Who's afraid of the big bad Zionist, Charlie Wolf? Not me.
I got into a little verbal tiff with Charlie on yesterday's Press TV interview – watch the fireworks here.
I'm a fair-minded, polite person. So normally I let people have their say, as my radio show fans know. But if the person I'm talking to is being a real asshole – like Sean Hannity, Juan Cole,  Juan Cole or Charlie Wolf – I'll occasionally throw the rules out the window and fight no-holds-barred.
Even though Charlie started the rudeness, I was afraid Press TV might punish me with a six-week suspension, or a ten thousand dollar fine, for interrupting Charlie, telling him to shut up, and accusing him of mendacity and incitement to genocide. But it turns out that in television debating, as in televised sports, brawls are good for ratings. Or as the Irish proverb puts it: If you want an audience, start a fight.
So Press TV is calling me back for another go at Charlie today. You can watch it live on PressTV.com, 12:30 to 1 pm Central.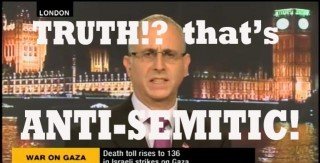 Meanwhile, here is yesterday's show, which is rapidly going viral.
Watch video: 'Zionist-owned media distort Gaza war truth, encouraging genocide'
A prominent analyst tells Press TV that while the Zionist regime is intentionally targeting the civilians in Gaza, the Zionist-operated media across the world try to claim otherwise to enable and encourage a genocide.
At least 139 Gazans, including women and children, have been killed and some 1,200 injured in more than 1,450 Israeli attacks on the besieged Palestinian territory since November 14.
Gaza has been blockaded since 2007, a situation that has caused a decline in the standard of living, unrelenting poverty, and unprecedented levels of unemployment among the population of about 1.7 million Palestinians.
Press TV has conducted an interview with Kevin Barrett, the author and Islamic Studies expert from Madison to shed more light on the issue. He is joined by two additional guests on Press TV's News Analysis: Donna Nassor, the political commentator from New York City, and Charlie Wolf, the broadcaster and political commentator from London. What follows is an approximate transcription of the interview.
Press TV: Kevin Barrett I will put this question to you and your response there to what Benjamin Netanyahu was saying when he was questioned about why civilians are being hit?
Barrett: Well, what we just heard from the previous guest [Charlie Wolf] is arguably a crime against humanity. It is called incitement to genocide.
What is going on in Palestine today and what has been going on in Palestine for at least the last 50 years and perhaps nearly the last century, is a case of genocide and these lies that the Zionist-owned and operated media, they are spewing all over the world, such as those we just heard from the previous guest, claiming that Israel is trying to minimize the civilian casualties, are enabling and encouraging this genocide.
The fact of the matter is that Israel kills children and then bombs the funerals where people are mourning the death of those children.
The fact of the matter is that this is collective punishment of the people of Gaza for exercising their absolutely legitimate right to resist occupation, which is guaranteed under international law.
And they have the right to resist genocide just as the people in the Warsaw ghetto had the right to resist genocide.
The truth of the matter is that… the rocket fire that supposedly provided the excuse for this round of accelerated genocide was the equivalent of the fourth of July Balloon rockets virtually. These firecrackers are nothing compared to the kind of White Phosphorous, the huge bombs, the massive ammunitions that are being used against civilians intentionally in Gaza and there is absolutely no argument that this is being done to try to stop rocket fire.
There is no way that it is possible to stop rocket fire from Gaza because people in Gaza are going to be resisting occupation and they are going to find a way to get some rockets even if they are relatively small and ineffective ones.
There is absolutely no way that this Israeli government could possibly stop that.
So what they are doing is that they are just punishing the people of Gaza to send a message to the world, 'We can do anything we want!' in the same way that they blew up the Twin Towers on September 11th 2001 as a message to the world as Sharon said right afterwards: 'We Jews control America.' That was broadcasted by the BBC; this is a message of absolute domination, Zio-Nazi domination…
Press TV: We know that Hamas has said that it is including those conditions in a possible truce agreement with Israel. It said that we want the siege to be lifted, that we want the crossings to be open, we want to be allowed to move across the area and the land belongs to us.
Now do you think that in this agreement that we are expecting, these are conditions that Israel has said it is going to accept and it will accept?
Barrett: Well, that would be wonderful if they did, because it is really not in anybody's interest to have these ongoing massacres in Gaza followed by sporadic fire of ineffective rockets intentionally directed into unpopulated areas, which is what Hamas has been doing.
This is not in anyone's interest, it needs to stop, they need to open up the border and restore the people of Gaza to their autonomous status as citizens of Palestine.
Of course this is not going to solve the Palestinian problem. The problem will only be solved when Israel admits the genocide it has been perpetrating over the past half century, at least, and it admits the right of return, it admits that it must be a state for all citizens, that they cannot be an apartheid Jewish superior state, which there are two classes of citizens, the Jewish goobermensch and the non-Jewish rabble and filth, who have no rights.
It has to be like every other advanced country in the world; it has to be color blind, ethnically blind, religiously blind.
Every citizen needs to have the same rights and when Israel-Palestine becomes one state for all its people, that's is when we are finally going to have peace but in the meantime I do hope that we have an honest truce and I hope that trade and a reasonable standard of living would be restored for the people of Gaza.
Press TV: If you can under a minute tell us your conclusion. Do you think that this situation right now as Donna [Nassor, other guest of the program] says, could serve as a catalyst for some major developments here in this conflict?
Barrett: I think it could. I think that Netanyahu has failed in his attempts to pulverize Gaza into submission and I think that the Obama administration which defeated the Netanyahu-bet Romney ticket, will perhaps be in a position to exert pressure on the Israelis, whether or not Netanyahu wins the election,…, if not a just peace settlement at least some kind of a truce.
Presidents in their second term have that ability to lean on Israeli governments but they did not have in the first term and since Obama has a blood feud going with Netanyahu; he hates Netanyahu, let's hope that the Americans will finally stand up for America's interest and for what is right and just in the world and tell the Israelis to "go to hell, we are going to impose peace on you and whether you like it or not."
Dr. Kevin Barrett, a Ph.D. Arabist-Islamologist is one of America's best-known critics of the War on Terror.
He is the host of TRUTH JIHAD RADIO; a hard driving weekly radio show funded by listener donations at Patreon.com and FALSE FLAG WEEKLY NEWS (FFWN); an audio-video show produced by Tony Hall, Allan Reese, and Kevin himself. FFWN is funded through FundRazr.
He also has appeared many times on Fox, CNN, PBS, and other broadcast outlets, and has inspired feature stories and op-eds in the New York Times, the Christian Science Monitor, the Chicago Tribune, and other leading publications.
Dr. Barrett has taught at colleges and universities in San Francisco, Paris, and Wisconsin; where he ran for Congress in 2008. He currently works as a nonprofit organizer, author, and talk radio host.
ATTENTION READERS
We See The World From All Sides and Want YOU To Be Fully Informed
In fact, intentional disinformation is a disgraceful scourge in media today. So to assuage any possible errant incorrect information posted herein, we strongly encourage you to seek corroboration from other non-VT sources before forming an educated opinion.
About VT
-
Policies & Disclosures
-
Comment Policy
Due to the nature of uncensored content posted by VT's fully independent international writers, VT cannot guarantee absolute validity. All content is owned by the author exclusively. Expressed opinions are NOT necessarily the views of VT, other authors, affiliates, advertisers, sponsors, partners, or technicians. Some content may be satirical in nature. All images are the full responsibility of the article author and NOT VT.