[

Editors note:

  This is confirmation of information first published on VT. While it is nice finally see the Navy trade publications discussing this, we have to ask them why they start out with 1980's attacks as a baseline, then skip all of the 90's and the next decade, and just not figure out that there may be a problem. And…continuing in the 'non-discussion' mode…the problem of swarm missile attacks is not even addressed when that is the main threat facing carrier battle groups, and has been for some time now.]
____________________________________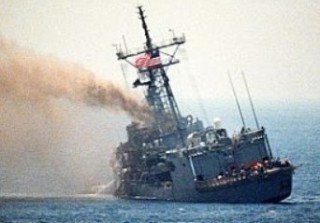 There's an imminent threat to U.S. Navy surface warships, which evidently has Navy leaders worried. Scientists at the Naval Research Laboratory in Washington are working fast to develop a new kind of electronic warfare (EW) module that can be fitted quickly onto ships to meet these threats.
They are working with EW experts at the ITT Exelis Electronic Systems division in Van Nuys, Calif., who will help manufacture and install the new EW system.
Although Navy officials are not spelling out what this newly discovered threat to shipping is, we can assume it has something to do with advanced radar-guided
anti-ship cruise missiles
, or something similar.
The Navy's current Raytheon AN/SLQ-32 shipboard EW system was conceived in the early 1970s in part from lessons learned from an incident during the Six-Day War in 1967 when Egypt sank the Israeli destroyer Elath using a Soviet SS-N-2 STYX anti-ship missile. Upgrades are being made to the SLQ-32 system under the Surface Electronic Warfare Improvement Program (SEWIP).
Other lessons came at different times, such as 1982 during the Falklands War when Argentina sank the Royal Navy destroyer HMS Sheffield with a French-made Exocet missile — an anti-ship missile common to militaries around the world. You can see the missile strike on the Sheffield below.
The Exocet struck again in 1987, this time crippling and nearly sinking the U.S. Navy frigate USS Stark, after an Iraqi warplane launched the missile at the warship; the sea-skimming missile was undetected by weapon systems aboard the Stark. By the time lookouts saw the missile headed for the ship it was too late for the Stark's defenses to be effective.

So we have two allied warships sunk or crippled during the 1980s by the Exocet — a subsonic anti-ship missile with a 360-pound warhead. What happens when allied navies go up against much more formidable anti-ship missile threats?
I think this is what Navy leaders have in mind with this new project to develop an embarkable EW system that can be quickly installed and removed from Navy ships so a relative handful of systems can be deployed on ships going into harm's way.
Navy leaders are known to be concerned with advanced radar-guided anti-ship missiles such as the Russian-made SS-N-22 Sunburn and SS-NX-26 Oniks, which may be operational with military forces in Iran, Syria, and other countries in the Middle East for use against U.S. and allied naval forces in and around the Eastern Mediterranean, Persian Gulf, and other vital waterways.
The Sunburn anti-ship missile can fly at three times the speed of sound, giving targeted vessels little time to react. It carries a 705-pound explosive warhead — twice the destructive payload of the Exocet and three times as fast.
The Oniks missile, more advanced than the Sunburn, can fly as fast as Mach 2.5, and carries a 661-pound warhead. Not only is this missile far faster and more powerful than the Exocet, but it may have the capability to maneuver on its terminal flight to its target, which could make defeating it difficult, if not impossible.


The Sunburn and Oniks missiles have sufficient destructive payloads to pose serious threats to large U.S. warships like aircraft carriers, which are at the heart of U.S. power-projection strategies around the world.
Now think about U.S. Navy ships operating in the tight confines of the Persian Gulf, where maneuver can be limited.
Iran, which has these advanced anti-ship cruise missiles, could launch them from rugged terrain near Gulf waters, giving U.S. warships only seconds to react.
If they were not to have reliable ways to defeat these advanced cruise missiles, the Gulf could become a nightmare killing field for front-line U.S. and allied warships. This must be keeping more than one Navy admiral up at night.
Editing:  Jim W. Dean
______________________________________
ATTENTION READERS
We See The World From All Sides and Want YOU To Be Fully Informed
In fact, intentional disinformation is a disgraceful scourge in media today. So to assuage any possible errant incorrect information posted herein, we strongly encourage you to seek corroboration from other non-VT sources before forming an educated opinion.
About VT
-
Policies & Disclosures
-
Comment Policy
Due to the nature of uncensored content posted by VT's fully independent international writers, VT cannot guarantee absolute validity. All content is owned by the author exclusively. Expressed opinions are NOT necessarily the views of VT, other authors, affiliates, advertisers, sponsors, partners, or technicians. Some content may be satirical in nature. All images are the full responsibility of the article author and NOT VT.