More HD finds from my Vimeo keepers
This week's theme…the Old Time Pride in Ones Work
[ Note: This is a blast for the past, a three pack of wonderful films, all classics chosen from my many many hours of cruising Vimeo material for what I considered 'best ofs'…the ones I knew I would want to watch again someday and the good stuff is timeless. Enjoy some movies at home, compliments of the directors, producers, Vimeo and the crew at VT. ]
 _______________________________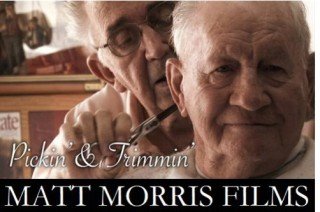 I have a gem for you today…a time machine trip really. During one of my weekend cruises of Vimeo I ran across this fabulous ole timey barbershop film called 'Pickin and Trimmin'. I have no idea why I clicked on it but got captivated right from the beginning.
It is was probably my love for the old On the Road with Charles Kuralt CBS TV show that you age 50's and 60's folks might remember. That is one reason why I am here at VT as part of my magical mystery tour.
Even as a young boy I spotted right away that he had what I thought was the best jobs in the world, traveling around in the camper he had, visiting lots of neat places and meeting folks with all their Americana stories.
And with the pot belly that he had I suspect that the local folks fed him real well. You could tell he loved the work, was a great TV writer and had a hell of a delivery. I will dedicate one weekend to him soon as he the Godfather of wandering.
Gordon may not know it but he has some Charles Kuralt in his veins. If we put his world wandering thousands of photos up here we would have no room for anything else. He and Carol do share some from time to time, though.
The music part of Pickin really came as a surprise, and I was astounded at how good that barbershop jam bands were. So that Vimeo click led me to a piece of living history. That's part of the fun in looking for these and being able to spread them around.
Remember when viewing these you can watch the embed video size on VT, or to get full screen HD click on the 'Vimeo' on the video player control line on the right, and then again when you get there.
Computer monitors are all HD anyway and the Vimeo material usually looks great in HD full screen.
From Vimeo: At The Barbershop in Drexel, NC, the atmosphere is laid back, the conversation free, and the music a cut above the rest. Emmy® nominee, Official Selection of over 60 film festivals, and Best Documentary Short Film winner at the Florida Film Festival and Woodstock Film Festival.
Matt Morris has a preservation fund set up at his website. The old barber has passed on and his last wish to try to keep the weekend Jam session going. This is a longer Jim's Gems than usual at 20 minutes, but a lot of it is the music and it would have been cruel to cut that out.
It is my pleasure to start this weekend's VT Film Festival out with 'Pick and Trimmin'.
[vimeo 31066145]
_________________________________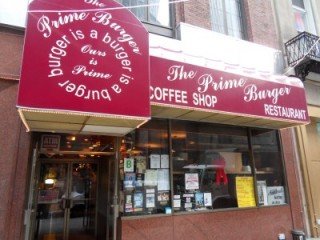 Next up is another Old Timey theme short, what to me is my personal winner of the classic burger joint flick, with it's downtown Manhattan legacy of all the New York City entertainment greats having patronized over the years.
And yes, there is another reason. I use to flip burgers and was a waiter for Friendly Ice Cream in Massachusetts, with many glorious summer job memories.
Titled This Must be the Place, I chose it as a wonderful portrait of the people that work there, the film's focus…the pride that you once used to see in 'non professional work', especially working with people, that seems to have been lost.
I once had planned to make short films like this when I started my TV work. But then I realized the making 50 shows a year allowed me to promote more of the civic, historical, heritage and vet orgs that I saw getting little to no coverage in media. Plus it was a ton of work producing two shows a month for two series while working full time.
My golden years might find me doing my Charles Kuralt thing. But I already have a modern version of that here as a VT editor as we also travel all over the world, in our own way. But that running around in a nice big camper (with a driver of course), to go anywhere, shoot stories on anything that I wanted…that would be the ticket… Charles Karult hooking up from the grave with VT.
From Vimeo:Produced and directed by Ben Wu and David Usui,
of Lost & Found Films (lostfoundfilms.com).

Prime Burger Restaurant, in Midtown Manhattan
For many of the guys that work here, the restaurant is like a second home – some of them have been slinging burgers, making shakes, and waiting on customers at this location for decades. Opened in 1938, the place hasn't been altered since the early '60s, and it looks all the better for it.
Here the waiters and workers of Prime Burger discuss their views on their chosen profession, and the unique nature of the place itself.
THIS MUST BE THE PLACE
There's no place like home. It's where we live, work and dream. It's our sanctuary and our refuge. We can love them or hate them. It can be just for the night or for the rest of our lives. But whoever we may be, we all have a place we call home.
THIS MUST BE THE PLACE is a series of short films that explore the idea of home, or places that function as home – workplaces, hang out spots, etc. We want to figure out what makes them, how they represent us, why we need them.
We're always on the lookout for dwellings of all sorts. If you've come across any curious or eccentric homes or other curious places, feel free to send them along.
[vimeo 35965635]
____________________________________
And to close this weekend's choices, what better than a film about a guy who still makes samurai swords!! This is another of those rare intense pride in their work portraits.
I was shocked to hear him say his family disowned him when he decided to become a sword maker because he could never make a living at it.
It was also a buzz to hear him say that after all of his years of doing this, he has only managed to make a few swords of the quality of the old masters.
In a world where we don't hear the term 'master' used for the boss, and 'disciple' used for an intern…I feel special for having even been able to see this. I don't mean this as a pun but it is a dying art.
There is a brutal side to it also, as all new samurai swords were tested out by chopping someone in half from head to crotch, usually a condemned prisoner… a quick death I am sure. You can just imagined how amazed that the first Westerners were to discover the long tradition of steel sword making…far beyond anything that the West had done up to that point.
Handmade Portraits: The Sword Maker
From Vimeo: As one of Japan's last remaining swordsmiths, Korehira Watanabe has honed his craft for 40 years while attempting to recreate the mythical Koto sword. Read more on our blog: etsy.me/theswordmaker.
[vimeo 32113233]
Jim W. Dean was an active editor on VT from 2010-2022.  He was involved in operations, development, and writing, plus an active schedule of TV and radio interviews.
ATTENTION READERS
We See The World From All Sides and Want YOU To Be Fully Informed
In fact, intentional disinformation is a disgraceful scourge in media today. So to assuage any possible errant incorrect information posted herein, we strongly encourage you to seek corroboration from other non-VT sources before forming an educated opinion.
About VT
-
Policies & Disclosures
-
Comment Policy
Due to the nature of uncensored content posted by VT's fully independent international writers, VT cannot guarantee absolute validity. All content is owned by the author exclusively. Expressed opinions are NOT necessarily the views of VT, other authors, affiliates, advertisers, sponsors, partners, or technicians. Some content may be satirical in nature. All images are the full responsibility of the article author and NOT VT.