Was this guy trained in Poland?

[ Editor's Note:  Normally were are quite suspicious of things coming out of the Daily Beast, as they are a very Israeli friendly platform and known to do favors for 'the cause' on request… particularly with unattributed sources.

Could the Beast be trying to sow a little discord between the EU and US? Sure.

But these diplomatic disagreements even between the big powers go on all the time. For bigwigs speaking to a group like the Trilateral Commission, it is not unusual for something intimate like this to be shared. And it is not out of place for RT to want to follow up on the story.

There is a mention below of another bait and switch on the "proof" of Russian orchestration of the East Ukraine protests. "Evidence" in recordings purported to validate the claims was first attributed to US Intelligence. But then it was walked back to coming from Kiev Intel… hardly a trustworthy source with their horrible record.

My editorial position has always been in line with Lavrov's. If the US wants to keep charging the Russians with running all the East Ukraine referendum protests using Russian agents, then Kerry should go to the UN and put on a Cuban missile-crisis style dog and pony show.

He should play the video tape of the captured agents, or put something else on the table as proof that can be verified not by a psyops department creation still warm from the oven. If he can't do that, then he should shut up until he does have something. The Russians have been most generous with their intercepts… Jim W. Dean ]
______________________________
 – 
First published April 30th

  –

While publicly denying Russia's accusation that the EU forced Ukraine choose between Russia and Europe, in private America's top diplomat reportedly admitted this as fact and that it played a part in escalating the ongoing crisis.
"Some folks in Europe made mistakes, the association agreement became too much of an East-West tug of war. It shouldn't have been," US Secretary of State John Kerry reportedly said at a private meeting of the Trilateral Commission in Washington last Friday. His words were quoted by the Daily Beast on Tuesday.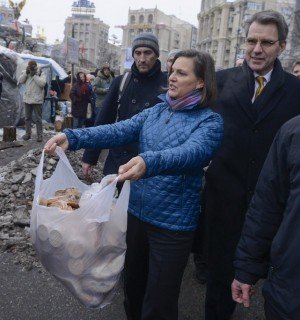 Russia has long insisted that the EU and the US sparked the political crisis in Ukraine last October.
The EU Association Agreement, which President Viktor Yanukovich refused to sign after long deliberation, would require Ukraine to sever or downgrade many of its economic ties with Russia, which would hurt greatly its economy. Yanukovich's decision triggered the protest in Kiev, which eventually escalated into an armed coup that deposed him.
European and American officials rejected Russia's view of the ill-fated agreement, insisting it would not damage Ukraine's trade with Russia. But apparently in private conversation American diplomats don't follow the narrative.
The division between the US and the EU over Ukraine was highlighted earlier in February after a recording of a phone conversation between Deputy Secretary of State Victoria Nuland and American Ambassador to Ukraine Geoffrey Pyatt was leaked.
They were discussing the foreign effort to help anti-Yanukovich opposition create what has now became the new Ukrainian government and expressed frustration at EU's hesitance on the matter, culminated by the infamous "F**k the EU" exclamation from Nuland.
Kerry's private comment on the EU's role in the crisis is just a small part of the Daily Beast report. The majority was focused on the alleged evidence that the US had of Russian agents acting in Ukraine to stir up protest.

While the website initially implied that the evidence had been recorded by US intelligence, the State Department later clarified that the reported remarks were related to recordings produced by the Ukrainian government.
Kiev published a six-minute recording, which it said proved the presence of Russian secret agents in Ukraine, two weeks ago.
This was one day after a disastrous attack on protester-held Slavyansk, in which then-head of the Anti-Terrorist Center of the Ukrainian Security Service was injured. However, the evidence was far from conclusively damning for Russia.
Another package of evidence Ukraine produced so far, which the US State Department endorsed, proved to be faulty.
The alleged photo evidence case quickly collapsed, with the New York Times, which headlined it, having to publish a follow-up admitting its failure to properly verify it.
Following Kerry's previous remarks on the alleged Russian involvement in Ukraine, Russian Foreign Minister Sergey Lavrov challenged his counterpart to produce any real proof.
"Kerry has many times mentioned that Ukrainian intelligence captured Russian agents," he said. "So, show them to the people, have them on TV. Kerry says they don't want to disclose the identities of those people who are engaged in the captures. This is not serious."
Editing:  Jim W. Dean
_______________________________
Author Details
Jim W. Dean is Managing Editor of Veterans Today involved in operations, development, and writing, plus an active schedule of TV and radio interviews. He broke into television work doing Atlanta Public TV programs for variety of American heritage, historical,military, veterans and Intel topics and organizations since 2000. Jim's only film appearance was in the PBS Looking for Lincoln documentary with Prof. Henry Lewis Gates, and he has guest lectured at the Army Command and General Staff School at Fort Gordon, GA.
He is working to find time now to database his extensive video archive of Americana and interviews filmed during his public TV days so individual topic segments can be key word searched to quickly use in future multi-media projects.
Read Full Complete Bio >>>
Jim's Latest Posts
ATTENTION READERS
Due to the nature of independent content, VT cannot guarantee content validity.
We ask you to
Read Our Content Policy
so a clear comprehension of VT's independent non-censored media is understood and given its proper place in the world of news, opinion and media.
All content is owned by author exclusively. Expressed opinions are NOT necessarily the views of VT, other authors, affiliates, advertisers, sponsors, partners or technicians. Some content may be satirical in nature. All images within are full responsibility of author and NOT VT.
About VT
-
Read Full Policy Notice
-
Comment Policy