One Year Anniversary – Arlington Cemetery
By Harold Saive and Phil Restino – Veterans For Peace, CH 136
Tribute to Bowman – VFP Ch 136
 [youtube vVGEVFhxlMw]
Arlington Cemetery, 13 Nov 2013
"…the cancer that eventually took Colonel Bowman's life can be traced to his exposure to the chemical weapon, Agent Orange".
It is with sadness that we announce the passing of a great Patriot and a friend to so many of us in the struggle for the justice of World Peace.
Dr. Bob Bowman passed away at his Melbourne, FL home on Wednesday night August 22nd, 2013 at age seventy-eight following an eight year battle with cancer.
He leaves behind his wife of 57 years Maggie Bowman, their 7 children and 21 grandchildren. He was National Commander of the non-partisan veterans organization The Patriots …where the motto continues to reach out:
"Follow the Constitution, Honor the Truth and Serve the People."
On Valentines Day of 2011, Dr. Bowman presented details of the 9/11 coverup to a stunned audience at the Florida Free Speech Forum in Gainesville. The video of this event is an excellent tribute to Dr. Bowman – an American who taught us all what it means to have "The Right Stuff".
[youtube PYnadsgtuG4]
Andrew Steele on 9/11 Free Fall radio show hosted a memorial broadcast remembering and honoring the outstanding service of Dr. Bob Bowman. On the day of 9/11, Bowman's strong science background allowed him to determine the physical impossibility of near free-fall acceleration collapse of the Twin Towers and Building 7. Bowman knew that for NIST to determine that, THREE skyscrapers could collapse into their own footprint is a scientific absurdity that severly undermines domocracy. Bowman's contribution parallels that of Maj General Smedley Butler who realized that WAR is a Racket
[youtube _YC_lFb9aQk]
Dr. Bowman is well known worldwide as the Pentagon insider who courageously blew the whistle in the early 1980's on the U.S. government's plans to use as an offensive "first-strike" weapon the "Star Wars" missile defense system which he had directed during much of the 1970's. Bowman's efforts led to his self-published book on the matter in 1985 entitled "Star Wars: Defense or Death Star?".
Prior to directing the top secret "Star Wars" programs during the Ford and Carter administrations, Colonel Bowman served as a USAF pilot with service in Korea and Vietnam, having flown 101 combat missions as a fighter pilot in Vietnam. It was Colonel Bowman's war experiences that led him to work for peace as a member of Vietnam Veterans Against the War and later as a celebrated member of Veterans For Peace, serving as its keynote speaker at four VFP National Conventions over the years
In 2007 Dr. Bowman wrote "An Open Letter to the New Generation of Military Officers Serving and Protecting Our Nation" – By Dr. Robert M. Bowman, Lt. Col., USAF, ret., National Commander, The Patriots.
Current Military service officers and Pentagon officials are highly encouraged to read Bowman's letter. (PDF)
As has been the case with so many of our Vietnam Veterans, the cancer that eventually took Colonel Bowman's life can be traced to his exposure to the chemical weapon "Agent Orange" to which he was exposed during his service in Vietnam.
The Central Florida chapter 136 of Veterans For Peace is Bob's local chapter in addition to his work with The Patriots
Kathy Bracewell of the East Central Florida chapter of CODEPINK Women for Peace put together a scrapbook display of photos and written testimonials that we received from Dr. Bob's friends and colleagues.
Andy Steele, host of the weekly radio program "9/11 Free Fall" used previously recorded interviews from,8/25 – 8/26 in a commemorative broadcast of "9/11 Free Fall" on Thursday, 8/29 that payed tribute to our recently departed friend and courageous comrade in peace, Dr. Bob Bowman.
(credit to Bob Tuskin for the post-talk interview – Facebook)
Related: Kevin Ryan's new book: ANOTHER 19 Investigating Legitimate 9/11 Suspects on Guns Butter Radio (Interview, Don't miss it)
[youtube C-OUY5UHxPU]
UPDATE: High Rise Safety Initiative Investigates WTC-7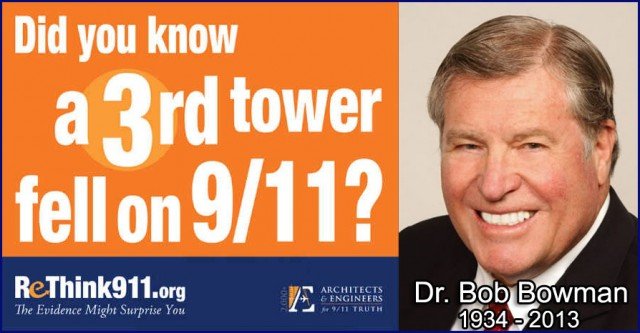 Related:   A farewell to one of our own: Remembering Dr. Robert M. Bowman by Kevin Barrett, PhD.
Harold Saive is a Vietnam era Veteran (USAF) His civilian career spans 30 years as hospital administrator, electronics specialist, musician, Amateur radio operator and private pilot.
Activist interests include: (1) Prosecution of perpetrators in the deliberate demolition of the Twin Towers and Building 7 on 9/11/2001. (2) Expose media and government agency disinfo to bring an end to climate manipulation via covert aerosol dumps, that poison the breathable atmosphere with neuro-toxins and heavy metals and infect the human body and natural ecosystems with bio-engineered pathogens. (3) End the Federal Reserve, an unconstitutional private central banking system.
ATTENTION READERS
Due to the nature of independent content, VT cannot guarantee content validity.
We ask you to
Read Our Content Policy
so a clear comprehension of VT's independent non-censored media is understood and given its proper place in the world of news, opinion and media.
All content is owned by author exclusively. Expressed opinions are NOT necessarily the views of VT, other authors, affiliates, advertisers, sponsors, partners or technicians. Some content may be satirical in nature. All images within are full responsibility of author and NOT VT.
About VT
-
Read Full Policy Notice
-
Comment Policy