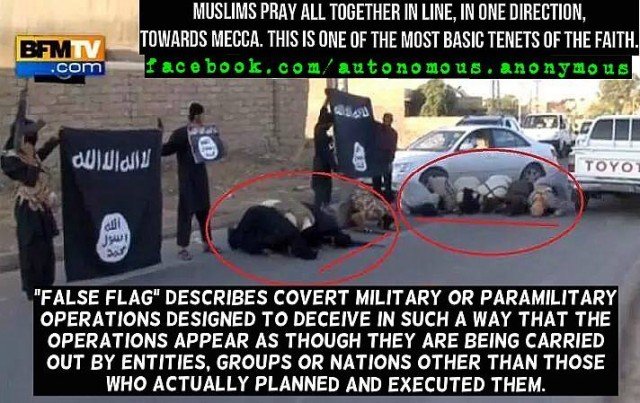 According to the corporate media, the US is leading the fight against ISIL, the un-Islamic terror group posing as "Islamic State." Yet American leaders' words and actions raise questions about their real goals.
In his speech last week Obama said: "I will not hesitate to take action against ISIL in Syria as well as Iraq." But then on Monday night, senior administration officials suggested that the real target of US intervention in Syria would be the government of President Bashar al-Assad – ISIL's number one enemy!
Last night's Associated Press story headlined "US would hit back against Assad attack" begins:
"The United States would retaliate against Syrian President Bashar Assad's air defenses if he were to go after American planes launching airstrikes in his country, senior Obama administration officials said Monday."
These "senior officials" delivered an explicit threat against Assad. They said that any Syrian attempt to enforce that nation's sovereignty would provoke US attacks on Syrian air defenses.
This is precisely the scenario desired by Zionist neoconservatives, who have spent years plotting to use the US Air Force to overthrow the government of Syria. These warmongers tried to trick the US into bombing Syria last year by staging the false-flag chemical weapons incident at al-Ghouta. They were stymied by Presidents Obama and Putin, who worked together to defuse the situation and avoid a potential World War III scenario.
The neocon-Zionist forces retaliated by orchestrating the overthrow of democratically-elected President Yanukovych in Ukraine. That coup d'état was arranged by Victoria Nuland, wife of neocon-Zionist plotter Robert Kagan. Its purpose: Ruin the Obama-Putin relationship and revive Zionist efforts to destroy Syria. The Zionists, who are behind schedule on their 9/11 plan to destroy "seven countries in five years," want to overthrow Assad en route to Tehran; and they know the only way to remove Assad is through the kind of massive US-NATO bombing campaign that overthrew the Qaddafi government in Libya.
Two major obstacles stop the US from bombing Syria. One is Russia, which has drawn a red line around Syria, saying to NATO "You will not do to Syria what you did to Libya." Any all-out Western attack on Syria would risk a Russian response that could escalate into a nuclear World War III.
The other obstacle is Syria's Russian-built air defense system, which is reportedly highly advanced and capable of shooting down US, NATO or Israeli planes. US military planners know that if they tried to bomb Syria they would lose planes. The specter of Syrian shoot-downs of US-NATO planes over Syria, followed by Russian intervention on behalf of Syria, has thus far dissuaded the kind of US-NATO bombing campaign that would be required to enforce "regime change," i.e. Libyan-style destabilization and national destruction, on Syria.
Now it seems the neocons are trying to send US bombers into Syria under the flimsy pretext of fighting ISIL, Syria's enemy. They apparently hope that Assad, the Russians, and the world will be fooled into thinking that US-NATO bombers will only target ISIL. Yet the neocons have been publicly suggesting that US bombers should also support the so-called "moderate Syrian rebels" who are supposedly fighting against ISIL as well as against the Syrian government.
If the Zionist-dominated US or its NATO proxies bomb Syria, Presidents Assad and Putin will have to assume the worst: Under cover of attacking ISIL, the bombs will actually be used to attempt to overthrow Assad. Ironically, ISIL would be one of the biggest beneficiaries. And so would ISIL's sponsors, the Zionists and their American neocon agents.
The US threat to bomb Syria, using ISIL as the pretext, is yet another preposterous false flag scenario. Just as when the US threatened to bomb Syria in retaliation for Assad's alleged chemical weapons attack at al-Ghouta, the neocons are conjuring up a "dastardly enemy" in order to sell their war plans.
In the wake of the al-Ghouta incident of August 2013, the neocons tried to portray President Assad as a monster who had slaughtered thousands of his own people with WMD for no military purpose. Neoconservative propaganda demonizing Assad flooded the Zionist-dominated Western corporate airwaves. Yet as Seymour Hersh reported (more than six months after Press TV and VT broke the story) it was actually the enemies of President Assad who launched the al-Ghouta chemical attack. Al-Ghouta was a false flag designed to force Obama, who had been tricked by the neocons into drawing a red line around the chemical weapons issue, to bomb Syria. Fortunately, the ruse was exposed – and a World War III scenario nipped in the bud.
Though their August 2013 demonization of Assad misfired, the neocons are back with a slightly more plausible "evil enemy image" designed to justify the destruction of Syria. That evil enemy image, of course, is the veiled face of the bloody butchers of ISIL.
If the Obama Administration were sincere in its stated intent to forge a broad regional coalition against ISIL, it would not be threatening to bomb the Syrian government, ISIL's biggest enemy. Instead, it would be working with President al-Assad's government, and the other governments of the region, as well as Russia, in a long-term effort to address the real causes of the rise of ISIL.
And the first real cause that needs to be addressed is Western and Zionist support of ISIL. Why was ISIL armed and trained at CIA bases in Jordan? Why has Israel provided direct and indirect support to ISIL, going so far as to bring wounded ISIL fighters to Israeli hospitals for treatment? Why are Western  assets in the Persian Gulf pouring money into ISIL's coffers? And why is the Western "deep state," which controls much of the world's illegal drug trade, throwing its dirty money at ISIL?
The best way to stop ISIL would be for Obama to go on television and confess that US forces and its proxies, at the instigation of the neocon Zionists, created, armed, trained, and funded ISIL, in order to sow chaos and destruction, euphemistically termed "destabilization," throughout the Middle East.  By admitting the truth that ISIL is a manufactured enemy – "the best enemy money can buy" – Obama could undercut the series of neoconservative false flags that are leading towards planetary nuclear destruction. He would also be undercutting what little legitimacy ISIL enjoys among that small segment of the Muslim population whose anger is matched only by its naiveté.
During the same speech, Obama could reveal the fact that 9/11-anthrax, 7/7, the Madrid and Bali bombings, and the Mumbai slaughters have all been inside jobs orchestrated by the same neoconservative Zionist cabal. The goal: Turning global public opinion against Islam, and sparking a 100-years-war against Islam and Muslims on behalf of Greater Israel.
Unfortunately, the chances of a US president unveiling the lies that govern our world are practically nil. So realistically, we had best limit our short-term hopes to the modest expectation that once again, Putin and Obama (backed by US Joint Chiefs of Staff head Martin Dempsey) will prevent the neocons from sparking World War III.
Dr. Kevin Barrett, a Ph.D. Arabist-Islamologist is one of America's best-known critics of the War on Terror.
He is the host of TRUTH JIHAD RADIO; a hard driving weekly radio show funded by listener donations at Patreon.com and FALSE FLAG WEEKLY NEWS (FFWN); an audio-video show produced by Tony Hall, Allan Reese, and Kevin himself. FFWN is funded through FundRazr.
He also has appeared many times on Fox, CNN, PBS, and other broadcast outlets, and has inspired feature stories and op-eds in the New York Times, the Christian Science Monitor, the Chicago Tribune, and other leading publications.
Dr. Barrett has taught at colleges and universities in San Francisco, Paris, and Wisconsin; where he ran for Congress in 2008. He currently works as a nonprofit organizer, author, and talk radio host.
ATTENTION READERS
We See The World From All Sides and Want YOU To Be Fully Informed
In fact, intentional disinformation is a disgraceful scourge in media today. So to assuage any possible errant incorrect information posted herein, we strongly encourage you to seek corroboration from other non-VT sources before forming educated opinion. In addition, to get a clear comprehension of VT's independent non-censored media, please read our
Policies and Disclosures
.
Due to the nature of uncensored content posted by VT's fully independent international writers, VT cannot guarantee absolute validity. All content is owned by the author exclusively. Expressed opinions are NOT necessarily the views of VT, other authors, affiliates, advertisers, sponsors, partners, or technicians. Some content may be satirical in nature. All images are the full responsibility of the article author and NOT VT.
About VT
-
Comment Policy