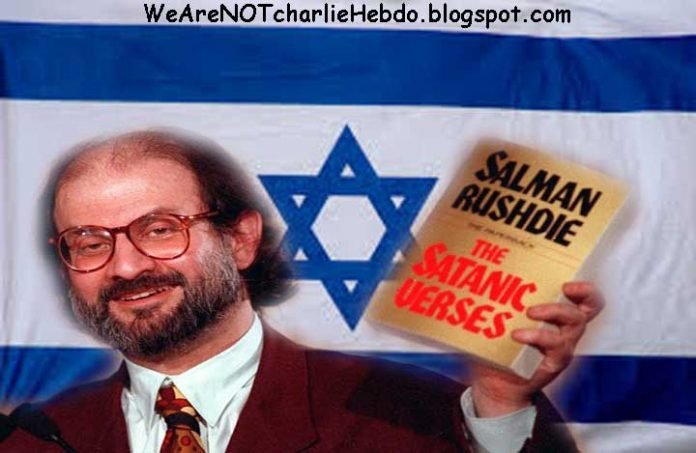 Salman Rushdie is no stranger to pornographic attacks on Islam and Muslims disguised as "free expression." After all, that's how he went from unknown third-rate novelist to rich and famous jet-setting celebrity.
So it's unsurprising that Rushdie is issuing veiled terrorist threats to six writers boycotting the PEN America Center's tribute to Charlie Hebdo: "What I would say to both Peter (Carey) and Michael (Ondaatje) and the others is, I hope nobody ever comes after them."
Rushdie's statement "I hope nobody ever comes after them" is, of course, ironic. Here is the standard definition of irony:
The expression of one's meaning by using language that normally signifies the opposite, typically for humorous or emphatic effect.
So the actual meaning of Rushdie's words, translated from the ironic, is: "I hope somebody comes after them."
Rushdie's threat against the six writers is reminiscent of Netanyahu's August, 2014 threat that France would be hit by terrorists if it continued to coddle the Palestinians. As philosopher Alain Soral reminds us in his contribution to the book We Are NOT Charlie Hebdo:
 We need to remember the threats of Benjamin Netanyahu, who announced in no uncertain terms that if France recognized the existence of Palestine we would have terrorist attacks in France. He declared to the French people on August 7th, 2014, in an interview with i-Télé: "This is not Israel's battle. It is your battle, it is France's battle. It they succeed here, if Israel is criticized instead of the terrorists, if we do not stand in solidarity, this plague of terrorism will come to your country.

If we do not understand Netanyahu's statement as a disguised threat, it is absurd, since there is obviously no reason why recognizing Palestine and standing in solidarity with Gaza would provoke Islamist attacks in France. But there is every reason why it would provoke reprisals from Israel. It is at the very least bizarre that this "prediction" or "threat" from Netanyahu—who is leading today's (January 11th Paris) march—should come true.
Likewise, there is no reason why Muslims would "come after" the six writers. On the contrary, Muslims are grateful that these writers are intelligent enough to see through the Edward Bernays style Charlie Hebdo propaganda, if not the false flag itself.
But there is, of course, every reason to be concerned about the opposite possibility: That Rushdie's Zionist friends might "come after" one or more of the six writers to teach them a lesson. Is that what Rushdie wants? Is that what he's asking for?
Salman Rushdie is apparently on the inside with the Zionist false-flaggers. He was even warned by his (Zionist) security detail not to fly on 9/11. When I asked him about that, he turned away and clammed up.

The folks who organized the Charlie Hebdo public relations stunt must have been inspired by the story of Salman Rushdie: All it takes to turn an unknown, bombastic, pretentious, notoriously egotistical novelist into a global celebrity and icon of the War on Islam is an"Islamic terrorist" threat. So let's set up a money-transfusion to keep this failing magazine Charlie Hebdo on life support; make sure the editor knows that he's getting the money on condition of publishing plenty of disgusting pornographic attacks on Islam; and then we'll have black ops professionals stage a slaughter in the magazine's offices, blame it on patsies (who will quickly be silenced), and finally build a Church of the Charlie Hebdo Martyrs to whip up more hatred of Islam and Muslims and convince the public to support killing many more millions of Muslims in wars for Israel. And if six famous writers don't go along with the program, our man Salman will issue a Bibi-style "veiled terrorist threat…"
As a writer, Salman Rushdie's method could be described as "big overblown lies told in service to the ego." His book Midnight's Children, for example, attempts to turn Rushdie himself into a mythic hero-of-the-age by making his own biography the story of India after independence, by way of a bunch of obnoxiously self-worshipping tall tales. ALL HAIL RUSHDIE, AVATAR OF MODERN INDIA! Excuse me while I vomit…
And if you think Rushdie only lies while writing fiction, get a load of how he defends himself in court. As I write in We Are NOT Charlie Hebdo:
Rushdie's attorney Geoffrey Robertson defended The Satanic Verses against a British blasphemy lawsuit. He defends the book against the charge "The book grossly insults the wives of the Prophet by having whores use their names" by claiming: "This is the point. The wives are expressly said to be chaste, and the adoption of their names by whores in a brothel symbolizes the perversion and decadence into which the city had fallen before it surrendered to Islam." This argument seems disingenuous at best. As a trained literary scholar and long-time teacher of literature at the university level, I would give a student who proposed this interpretation a high grade for imagination, but a low grade for plausibility. (And yes, I have read the novel.) If this is the best available defense against the charge that The Satanic Verses is blasphemous, then the book stands convicted by its own defense attorney.
"I was actually PRAISING the Prophet by describing his wives as whores in a brothel, your honor!" That defense is worthy of the Larry Silverstein award for chutzpah.
A fanatical egotist in love with his own self-serving big lies…does that remind you of anyone? No wonder Rushdie has become a Zionist propaganda tool and avatar of the genocidal War on Islam.
---
TRUTH JIHAD RADIO LATEST SHOW FROM 4-26-2015
---
Dr. Kevin Barrett, a Ph.D. Arabist-Islamologist is one of America's best-known critics of the War on Terror.
He is the host of TRUTH JIHAD RADIO; a hard driving weekly radio show funded by listener donations at Patreon.com and FALSE FLAG WEEKLY NEWS (FFWN); an audio-video show produced by Tony Hall, Allan Reese, and Kevin himself. FFWN is funded through FundRazr.
He also has appeared many times on Fox, CNN, PBS, and other broadcast outlets, and has inspired feature stories and op-eds in the New York Times, the Christian Science Monitor, the Chicago Tribune, and other leading publications.
Dr. Barrett has taught at colleges and universities in San Francisco, Paris, and Wisconsin; where he ran for Congress in 2008. He currently works as a nonprofit organizer, author, and talk radio host.
ATTENTION READERS
Due to the nature of independent content, VT cannot guarantee content validity.
We ask you to
Read Our Content Policy
so a clear comprehension of VT's independent non-censored media is understood and given its proper place in the world of news, opinion and media.
All content is owned by author exclusively. Expressed opinions are NOT necessarily the views of VT, other authors, affiliates, advertisers, sponsors, partners or technicians. Some content may be satirical in nature. All images within are full responsibility of author and NOT VT.
About VT
-
Read Full Policy Notice
-
Comment Policy