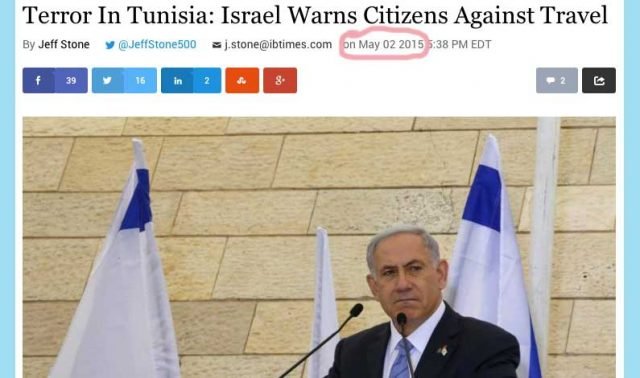 In addition to the embedded Richie Allen interview, I also interviewed Nick Kollerstrom about the recent rash of dubious terror events – listen to that interview here.   -KB
Terror hits Tunisia
By Nick Kollerstrom, TerrorOnTheTube.co.uk
Terror events in three countries left 63 people dead on Friday 26th June: in Tunisia, Kuwait and France. This is in the middle of the holy month of Ramadan. Friday, 26th June Beach and hotel at Sousse A Wiki site went up quickly, saysing "39 people, mostly British tourists, were killed when armed gunmen attacked two hotels." – soon this was altered to 'an armed gunman.' "
The Brits were staying in the  Imperial Marhaba Hotel.
Cameron tells us who did it
The day after (27th) Cameron explained that the terror event had been perpetrated by Islamic State Terrorists.  How did he know that? We are reminded of Tony Blair telling the British people that Muslims had perpetrated the 7/7 event, on the very day that it had happened. (NB Isis appears to be run by Simon Elliot, a Mossad agent.)
Comparison with 7/7, near to 10th anniversary – 27 June: Foreign Minister Tobias Ellwood said it was "the most significant terrorist attack on the British people" since the London 7/7 bombings in 2005. [Note: The British government is now running a massive terror drill mimicking the Tunisia shooting – which they claim was planned months ago!]
The Islamic State claimed responsibility for the attack at the Imperial Marhaba hotel, according to SITE Intelligence Group. There is always something very fishy when Rita Katzs' SITE Intelligence Group is involved. SITE are the group that discovered all the Al-Qaeda/Bin Laden videos, the Foley be-heading video & all things 'TERROR' related, that play into the 'official narratives'.

The Several Perpetators
According to Tunisian news agency, three persons, one in police uniform, came by a boat, and carried out the shooting. One was killed, another arrested and the third escaped. RT 27th: 01:36 GMT: There were three attackers in the Tunisian massacre, Interior Ministry spokesman Mohammed Ali Aroui told reporters. One of the men was was killed, one was arrested and another escaped./  He said authorities were "sure" that Seifeddine Rezgui had had accomplices.And Reuters now say 'at least one gunman.'
An injured tourist has been interviewed who backs up the 'second gunman' scenario.
Craig Murray: The event "was highly organised, including some gunmen who arrived by jet-ski. There were many grenades thrown, which is also missing from the BBC account….  One BBC correspondent said that he was tipped off that something was going to happen so stayed away from the beach.
Daily Mail :two British witnesses saw a 2nd gunman: l Mr Johnson, a retired police officer, says he saw a second man standing with Rezgui on the beach. He claims this man, dressed in red shorts, was holding an automatic rifle and shooting the tourists along with the gunman in dark clothing.
Kirsty Murray, who was shot in both legs by a man she says was not Rezgui in a hotel corridor. But she says it was not an automatic rifle, like Rezgui was using, but a smaller weapon.  Her father Neil said: 'She believes there were at least two gunmen because she was shot at close range with a handgun. 'Both her and her fiancé have said there was more than one gunman. One person is not capable of doing that much damage anyhow.'
In the video clip of the Gunman running along the beach 'we see another man running a few metres behind him, that can only be another gunman as nobody else would risk being shot by running behind him like that…'
A woman interviewee on ITN (female, age over 65)referred to 2 gunmen- she also made supporting hand gestures, indicating the 2 locations from which she saw or heard gunfire. Several other witnesses also refer to explosions, presumed by stun grenades.
BBC: Tunisia gunman Seifeddine Rezgui 'did not act alone' The gunman who killed 38 at a beach near the Tunisian city of Sousse had help in carrying out the attack, officials have said.
Killer 'unknown to police' [Mary] : One of Tunisia's top security officials has said the gunman shot dead by security forces after killing at least 27 at a beach resort was not known to authorities. Rafik Chelli told Mosaique FM the man, believed to be a student, came from the beach hiding his Kalashnikov under an umbrella before opening fire on the tourists. From there he entered the Hotel Imperial through the pool, shooting people as he went. Chelli said there were many foreigners among the victims but he did not have an exact count of the nationalities. He said authorities had a plan to protect the hotels during the month of Ramadan but this was an isolated operation that is difficult to counter against and there is never zero risk.
Fabricated Photos
"The gunman strolling along the beach is of no interest to most of the group behind him. People are not running for their lives and many are not looking at him at all. He is not casting a shadow and the day looks pretty dull. In other pictures, the sunlight is intense and the shadows dense and sharp. That means that the stroll-along-the-beach photo could not have been taken on the same day. Curious.
"The 'Horrifying amateur footage of Tunisia attacks unfolding' looks to be pure CGI from beginning to end. The bland colouring and lack of detail is the giveaway. The same is true of the gunman-running-along-the-beach video.
"In another picture, the gunman aimlessly wanders the brilliantly lit street, looking for somewhere to pray and get shot; his shadow is intense and there is a lot of 'ghosting around him that you do not seen in other pictures. The shadows cast by the gunman and the wall are inconsistent with the same sun angle. That has to be fake as well. There is a claim from a poster on the Chris Spivey site that he took a screenshot of that photo three days before the Tunisian incident occurred." ('Nick Turner')
Thisw reminds us of the UK Drummer Lee Rigby event, with faked photos.
A Dead Man Takes the Blame
"Friends told Sky News that even two days before the attack, Yacoubi showed no signs of radicalisation, visiting a cafe and going for a walk." The 'gunman' has been named as Seifeddine Yacoubi 
and
 as Seifeddine Rezgui. There are 
pictures of this Tunisan student 
breakdancing.('Islamic State' has in Twitter messages, referred to Rezgui using the jihadist pseudonym Abu Yahya al Qayruhni). Thisd video shows a dilapidated home, an empty fridge, of an impoverished student – so how come he arrived by Ski-Jet onto the beach?
Friends told Sky News that even two days before the attack, Rezgui showed no signs of radicalisation, visiting a cafe and going for a walk. Those accounts were backed up by his uncle Ali al Rezgui, who told theTelegraph the family had seen nothing to worry them. Mr Rezgui told the paper:
He used to use hair gel and wear the nicest of clothes, and he used to do break dancing. He even used to go to competitions and things like that in Tunis, he was well known for that here. He didn't even have a beard, and I've never seen him with anyone with a beard. We have extremists like that in Gaafour, but never have I seen him with them.
So how did the 'official' picture of him come to have guns on either side? And what has hapeend to his nose, and how did he get those Dracula teeth? A real picture of him is shown for comparison.
Thirty British Deaths?
If 30 out of the 39 dead in Tunisia are British, that shows either (a) a remarkable ability to focus upon holiday Brits by 'crazed killers' or else (b) crisis actors involved (Chris Spivey has suggested this).
Theresa May has urged parents to report any signs of 'radicalisation' amongst children or friends to the police. This can include 'bedrom radicalisation.'
US Base coming?   "Tunisia [in 2013] reportedly rejected the U.S.'s request to host AFRICOM for several reasons. On a local level, Tunisia feared that fundamentalist militias would take such an agreement to be a a declaration of war by the Tunisian government. This would certainly attract retaliative attacks compromising both national security and Tunisia's main source of income, tourism." We may expect the US to get itss desired base!
29th June: These events divert attention from the 
arrest of the boats presently approaching Gaza 
in an attempt to break the siege, (one of the occupants on one of the boats is Dr. Moncef Marzouki, former President of Tunisia, the first president after the 2011 popular uprising). 
These three boats s
et off on Saturday 27th. There has been no mention in the MSM as yet of this attempt to break the siege of Gaza.
Dr. Kevin Barrett, a Ph.D. Arabist-Islamologist is one of America's best-known critics of the War on Terror.
He is the host of TRUTH JIHAD RADIO; a hard driving weekly radio show funded by listener donations at Patreon.com and FALSE FLAG WEEKLY NEWS (FFWN); an audio-video show produced by Tony Hall, Allan Reese, and Kevin himself. FFWN is funded through FundRazr.
He also has appeared many times on Fox, CNN, PBS, and other broadcast outlets, and has inspired feature stories and op-eds in the New York Times, the Christian Science Monitor, the Chicago Tribune, and other leading publications.
Dr. Barrett has taught at colleges and universities in San Francisco, Paris, and Wisconsin; where he ran for Congress in 2008. He currently works as a nonprofit organizer, author, and talk radio host.
ATTENTION READERS
Due to the nature of independent content, VT cannot guarantee content validity.
We ask you to
Read Our Content Policy
so a clear comprehension of VT's independent non-censored media is understood and given its proper place in the world of news, opinion and media.
All content is owned by author exclusively. Expressed opinions are NOT necessarily the views of VT, other authors, affiliates, advertisers, sponsors, partners or technicians. Some content may be satirical in nature. All images within are full responsibility of author and NOT VT.
About VT
-
Read Full Policy Notice
-
Comment Policy