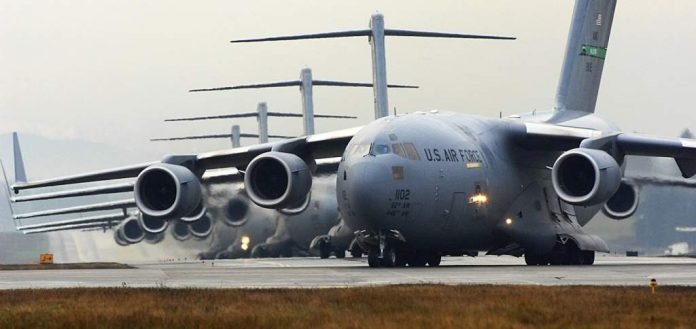 …from Russia Today,  Moscow
[ Editors Note:  You just can't make this stuff up. Turkey, who has been giving logistics support to ISIS while looting Northern Syria all during the war, is now joining the anti-ISIS coalition, which should be renamed the Coalition of the Make-Believers.
That this event has taken place two days after the Suruc bombing of the young opposition party members is an amazing coincidence. As stated below, Erdogan did not get his no fly zone over Syria for his ISIS buddies, or a safety buffer for them to be protected from coalition air attacks.
So what did Erdogan get? This is not a man who does things out of the kindness of his heart, which his family mega-graft has shown. He liked to be compensated beyond his paycheck.
If the armed drones start hitting Syrian Army positions, or Syrian-Russian air defenses shoot them down, then we could have what the Israeli military academics refer to as a "chaos theory" incident.
No particular fingerprints will be on the orchestration of the event… but it is much more likely to happen now and bring the US military into a shooting conflict with Syria. Gosh, who could possibly want such a thing… Israel maybe?… Jim W. Dean ]
_________________________
–  First published  …  July 23,  2015  –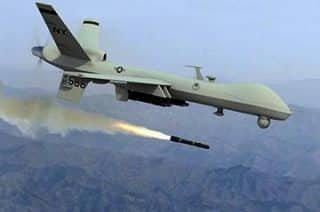 Turkey has agreed to allow US drones and bombers to launch airstrikes against Islamic State targets from two airbases near the Syrian border, according to multiple reports. US officials called the decision a "game changer" in the conflict with ISIS.
Several US news outlets, including Newsweek, the Wall Street Journal and the New York Times reported on the agreement Thursday. While the White House and the Pentagon refused to comment, citing operational security concerns, government officials speaking on condition of anonymity told the New York Times that Turkey has agreed to allow the US to launch air strikes from the bases at Incirlik and Pirinclik.
In a phone conversation between Obama and Turkish president Recep Tayyip Erdogan on Wednesday, "the two leaders affirmed that the United States and Turkey stand united in the fight against terrorism. The leaders also discussed efforts to increase cooperation to stem the flow of foreign fighters and secure Turkey's border with Syria," according to a White House press statement.
The arrangements have not been officially confirmed by Turkey. Commenting on the talks Turkish officials held with a high-ranking US delegation in early July, Deputy Prime Minister Bulent Arinc said that a "unanimity of thought and action has been reached about the issue of joint operations in the future," according to the Turkish newspaper Hurriyet.
"We have decided to further deepen our cooperation in the fight against ISIL, our common efforts to promote security and stability in Iraq, and our work to bring about a political settlement to the conflict in Syria," said Pentagon spokeswoman Laura Seal, using the administration's preferred acronym for Islamic State (IS, formerly ISIS).
At the White House press briefing on Thursday, spokesman Josh Earnest evaded questions about the arrangement, citing "specific operational security concerns."
Word of the agreement comes two days after a suicide bomber reportedly affiliated with ISIS attacked a cultural center in the Turkish border town of Suruc, killing 32 and wounding more than 100 people.
Among the things Turkey requested from Washington in return were a no-fly zone over Syria and a "security zone" along the Turkish border, according to deputy PM Arinc.  However, according to government sources cited by Today's Zaman, another Turkish newspaper, the ground safety zone will be established in Turkish territory, along the border with Syria, while there has been no word on the no-fly zone.
_________________________
Incirlik Airbase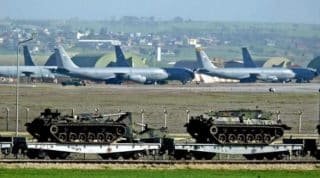 Most reports on Thursday mentioned only the Incirlik airbase, located near the city of Adana in southern Turkey. Officials speaking to the New York Times also brought up Diyarbakir in southeastern Turkey, where US forces were based at Pirinclik airbase until 1997.
Incirlik was built in the 1950s, and served as a staging area for U-2 spy planes flying over the Soviet Union.
Its name means "fig tree grove" in Turkish. Six US Predator drones are currently stationed at the base, and that two of them will be armed with Hellfire ground-attack missiles for strikes against Islamic State targets, according to Zaman. No Turkish military aircraft will take part in operations against IS.
Turkey has resisted calls to join the anti-IS coalition, despite sharing a 511-mile (822 km) border with Syria, partly because of Ankara's hostility to both the Syrian government and the Kurdish groups in Syria and northern Iraq, seen as friendly to the Kurdish separatists Ankara has been fighting in several southeastern provinces since 1984.
"The Turkish government has constantly refused to join the anti-ISIS war and prevented the use of its air bases by the coalition. Conditioning airstrikes against Assad regime is merely to save Turkey's reputation after accusations of supporting ISIS," Syrian politician and lawyer Ferid Hisso told the Syrian Kurdish news agency ARA.
According to the agency, Turkey's condition for allowing the use of Incirlik was that US airstrikes also target forces loyal to the government of President Bashar al-Assad.
The ability to use bases in Turkey will significantly ease the logistical and tactical pressure on US air operations against Islamic State. The base is only is only 250 miles (400 km) away from the IS stronghold of Raqqa, much closer than the carriers and bases in the Persian Gulf from which US aircraft currently operate.
The symbolism of Turkey's entry into the conflict is likewise significant, according to a former US Air Force general involved in the 2003 invasion of Iraq.
"The biggest thing is you've got a coalition partner that's now visible … who happens to be a Sunni state [and] happens to be a NATO partner," T. Michael Moseley told Defense One.
Jim W. Dean was an active editor on VT from 2010-2022.  He was involved in operations, development, and writing, plus an active schedule of TV and radio interviews.
ATTENTION READERS
Due to the nature of independent content, VT cannot guarantee content validity.
We ask you to
Read Our Content Policy
so a clear comprehension of VT's independent non-censored media is understood and given its proper place in the world of news, opinion and media.
All content is owned by author exclusively. Expressed opinions are NOT necessarily the views of VT, other authors, affiliates, advertisers, sponsors, partners or technicians. Some content may be satirical in nature. All images within are full responsibility of author and NOT VT.
About VT
-
Read Full Policy Notice
-
Comment Policy