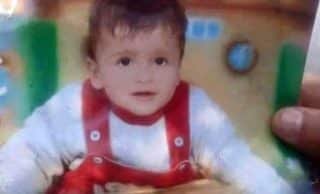 Ali Saad Dawabsha was an 18-month-old Palestinian boy living with his family in the Palestinian West Bank. Early this morning, July 31, 2015, Jewish religious terrorists fire-bombed two Palestinian homes in the West Bank.
One of those homes belonged to Ali's family. Ali was burned alive. His four-year-old brother and their parents were severely burned. His brother is in critical condition.
Why would anyone do such a thing? The answer is religion. The religion of Judaism teaches Jews that God chose them "above all people that are upon the face of the earth" (Deuteronomy 7:6), that God gave them a gift of real estate that includes the present day Palestinian West Bank and all of Jerusalem.
Zionist Christian and con-man Pat Robertson wrote that Joshua 1:1-7 in the Hebrew Bible/Old Testament reveals the land God gave to the Jews for the Jewish state of Israel.
It encompasses much more than what the United Nations gave to the Zionists to form the Jewish state in 1948. Judaism also teaches that Israel will be above all other nations (Deuteronomy 28:1), that all the people of the Earth will be afraid of the Jews and Israel (Deuteronomy 28:10), and that any Gentile nation that will not serve the Jewish state will be destroyed and "utterly wasted" (Isaiah 60:12).
Is it any wonder that people who believe this ungodly and dangerous religious nonsense would commit religious violence against people they see as their inferiors and as squatters on their land which they believe God gave to them? The huge amount of Jewish superiority the Bible oozes can only serve to promote Jewish hatred for Gentile people.
It is believed the Jewish religious terrorists who burned the baby alive are part of an organization of illegal Jewish squatters/settlers on Palestinian lands who commit violent crimes primarily against Palestinians and other Gentiles. These attacks are known as "price tag" attacks. Whenever something doesn't go the way the Jewish squatters/settlers want, they try to make people pay a price, hence "price tag" attacks.
Recently an Israeli court ruled that two buildings the Jewish squatters/settlers were building on Palestinian land in the West Bank were illegal and had to be destroyed. They were destroyed earlier this week. However, Hebrew Bible/Old Testament believing Israeli PM Netanyahu said Israel will build on the site where the two illegal buildings were destroyed, 300 Jewish housing units. Obviously this wasn't enough to placate the Jewish religious terrorists.
The American founder and Deist Thomas Paine did not beat around the bush when it came to Judaism, Christianity and the Bible. In The Age of Reason he wrote, "The Jews made no converts; they butchered all."

And in The Age of Reason, The Complete Edition, on page 245 he wrote,
"Nonsense ought to be treated as nonsense, wherever it be found; and had this been done in the rational manner it ought to be done, instead of intimating and mincing the matter, as has been too much the case, the nonsense and false doctrine of the Bible, with all the aid that priestcraft can give, could never have stood their ground against the divine reason that God has given to man."
Simply following our innate God-given reason would have prevented the "revealed"/hearsay religions from ever starting and religious violence like that which killed Ali never would have happened.
In reaction to this brutal murder of the Palestinian baby, the Islamic organization of Hamas, which was voted into office in Gaza via an election that was under the eye of international inspectors, called on Muslims to attack any and all Jews in retaliation for what was done to the Palestinian baby. This, of course, will only add fuel to the fire of religious violence.
The way to stop the religious violence is to destroy the "revealed/hearsay religions that promote religious violence in their "holy" books. This would include all four of the Abrahamic "revealed"/hearsay religions of Judaism, Christianity, Islam and Mormonism.
The way to accomplish that is by openly and objectively examining the "holy" scriptures of all the Abrahamic "revealed"/hearsay religions and pointing out to everyone just how ignorantly ungodly they really are. Mark Twain described how he'd like to destroy the Abrahamic "revealed"/hearsay religion of Mormonism. His method will work for all of them.
Twain wrote regarding how to destroy Mormonism, "I would like to see it extirpated, but always by fair means, not these Congressional rascalities. If you can destroy it with a book, — by arguments and facts, not brute force, — you will do a good and wholesome work." The promotion of Deism will accomplish this vitally important goal. All Deists need to DO all they can to promote this "good and wholesome work."
ATTENTION READERS
Due to the nature of independent content, VT cannot guarantee content validity.
We ask you to
Read Our Content Policy
so a clear comprehension of VT's independent non-censored media is understood and given its proper place in the world of news, opinion and media.
All content is owned by author exclusively. Expressed opinions are NOT necessarily the views of VT, other authors, affiliates, advertisers, sponsors, partners or technicians. Some content may be satirical in nature. All images within are full responsibility of author and NOT VT.
About VT
-
Read Full Policy Notice
-
Comment Policy