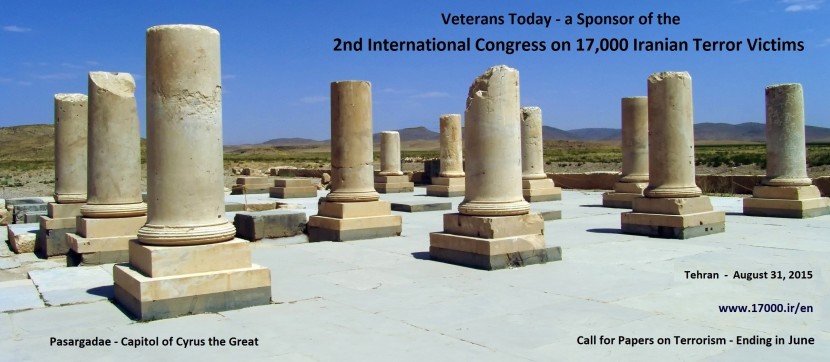 …by  Seyed Mohammad Hasheminejad
for the International Congress of 17,000 Iranian Terror Victims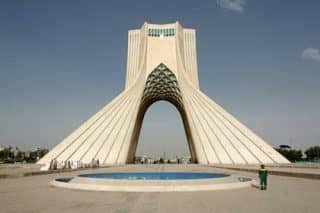 [ Editors Note: Gordon Duff and I start our 30-day countdown to leave for Tehran at the end of August. It will be the first trip for both of us, and we plan to accomplish as much as we can.
VT's reputation has preceded us, as it seems the interviews we both have done for their domestic media, which were translated into Farsi, have made us known in the government, military and media circles.
We are starting to line up meetings now, which we have been anticipating even more, now that the nuclear agreement has been signed. The mood will be upbeat with the current ease in tensions and the economic situation there on the verge of trying to make up for lost time.
The story of Iran's 17,000 terror victims caught me by surprise, as I had known nothing about it. Even jaded me should have expected that Western media never would have printed a word about any of this.
Go ahead and Google "terror attacks on Iran". You don't get any hits other than the big cinema arson fire during the Shah's time, where over 400 people were torched.
What you get is a lot of stories about Iran as a sponsor of terrorism. Western Intel has worked with Google to clean Iran's victims off the Net, so as not to conflict with their manipulation of reality that they so love to do.

But they have failed, as most every cab driver in the region and even school children know whom the real terrorists are, and who is running them.
But, as Mr. Hasheminejad states below, even Iran's young people need to be taught the tragedy of these victims over the past twenty years, and so must we in the West, and then let the blame fall where justice demands.
Now with Iran opening up, one of the first tasks VT wants to do is dig out some of these buried stories so they can see the light of day; and we can learn what has been hidden to manipulate us against the Iranian people… Jim W. Dean ]
________________________________
Describing Iran as the major victim of terrorism, the secretary of the International Congress of 17000 Iranian Terror Victims announced that the 2nd International Conference  is going to be held on August 31.
This day marks the anniversary of the martyrdom of former Iranian president, Mohammad Ali Rajaei, and his prime minister, Mohammad Javad Bahonar.
"From the very beginning of the Revolution, our country has suffered many terrorist attacks," Seyed Mohammad Hasheminejad, adding, "One could even say that we are somehow one of the major victims of terrorism in the world."
"If you take a look at the history of countries in the world, you'll notice that no other country has ever lost such a great number of officials in terrorist acts as Iran did," he added.
"Interestingly, those who are claiming to be at war with terrorism provide those responsible for the death of civilians with office and the free rein to work in their countries," son of late Hasheminejad added. "The contradiction sharpens and reaches to the point that one of these terrorist groups rented an office a block away from the White House which is the so-called pioneer of war on terror."
He went on to say that all these measures prove the fact that terrorism is divided into two forms of "good" and "bad" from the point of view of the Western countries; since they describe those who are for them as "good terrorists" and those who are against them as "bad terrorists".
He added that although Iran suffered huge blows from terrorists, each year it faces different kinds of labels by the West.
"These campaigns against Iran are not only due to the West's animosity towards us, but our shortcomings have also enabled them to say whatever they want with their tools," Hasheminejad pointed put. "We could have said to the world with cultural and artistic tools that we have 17000 martyrs of terror."
He underlined that the Congress of 17000 Iranian Terror Victims was first held two years ago, and the focus was more on the countries who were to some extent victims of terrorism. "This year we are determined to focus on the political issues surrounding the issue. There is also a great attention on the papers in this regard."
"We have gone all out to enlighten people, because the enemy tries to exploit the ethnic and religious differences to spread terrorism," he added. "A great deal of attention should be focused on this issue, since there is an ethnic and religious diversity in Iran."
Asked about the purposes of the International Congress, Hasheminejad said, "Most of our young generation are not familiar with what has happened during the past two decades. We've identified 17000 martyrs who have been killed to the acts of terror, and all the people should know everything about them."
__________________________________
Jim W. Dean was an active editor on VT from 2010-2022.  He was involved in operations, development, and writing, plus an active schedule of TV and radio interviews.
ATTENTION READERS
Due to the nature of independent content, VT cannot guarantee content validity.
We ask you to
Read Our Content Policy
so a clear comprehension of VT's independent non-censored media is understood and given its proper place in the world of news, opinion and media.
All content is owned by author exclusively. Expressed opinions are NOT necessarily the views of VT, other authors, affiliates, advertisers, sponsors, partners or technicians. Some content may be satirical in nature. All images within are full responsibility of author and NOT VT.
About VT
-
Read Full Policy Notice
-
Comment Policy