… from  Russia Today,  Moscow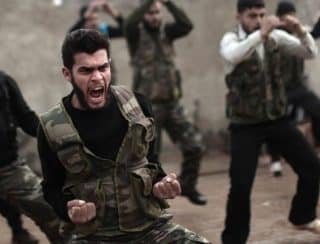 [ Editor's Note: This has been a strange story. When the training of this new batch of moderate rebels was first in the news, the administration said that it would support them with air cover once inside Syria. I think that had a lot to do with being able to recruit them in the first place.
The need for this new batch was due to the desertion or conversion of the former "moderate" rebels over to al Qaeda, al Nusra, ISIS/ISIL or the new Islamic State, if anyone can keep track of that. These IS folks need some Madison Avenue counseling on how changing your name a lot makes it hard to establish a long term brand.
When corporate media, on cue, started spinning this story as a crossing of the red line of US air attacks on Assad's forces, that showed once again how subservient the media was — especially the Murdoch platforms — in pandering to the war hype when requested to do so.
The US quickly followed those reports with disclaimers that strikes would only be made on Syrian forces if they were attacking the newly-deployed sacrificial lambs. I don't know why anyone would think that the Syrians would do that when the US' new moderates are supposed to be there to attack IS forces, who would then counterattack them and trigger air support attacks on themselves.
What is there not to love about that… for the Syrians? These "moderate" forces are too small to have any real influence in the outcome of the battle in northern Syria. I view them as nothing more than bait for drawing the IS head hunters in on them to add to their collection.
The planned training and deployment schedule for this new cannon fodder will be at the same rate they are getting killed off. I would bet that the last guys in training will be looking for another line of work when deployment time comes for them… Jim W. Dean ]
_______________________________
–  First published  …  August 06,  2015  –
The US has launched its first drone strikes on northern Syria from a Turkish airbase, the Pentagon reports. Earlier this week, the White House authorized airstrikes to protect "moderate" rebels in Syria, and included strikes against government forces.
A spokesman for the Pentagon said on Wednesday that an unmanned drone was launched on Monday from Incirlik Air Base and that preparations were underway for strikes inside Syria by manned US warplanes, Reuters reported.
The American armed drone hit a number of targets near Raqqa, Islamic State's (IS, formerly ISIS/ISIL) stronghold in Syria, the Hurriyet Daily Times reported. Washington had previously only used the Incirlik airbase, which is near the southern city of Adana, for reconnaissance missions using drones.
"As part of our agreement with the US, we have made progress regarding the opening up of our bases, particularly Incirlik," Foreign Minister Mevlut Cavusoglu earlier told state broadcaster TRT, as cited by Reuters.
Turkey had been against the US and NATO using airbases in the country to conduct airstrikes against Islamic State. However, Ankara made a sudden U-turn. In return for Washington's use of Incirlik, Ankara has asked the US to establish a no-fly zone over Syria and a "security zone" along the Turkish border, according to Deputy Prime Minister Bulent Arinc who outlined the deal in July.
The attack by an Islamic State suicide bomber in July, which killed 32 people and injured more than 100, was the main reason for Ankara's U-turn. It was the first time that IS had conducted an attack on Turkish soil. The group struck a cultural center in the mainly Kurdish border town of Suruc.
Earlier, it was revealed that the US would attack forces loyal to President Bashar Assad, should they target the 'moderate' rebel groups, while NATO and its allies would also provide more support for those opposing the Syrian government.
"Now we are training and equipping the moderate [Syrian] opposition together with the United States, and we will also start our fight against Daesh [Islamic State] very effectively soon," Foreign Minister Cavusoglu told reporters in Kulua Lumpur on Wednesday, at the start of a meeting with John Kerry.
Syrian political analyst, Taleb Ibrahim told RT that he has suspicions about the decision by Ankara and Washington to support those fighting against the Syrian government.
"The United States is not serious in fighting ISIS. I am very suspicious about American acts and American behavior in both Syria and Iraq. I am also suspicious about the Turkish role, which is up until now, has not been clear," he said.
Is the US program legal?
Since the US-backed rebel groups in Syria are operating in the "lawless area" of the country, they are under pressure from "a lot of different forces," US State Department deputy spokesperson Mark Toner told RT's Gayane Chichakyan, while trying to explain the legal basis for the change in US policy.
"I frankly don't know what the legal authority is," Toner said, adding that the situation in Syria remains "complex and fluid." He clarified that Washington did not authorize itself to "go after Assad government forces," insisting that such bombings would take place only in the "hypothetical" case that the US-backed militants came under fire from Syrian forces.
His comments were condemned by Phyllis Bennis, from the Institute for Policy Studies, who was deeply skeptical of the US motives for widening their attack in Syria. She said Washington is heading down "a very slippery slope and they are halfway down that slope," while the US was using these so-called 'lawless areas' as a smokescreen.
"There is no real legal basis for this. You know the UN charter, which is the document of international law that determines when is a law legal or when it is illegal, has a very narrow definition of when a war is legal. There are only two things that really make it legal. Either it is authorized by the UN Security Council – or if a country has been directly attacked, you have a qualified right to use self-defense, only until, the Security Council can meet to decide what to do," she said.
Syria's Foreign Minister Walid al-Moualem said the efforts to fight Islamic State militants on Syrian territory should be coordinated with Damascus.
The Syrian government criticized Washington's distinction between 'moderate' and 'extremist' rebel forces in Syria. According to the US, IS are extremists and need to be bombed, while moderate rebels should be trained and supported to overthrow the Syrian government.
"For us in Syria there is no moderate opposition and immoderate opposition. Whoever carries weapons against the state is a terrorist," the Syrian minister said during a visit to Iran, which is Syria's ally.
Drone civilian death toll
While the US hopes the air campaign will help to make the Turkish border harder to cross and stem the flow of militants wanting to join up with the terrorist organization, the new drone missions are an escalation in the US's unmanned aircraft program.
However, a report in 2014 by former US senior officials said the practice of using drones to strike targets is not as effective as Washington would hope.
The study, issued in June 2014, called on the Obama administration to come up with a cost-benefit analysis of drone strikes, while it also urged more transparency on the targeted killings.
Britain's Reprieve human-rights group calculated that it takes about 28 innocent lives to take out a single terrorist leader, often with multiple drone strikes.
The statistics are striking. In the last 10 years, attempts to kill 41 terrorist leaders resulted in the deaths of an estimated 1,147 people, the vast majority of them civilians and families.
The drone program began under President George W. Bush, but experienced rapid growth under the Obama administration. In Pakistan alone, 396 strikes have been conducted since 2002. In Yemen, where counterterror operations have also grown over the years, 126 have been conducted in the same time period.
According to the Bureau of Investigative Journalism, 423-962 civilians have been killed in Pakistan as a result of drone strikes between 2004 and 2015. Last year, the outlet found that domestic buildings were the most common target. In Yemen, some 65-96 civilians have been killed.
Author Details
Jim W. Dean is Managing Editor of Veterans Today involved in operations, development, and writing, plus an active schedule of TV and radio interviews. He broke into television work doing Atlanta Public TV programs for variety of American heritage, historical,military, veterans and Intel topics and organizations since 2000. Jim's only film appearance was in the PBS Looking for Lincoln documentary with Prof. Henry Lewis Gates, and he has guest lectured at the Army Command and General Staff School at Fort Gordon, GA.
He is working to find time now to database his extensive video archive of Americana and interviews filmed during his public TV days so individual topic segments can be key word searched to quickly use in future multi-media projects.
Read Full Complete Bio >>>
Jim's Latest Posts
ATTENTION READERS
Due to the nature of independent content, VT cannot guarantee content validity.
We ask you to
Read Our Content Policy
so a clear comprehension of VT's independent non-censored media is understood and given its proper place in the world of news, opinion and media.
All content is owned by author exclusively. Expressed opinions are NOT necessarily the views of VT, other authors, affiliates, advertisers, sponsors, partners or technicians. Some content may be satirical in nature. All images within are full responsibility of author and NOT VT.
About VT
-
Read Full Policy Notice
-
Comment Policy