… from Press TV,  Tehran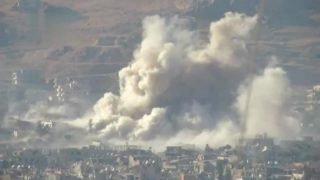 [ Editor's Note: I chose this for today, as the video shows some real life street combat, but with the usual wild shooting action that the video people always ask the soldiers to do for an "action shot".
Any combat veteran of street fighting will tell you what a horrible waste of ammunition such firing is. You always have to be thinking of getting hit with a counter attack and cut off, and then you fight with what you have on you, and maybe get to reflect on the precious ammo you shot off just to put pock marks in the walls of these people's homes.
There is a good scene here of the utter devastation of these people's homes. Western media has kept these images buried due to the natural sympathy they would stimulate.
The Western and Gulf terrorist coalition never expected that the Syrian army and people could stand up to an almost 360-degree assault backed by deep pockets and an unlimited supply of cannon fodder: unmarried Jihadi fighters wanting the imam's free ticket to rape and pillage the Syrians.
The Syrians have survived due to Iran and Russia, and some Western help from those who understand that these state-sponsored terrorism wars are an attack on all of us. Iran is now trying to take the initiative away from the US' attrition game.
The Saudis are battling on their Yemen front and trying to make nice with the Russians, shopping for major arms, while across the Persian Gulf the upgraded Russian S300's are due soon in Iran. Its Defense Minister has told France to take a hike on any expected Mirage fighter sales, that they wanted the Russian fighters. Maybe the Mistral had something to do with that. But all that said, we still have a major FUBAR situation here… Jim W. Dean ]
_____________________________
–  First published  …  August  18,  2025  –
Syrian forces and fighters of the Lebanese resistance movement, Hezbollah, have inched closer on pockets of militants in the border town of Zabadani, with some reports suggesting they are hours from declaring the strategic area as safe.  
The Arabic-language al-Alam said Tuesday that the allied forces managed to retake two key neighborhoods from the militants in western parts of Zabadani, a town located about 50 kilometers (31 miles) northwest of the capital, Damascus.
The report said Syrian forces and Hezbollah fighters seized full control of al-Zahra and the Harrah al-Gharbiah, forcing the militants to either surrender or flee to the plains outside Zabadani.
Scores of militants from the al-Qaeda-backed Nusra Front and the terrorist group calling itself Ahrar al-Sham were killed during the offensive. Other reports said five members of Ahrar al-Sham also surrendered to the Syrian soldiers.
Hezbollah's official TV al-Manar said, however, that the allied forces have taken control of almost the entire Zabadani, saying they are hours from declaring the town safe. Manar said the liberation of al-Zahra and Harrah was the most difficult part of the battle for Zabadani as the neighborhoods were impenetrable due to their compact civilian architecture and narrow alleys.
Manar also said only 2.5 square kilometers from Zabadani remain under the control of militants.
Lebanon's al-Ahd news website also quoted Walid Sakariya, a senior pro-Hezbollah legislator in the Lebanese parliament, as saying that Zabadani is "technically recaptured" and that from the military point of view, Syria and Hezbollah forces are in control of the town.
Syrian sources also said the army began shelling militant positions in the southern outskirts of Zabadani, saying the battle is nearing its end.
A highly strategic town in Syria's Rif Dimashq Province, Zabadani has been a major stronghold of militant groups. Control over the town would entirely cut off the supply lines used by the militants for transferring ammunition and forces into areas near Damascus, while it also secures the highway connecting the Syrian capital to Beirut in Lebanon.
___________________________
Author Details
Jim W. Dean is Managing Editor of Veterans Today involved in operations, development, and writing, plus an active schedule of TV and radio interviews. He broke into television work doing Atlanta Public TV programs for variety of American heritage, historical,military, veterans and Intel topics and organizations since 2000. Jim's only film appearance was in the PBS Looking for Lincoln documentary with Prof. Henry Lewis Gates, and he has guest lectured at the Army Command and General Staff School at Fort Gordon, GA.
He is working to find time now to database his extensive video archive of Americana and interviews filmed during his public TV days so individual topic segments can be key word searched to quickly use in future multi-media projects.
Read Full Complete Bio >>>
Jim's Latest Posts
ATTENTION READERS
Due to the nature of independent content, VT cannot guarantee content validity.
We ask you to
Read Our Content Policy
so a clear comprehension of VT's independent non-censored media is understood and given its proper place in the world of news, opinion and media.
All content is owned by author exclusively. Expressed opinions are NOT necessarily the views of VT, other authors, affiliates, advertisers, sponsors, partners or technicians. Some content may be satirical in nature. All images within are full responsibility of author and NOT VT.
About VT
-
Read Full Policy Notice
-
Comment Policy