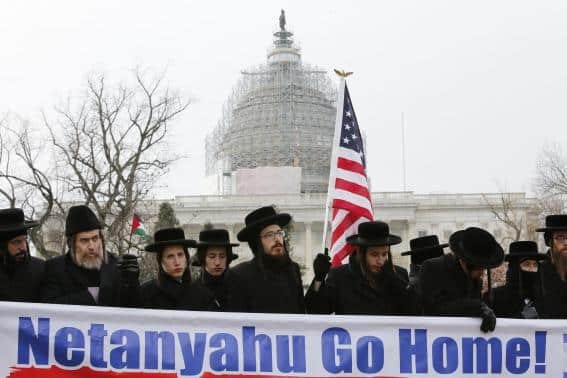 AIPAC is not the only Jewish-Israeli voice in the USA; on the contrary, several groups exist that are far less extremist, right-wing and downright bloodthristy than the Likudist faction represented by AIPAC and Netanyahu. One such group is Ameinu which calls itself "the largest grassroots progressive Zionist organization in North America" and states that it "is dedicated to promoting a just peace between Israel, the Palestinians and the countries of the region."
This week Ameinu published the article '340 Rabbis Urge Congress to Support Nuclear Deal with Iran'. This piece contained one of the best pieces of news I have heard on the Iran Nuke Deal for quite some time and refreshes my hope than not all Jews have been mislead by Netanyahu and his fellow Likud war pigs.
For Immediate Release
New York, NY, August 17, 2015
Today, 340 rabbis from all streams of Judaism sent a letter to all Members of Congress urging that they support the agreement between the international community and Iran on the Iranian nuclear program.
"We commend the U.S. and the other negotiating teams for their dedication to reaching an agreement to prevent Iran from obtaining nuclear weapons. This deal is good for the United States and our allies in the region, and is the best arrangement possible given current international realities," declared Rabbi Steven Bob of Glen Ellyn, IL.

Rabbi Rachel Mikva of Chicago added, "A wide array of views about the nuclear deal exist among American Jews, as demonstrated in the recent Jewish Journal poll that showed 49% approving of the agreement (31% opposed) and 53% wanting Congress to approve it (35% opposed). However many Jewish Federations, AIPAC and other leading national Jewish organizations are campaigning in opposition, which is being interpreted to mean that American Jews want to see the deal scrapped. This is a false and dangerous message that we as rabbis hope to counter with our letter to Congress."
"If Congress ultimately rejects the deal, the consequences for the United States, Israel, the Jewish community and the world will be significant. We fear that the outcome will be the collapse of the international sanctions regime, an Iranian race for nuclear weapons and an associated arms race in the Middle East and isolation of Israel and the United States from international partners," said Rabbi Samuel Gordon of Wilmette, IL.
Rabbi Burton Visotzky of New York City concluded, "While we believe the deal is a positive approach to the Iranian nuclear issue, we remain gravely concerned about Iranian support for terrorist groups and other destabilizing actions in the region. These threats must be countered aggressively by the international community. The misguided campaign to scuttle the nuclear deal harms the ability of Israel to join with the United States and regional allies to create a powerful coalition against Iran."
____________________________
The letter to Congress:.
August 17, 2015
Members of the U.S. House of Representatives
Members of the U.S. Senate
As rabbis, we support the agreement between the United States, the United Kingdom, France, Germany, China, Russia and Iran– The Joint Comprehensive Plan of Action. We encourage the members of the Senate and the House of Representatives to endorse this agreement.
The Obama administration has successfully brought together the major international powers to confront Iran over its nuclear ambitions. The broad international sanctions moved Iran to enter this historic agreement. Should this agreement be rejected by the U.S. congress, those sanctions will end. There will be no new negotiations, as the other member countries are fully in favor of this agreement and have no desire to re-negotiate.
We understand that while this agreement blocks Iran's path to a nuclear bomb, we recognize it does not deal with Iran's support for terror, but that was never the purpose of these talks. Now that a nuclear agreement has been reached, we call on the United States and its international partners to strengthen their resolve and dedicate additional resources to confront Iranian threats to Israel and other states.
Most especially, we are deeply concerned with the impression that the leadership of the American Jewish community is united in opposition to the agreement. We, along with many other Jewish leaders, fully support this historic nuclear accord.
For More Information, or to Connect with the Rabbis Organizing this Campaign, Please Contact:
Gideon Aronoff; 212 366-1194; [email protected]
______________________________
Of course, Ameinu lacks the huge financial resources and political connections of AIPAC; but this letter is a ray of hope that the Iran Nuke Deal can pass Congress, which is something all right-thinking and peace-loving people should be fervently hoping and praying happens.
Sadly, the control of the mainstream media by Zionist extremists like Rupert Murdoch means that a large proportion of Jews in the USA are tragically misinformed and still support Netanyahu and his crazy desire to bomb Iran and trigger a region-wide conflict that is sure to kill millions of innocents; Jews, Christians and Moslems alike. Cluster bombs, white phosphorous, air-fuel explosives, laser-guided bombs and Netanyahu's favourite – the tactical nuclear weapon are unable to discriminate between innocent civilian and enemy combatant.
The comments left on the Ameinu article sadly illustrate the skewed, misinformed mindset that many American Jews have been brainwashed into. The comment by Paul Jacobs is typical:
"The naivete of intelligent people is simply astounding. They have ears but do not hear,…eyes but do not see. This letter is reminiscent of the reaction of those who saw the emperor and insisted he was wearing clothes. The international sanctions regime has already collapsed; the nuclear arms race has already begun due to this paper; Israel's "isolation from international partners" won't make a difference when it is destroyed and 7,000,000 more Jews murdered. How will you explain this letter to your grandchildren? How will you look them in the eye?"
Oh dear, Jacobs is clearly still labouring under the misconception that Iran is hell-bent on Israel's destruction – Netanyahu's 20 years of lying to anyone who would listen about this has clearly worked.
As for the nuclear arms race it is the Bush/Israel axis of evil that has been running that most dangerous of trades and if a nuke did go off in Israel I would be more inclined to look at Netanyahu and the Likud as culprits in some sick false flag than to point the finger at any other country, least of all Iran who hasn't been pursuing a nuclear weapons programme for a long time and has never invaded another country in all it's long history.
Let us all hope that Jacobs' views do not represent the majority of American Jews and that Congress fails to do what it's AIPAC masters tell it and passes this Iran Nuke Deal. The world would be a safer place and it would greatly undermine the credibility and influence of Netanyahu and his cronies like Rupert Murdoch and Sheldon Adelson.
Ian Greenhalgh is a photographer and historian with a particular interest in military history and the real causes of conflicts.
His studies in history and background in the media industry have given him a keen insight into the use of mass media as a creator of conflict in the modern world.
His favored areas of study include state sponsored terrorism, media manufactured reality and the role of intelligence services in manipulation of populations and the perception of events.
ATTENTION READERS
Due to the nature of independent content, VT cannot guarantee content validity.
We ask you to
Read Our Content Policy
so a clear comprehension of VT's independent non-censored media is understood and given its proper place in the world of news, opinion and media.
All content is owned by author exclusively. Expressed opinions are NOT necessarily the views of VT, other authors, affiliates, advertisers, sponsors, partners or technicians. Some content may be satirical in nature. All images within are full responsibility of author and NOT VT.
About VT
-
Read Full Policy Notice
-
Comment Policy