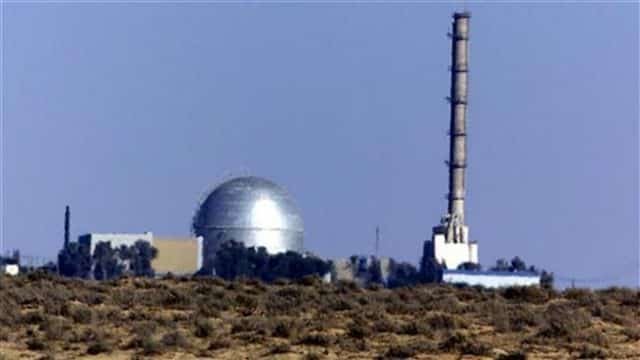 … from  Press TV,  Tehran
[ Editor's Notes:  The IAEA also carries much blame for the incredibly low profile it has kept on this issue, made worse by its penetration by Israeli espionage to make sure Tel Aviv adds insult to jury by keeping tabs on everyone else while holding itself beyond accountability.
But now that the Iran nuclear agreement is going through it is pay back time against corporate media for suppressing coverage of nuclear proliferation. The two decades of fear porn about the Iran nuclear weapons program was nothing more than a classic psyop to pre-stage the international public to accept a potential pre-emptive strike in Iran as a defensive one to remove the hoax nuclear "pretend-a-threat'.
It is time we call this act what it was…"Disinformation Terrorism", a term no one has even used before today. I am using it now because I feel it is exactly that, a terrorist mind attack on the America people and its democratic institutions by manipulating public opinion as ruthlessly as an occupation government would do after defeating us in a war.
Syria has walked out onto the proliferation battlefield as the standard bearer but should not remain there alone. If we do not form an international coalition to expose and confront nuclear proliferation by those pretending to be watchful of it we will continue to remain in bondage to their perverse exploitations.
Iran, Russia, China and the national trade blocks all have to have an "Alamo moment" and decide if they are going to stay and fight, or crawl away and continue remaining silent on the issue… Jim W. Dean ]
___________________________
– First published  …  September 16,  2015 –

Syria has called on the international community not to turn a blind eye to Israel's nuclear activities and compel the Tel Aviv regime to join the Non-Proliferation Treaty (NPT).
During a meeting of the International Atomic Energy Agency (IAEA) on Tuesday, Bassam al-Sabbagh, the Syrian ambassador to the IAEA, said that given the Tel Aviv regime's hostile nature and its tendency to wage wars and occupy lands, its unsupervised nuclear facilities and capabilities raise concerns for many countries.
The Syrian envoy (pictured below) further demanded that all Israel's nuclear facilities be subjected to IAEA inspections without any restrictions. Sabbagh went on to say that Israel ignores all resolutions issued by international organizations on its nuclear activities and facilities.
He also criticized certain IAEA member states for helping Israel develop its nuclear facilities and adopting double-standards on the issue of non-proliferation policies when it comes to Israel. Israel has never allowed any inspections of its nuclear facilities and continues to defy international calls to join the NPT.
Mordechai Vanunu, a former Israeli nuclear technician, on September 4 revealed details about Tel Aviv's "greatest secrets" regarding its clandestine nuclear activities.
In a lengthy interview on Israeli TV, Vanunu explained how he once exposed the existence of Israel's nuclear arsenal and elaborated on a potential disaster which could emanate from Israel's notorious Dimona nuclear facility. The new revelations by Vanunu, in fact, amount to Israel's acknowledgment of possessing the warheads.
A report released in the Bulletin of the Atomic Scientists in September 2013 also confirmed that Israel possesses at least 80 operative nuclear warheads and has enough material to produce up to 190 more.
Nuclear weapon proliferation experts Robert Norris and Hans Kristensen estimate, in the report, that Israel halted its production of nuclear warheads back in 2004 "once it reached around 80 munitions."
Iran's honest cooperation with IAEA
The Syrian ambassador further welcomed a nuclear agreement reached between Iran and the P5+1 group in mid-July and commended the Islamic Republic's cooperation with the IAEA. Sabbagh said that Tehran's cooperation with the IAEA proves its sincere intentions and commitment.
On July 14, Iran and the five permanent members of the UN Security Council – the United States, Britain, France, China and Russia — plus Germany finalized the text of the nuclear agreement, dubbed the Joint Comprehensive Plan of Action (JCPOA), in the Austrian capital, Vienna.
Under the JCPOA, limits will be put on Iran's nuclear activities in exchange for, among other things, the removal of all economic and financial bans against the Islamic Republic.
______________________________
Jim Davis is the son of USMC MGySgt. Lesley Davis (Ret.) who passed away on April 24, 2006, from ALS caused by Agent Orange. His dad's mission before he passed on was to ensure all veterans, spouses, children, and widows all received the benefits, medical care and attention, and proper facilities from the VA.
Because of the promise made to his dad to carry on the mission, in May 2006 Davis began as a one-man show sending out 535 letters every single week to all members of Congress requesting and politely demanding the fulfill their promises made over the past decades to care for life those who wore the uniform and their families.
Veterans-For-Change was born in August 2006 with a very small membership of 25 people composed of veterans, spouses, widows, family members, and friends and to date continues to grow.
ATTENTION READERS
Due to the nature of independent content, VT cannot guarantee content validity.
We ask you to
Read Our Content Policy
so a clear comprehension of VT's independent non-censored media is understood and given its proper place in the world of news, opinion and media.
All content is owned by author exclusively. Expressed opinions are NOT necessarily the views of VT, other authors, affiliates, advertisers, sponsors, partners or technicians. Some content may be satirical in nature. All images within are full responsibility of author and NOT VT.
About VT
-
Read Full Policy Notice
-
Comment Policy