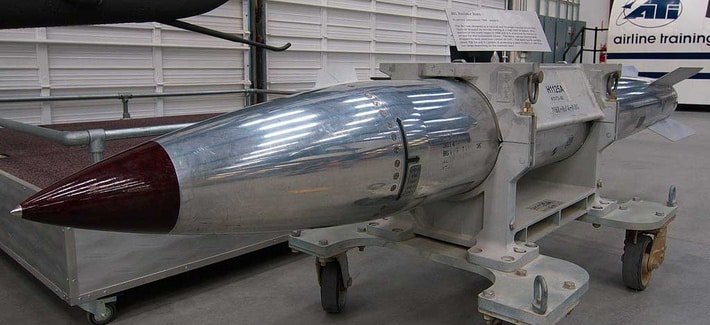 by  F. William Engdahl,  … with New Eastern Outlook, Moscow
[ Editor's note:  The West, led by the US, seems to be playing a two-front war strategy with Russia and China, demonstrating the "terror war on the cheap" destructive power against opponents of regime change, while putting the savings into reviving the Western nuclear threat game.
Germany, while seeming to be reasonable and rational by insisting that Syria and Iran have to be involved in any successful regional solution to the Syrian slaughter, turns on a dime and accepts new US B61 tactical nukes with almost no public comment. And there is a good reason for that.
These are first-strike nuclear weapons, designed to preemptively eliminate a target and destroy the adversary's capability to retaliate. Virtually undiscussed in all of the national security media, the ocean of it we have to swim through these days, is anyone concerned with the hair trigger situation this creates. Why is it so often VT that has to publish this material?
It means that even with a slight miscalculation in evaluating whether an incoming strike is a decapitation one, the intended target has to make a very quick decision to fire off everything it has, while it is able to do so. Why has this "little item" been swept off all the editor's feature story topic lists?
Why they don't want to cover this was revealed in VT's latest nuclear weapons feature, which, due to all the war news and complexity of the topic, has not gotten the exposure that it deserves. The public needs to know this stuff, despite its being a challenging read. Be prepared to read it two or even three times. But I guarantee that it will be time well spent.
The public material on these deployed bunker busters is that they are a larger version of a Depleted Uranium (DU) weapon that can slice through layers of reinforced concrete bunker shielding and explode a mini nuke inside. They are a hell of a lot more than that, which Jeff Smith and Ian Greenhalgh described:
"Any nuclear blast can be shaped or modified in the type of energy it releases. Either as Heat, Blast effect , X-rays, Gamma-Rays, EMP pulse or just pure neutrons etc. Any of this radiation can be directed in any direction or none at all. This was the basis of the 1980's Star Wars program, exotic nuclear weapons and super Lasers at work.
A nuclear blast can be directed in any direction acting as a nuclear shape charge, and it can be focused just like using a standard molecular anti-tank TNT based shape charge.
A 1 kiloton B-61-11 nuclear bunker-buster will blast (melt) a hole 10-feet wide and over 1,000 feet long into solid granite. Larger versions will make even a bigger hole in the ground. They do not bury themselves into the bedrock and make a big crater. This is a common public misnomer on how they work.
They melt the bedrock with a nuclear thermal plasma jet that is over 1 million degrees in temperature. When this hot plasma hits the underground command center or bunker, everybody inside the bunker will be instantaneously vaporized from the plasma jet. With higher yield B-61 weapons, any bunker that is less than 3,000 feet deep can be hit. This includes NORAD in Denver Colorado, etc.
No modern underground bunker complex less than 3,000 feet deep can survive a hit from one of these new bunker busters. These tests were conducted as far back as the early 1960's in the Nevada proving ground, and were covered up as simple underground tests."
Now you know what kind of signal was being sent by the deployment of these weapons. Some Germans protested because they know that, in the next war, these weapons facilities would have to be targeted by tactical nuclear weapons themselves in the first salvo to make sure they cannot be fired off, which creates another hair trigger.
Moving them anywhere near the Russian border is an act of war in itself. You can quote me on that. And yes, you can assume that Russia and China certainly have these. There is no scientific hurdle to making them if you have the stuff, but delivery can be challenging.
So enjoy your weekend with the wonderful news that, not only are these first-strike tactical nuke moves being funded with debt spending, but can be making us much less secure. Who would be driving such a policy in peacetime and what could their real motivation be?… Jim W. Dean ]
____________
– First published  …  September 28, 2015 –
On September 21, German national TV channel ZDF reported that the US will station 20 next-generation advanced nuclear bombs of Type B 61-12 at the German Bundeswehr airstrip and special weapons storage depot at Büchel in Rhineland-Pfalz, a radioactive stone's throw from where this author resides.
This US deployment is no minor affair as it brings the likelihood of nuclear war by miscalculation between the United States and Russia one giant step closer and it makes the German Republic a direct high-priority target in any such escalation. Ashton "Ash" Carter and the war-hawks running the US Defense Department appear to be losing all contact with reality.
The newest US nuclear bomb model, B 61-12, though advertised by the Pentagon as a mere modernized life-extended version of the standard strategic US nuclear bomb in operation since 1966, is, according to Hans M. Kristensen Director, Nuclear Information Project at the Federation of American Scientists, a
"…New nuclear bomb type that is not currently in the nuclear stockpile, with vastly improved military capabilities. It is the most expensive nuclear bomb project ever; many costs are still unknown."
The Russian Foreign Ministry immediately expressed concern about the upgraded US nuclear deployment plans in Germany, saying this would also violate the 1970 nuclear non-proliferation treaty, ratified by more than 190 states. Dmitry Peskov, Vladimir Putin's spokesman, told the media that the US nuclear move would "lead to destroying the present strategic balance in Europe" and force Russia to take actions, yet unspecified, to restore that strategic balance in order to guarantee Russian national security.
On July 1, 2015, the Pentagon tested the B 61-12 on its Nevada testing grounds. The test drew a sharp criticism at that time from Russia's Defense Ministry. Deputy Defense Minister Anatoly Antonov suggested the new nuclear weapon was intended for the European nuclear arsenal of the United States:
"The atomic bomb, which was tested, is a dual purpose device. It can be both an element of strategic offensive weapons – when delivered by heavy bombers – and an element of non-strategic nuclear weapons when delivered by tactical aircraft," Antonov said.
The Russian defense deputy minister added,
"The special feature of the conducted test was the fact that the F-15E fighter-bomber was used as a carrier for a nuclear weapon. This gives grounds to believe that the test was conducted in order to examine the possibility of using the B 61-12 atomic bomb by NATO fighter-bombers stationed in Europe."
Pentagon Russia war plans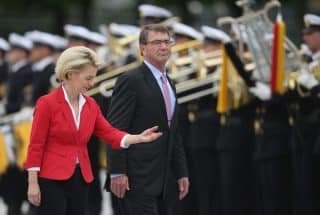 A report citing senior US Defense Department sources appeared in the September 18 in Foreign Policy magazine. The report revealed that the Department of Defense is "reviewing and updating its contingency plans for armed conflict with Russia." The review and updating reportedly includes US possible use of so-called "tactical" nuclear weapons against Russia.
In his July Senate confirmation hearings, the incoming US Chairman of the Joint Chiefs of Staff, General "Fightin' Joe" Dunford, declared that Russia posed an "existential threat" to the US. Three years ago it was China. They don't seem able to make up their mind.
Adding to the growing military tensions between NATO and Russia, German Air Force Eurofighter Typhoon fighter jets started patrolling the airspace of the three Baltic States with full ammunition loads on September 20.
German Air Force's Inspector General Karl Müllner stated that the decision to fly fully armed was designed to "motivate" German pilots. He didn't elaborate on which Air Force might become the enemy, nor what his pilots were being motivated for. The new B 61-12 nuclear bomb could also be fitted to German Tornado fighter jets. Perhaps that would really motivate the German pilots.
This past June, US Defense Secretary Carter flew to Stuttgart where he met with two dozen US military leaders and ambassadors based in Europe at the headquarters of US European Command. At the time Carter stated, "We have something that has taken a sad turn recently, which is Russia." Hmmmmm.
____________
World War III? Excuse me?
In what is clearly the most bizarre of all in this context of escalating drama, at the time that Russia is openly asking Washington to join its anti-terrorist coalition in Syria against ISIS and other Jihadist groups, is a little-noted remark by the Pope. In his speech on September 19 at Havana's Jose Marti Airport, Pope Francis, the first Jesuit Pope in history, made a bizarre addition to his prepared text.
Praising recent US steps to reconcile with Cuba after more than five decades of US sanctions, Jorge Mario Bergoglio, whose papal name according to the official website of the Society of Jesus, was not taken for Francis of Assisi but rather for the co-founder of the Jesuits, Francis Xavier, remarked that the US and Cuba could be an example to the world, "a world that needs reconciliation amidst this Third World War."
Excuse me, your Holiness? It's a matter of record that the Jesuits were founded as a military order and were called "Soldiers of God," but what is this about? Do you know something we don't?
According to my colleague Pepe Escobar of Russia's Sputnik International and Asia Times, "Third World War" was never part of the original redaction of the Pope's speech. Francis personally added it on his flight from Rome to Havana.
Was that meant to signal that, led by the militant banner of history's first Jesuit Pope, the Vatican is bringing us into a World War III against Russia and her allies, most certainly also China? Very few statesmen or political leaders that I know of are calling this World War III today.
Is the comment intended to signal that the thousand-year quest of the Roman church to eradicate Orthodox Christianity, for which Russia today is the bastion, along with Greece, Serbia and eastern Ukraine and elsewhere, is seen as the ultimate prize? Let's devoutly hope not, and hope that the inserted phrase owed to fatigue or jet lag on the long flight from Rome to Havana.
F. William Engdahl is strategic risk consultant and lecturer holding a degree in politics from Princeton University, and is a best-selling author on oil and geopolitics, exclusively for the online magazine "New Eastern Outlook".
___________________
Jim Davis is the son of USMC MGySgt. Lesley Davis (Ret.) who passed away on April 24, 2006, from ALS caused by Agent Orange. His dad's mission before he passed on was to ensure all veterans, spouses, children, and widows all received the benefits, medical care and attention, and proper facilities from the VA.
Because of the promise made to his dad to carry on the mission, in May 2006 Davis began as a one-man show sending out 535 letters every single week to all members of Congress requesting and politely demanding the fulfill their promises made over the past decades to care for life those who wore the uniform and their families.
Veterans-For-Change was born in August 2006 with a very small membership of 25 people composed of veterans, spouses, widows, family members, and friends and to date continues to grow.
ATTENTION READERS
Due to the nature of independent content, VT cannot guarantee content validity.
We ask you to
Read Our Content Policy
so a clear comprehension of VT's independent non-censored media is understood and given its proper place in the world of news, opinion and media.
All content is owned by author exclusively. Expressed opinions are NOT necessarily the views of VT, other authors, affiliates, advertisers, sponsors, partners or technicians. Some content may be satirical in nature. All images within are full responsibility of author and NOT VT.
About VT
-
Read Full Policy Notice
-
Comment Policy