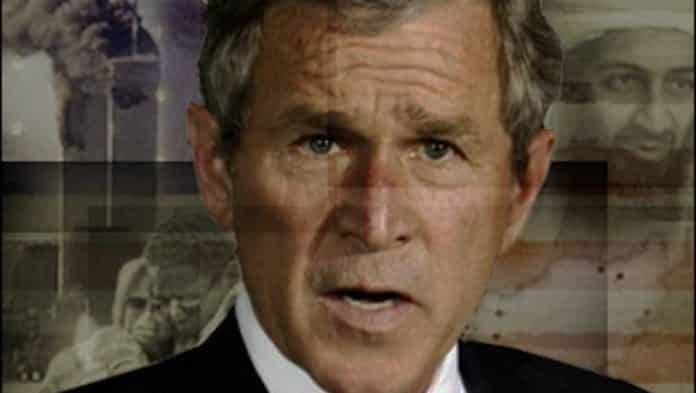 Will the next President of the United States be a 9/11 truther?
If you believe three suspected perpetrators of the worst crime ever committed on American soil, the answer is "quite possibly." And they're squealing like stuck pigs.
As the New York Daily News reported:
Donald Trump stuck a shiv into the Republican establishment Friday by suggesting that former President George W. Bush bears some of the blame for the 9/11 attacks.  "When you talk about George Bush, I mean, say what you want, the World Trade Center came down during his time," Trump said on Bloomberg TV.  Anchor Stephanie Ruhle appeared stunned by Trump's remark.
But what's so stunning about blaming Bush for 9/11? Regardless of where one sits, the demolition of the World Trade Center and attack on the Pentagon was either a neocon "New Pearl Harbor" or the most monumental example of government incompetence in human history. Either way, Bush gets the blame, right? How could anyone, no matter how ignorant about the facts of 9/11, suggest otherwise?
The New York Post story continues, citing the "stunned" Stephanie Ruhle:
"Hold on, you can't blame George Bush for that."
Hold on yourself, Stephanie. How can you possibly NOT blame George Bush for 9/11?
Stephanie Ruhle's remark, while nonsensical, carries a hidden meaning: "You CAN'T blame George Bush for that" doesn't mean Bush is blameless. On the contrary, it means you are NOT ALLOWED TO mention the fact that Bush deserves blame for 9/11.
Read about Jeb's 9/11 crimes: 9/11, 28 pages cast shadows on Jeb2016 candidacy
Jeb Bush, implicated in the CIA drug import airstrips disguised as "flight schools" that pretended to train the "9/11 hijackers," squealed even louder, tweeting:

How pathetic for @realdonaldtrump to criticize the president for 9/11," Jeb Bush tweeted. "We were attacked & my brother kept us safe."
Kept us safe?! Really, Jeb? By ignoring an August 2001 CIA daily briefing telling him "Bin Laden determined to attack in US" by cussing out the briefer, "Well, I guess you've covered YOUR ass" ?!
By reading about pet goats with schoolchildren, guilt blazing from his reddened face, for at least seven excruciating minutes after Andrew Card supposedly whispered in his ear that the nation was under attack?
By taking a leisurely, unhurried hour getting to Air Force One, thereby proving that there was no surprise attack from the air?
How could anyone seriously argue that Bush "kept us safe" on 9/11?
Note that Andrew Card could not possibly have informed Bush that America was under attack; the time he takes to whisper in Bush's ear isn't long enough for that. Instead he must whispered a confirmation of something Bush already knew, like: "The plan is operational."
Listen to the classic neocon doublespeak in Ari Fleischer's response to Donald Trump's brush with 9/11 truth. (Neocons, following their guru Leo Strauss, believe in speaking words that sound innocuous on the surface while secretly  conveying the terrible truth to fellow neocons.)
"Donald Trump is getting close to truther territory if he thinks that George Bush is the reason 9/11 happened," he said. "Does Donald Trump also think that FDR caused Pearl Harbor because that happened under (Franklin) Roosevelt's watch?"
Fleischer knows full well that FDR orchestrated the Pearl Harbor "surprise attack" via the McCollum memo and its eight-point plan to force the Japanese to strike the first blow, thereby reversing the American public's near-unanimous opposition to involvement in the war. And he knows full well that 9/11 was designed as a "New Pearl Harbor" PR launch for a series of pre-planned wars and civil liberties rollbacks.
Such truth is unspeakable. As Stephanie Ruhle squealed: "You can't say that!"
But Trump said it. Almost.
George W. Bush, the pet goat president who has repeatedly admitted to having watched a live closed-circuit Secret Service video of the first plane hitting the first building, was asked about Trump's "truther" remarks. This time, Bush was smart enough to keep his mouth shut.
But Rudy Giuliani, another known 9/11 perp – excuse me, "suspect" – wasn't that smart. Asked about Trump's truther blurt-out, "Mr. 9/11" said:
It also came down when I was mayor, I haven't had anyone blame me."
Giuliani has a short memory. While running for President in 2008, Giuliani was repeatedly dogged by We Are Change members, who asked him why – given his admitted foreknowledge that the Twin Towers were going to "collapse" – he had failed to warn the firefighters, 343 of whom died on 9/11. At first Giuliani lied and denied having foreknowledge. Confronted with undeniable evidence, he turned into a quivering mass of jelly and his "Mr. 9/11" candidacy imploded.
Giuliani Confronted By 9/11 Truthers, Lies About WTC Collapse
"I haven't had anyone blame me," Giuliani fibs. What chutzpah! Everywhere he goes, people blame him! They know he was complicit in 9/11 up to his eyeballs!
So what will be the upshot of Donald Trump's brave decision to breath a word – a barely-disguised, only faintly equivocal word – of 9/11 truth?
Did the odds of another "lone nut" assassination, like those that took the lives of the Kennedies and Paul Wellstone, just go up? Will Trump succumb to fast-acting cancer like Jack Ruby and Hugo Chavez? Will they destabilize his mind using God-knows what kind of drugs or weaponry like they did to Ed Muskie in 1972 and then two decades later to Ross Perot in 1992?
If any of those things happen, will the American people finally rise up in a Second American Revolution, as they should have a long, long time ago?
https://www.youtube.com/watch?v=O1GCeuSr3Mk
Dr. Kevin Barrett, a Ph.D. Arabist-Islamologist is one of America's best-known critics of the War on Terror.
He is the host of TRUTH JIHAD RADIO; a hard driving weekly radio show funded by listener donations at Patreon.com and FALSE FLAG WEEKLY NEWS (FFWN); an audio-video show produced by Tony Hall, Allan Reese, and Kevin himself. FFWN is funded through FundRazr.
He also has appeared many times on Fox, CNN, PBS, and other broadcast outlets, and has inspired feature stories and op-eds in the New York Times, the Christian Science Monitor, the Chicago Tribune, and other leading publications.
Dr. Barrett has taught at colleges and universities in San Francisco, Paris, and Wisconsin; where he ran for Congress in 2008. He currently works as a nonprofit organizer, author, and talk radio host.
ATTENTION READERS
Due to the nature of independent content, VT cannot guarantee content validity.
We ask you to
Read Our Content Policy
so a clear comprehension of VT's independent non-censored media is understood and given its proper place in the world of news, opinion and media.
All content is owned by author exclusively. Expressed opinions are NOT necessarily the views of VT, other authors, affiliates, advertisers, sponsors, partners or technicians. Some content may be satirical in nature. All images within are full responsibility of author and NOT VT.
About VT
-
Read Full Policy Notice
-
Comment Policy