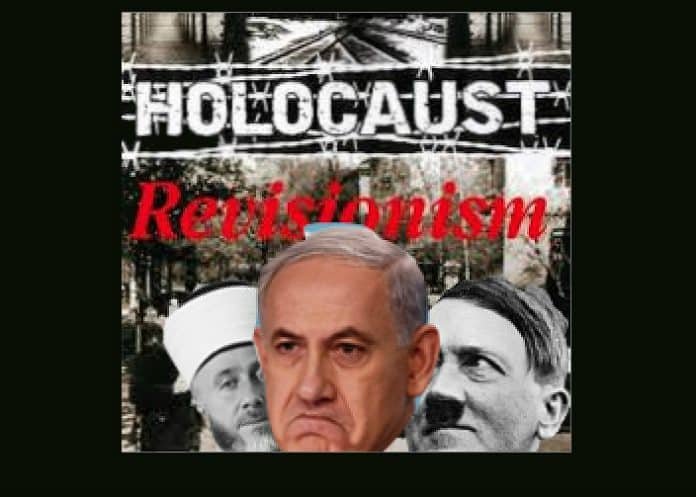 <br/>
By Gilad Atzmon
Israeli Prime Minister Binyamin Netanyahu has attracted criticism for an incendiary speech in which he accused the Palestinian grand mufti of Jerusalem, Haj Amin al-Husseini, of "inspiring the Holocaust". Critics accuse Netanyahu of trivialising the Holocaust by attributing the impetus for Hitler's plan to exterminate the Jews of Europe to the grand mufti.
In his speech Netanyahu described a meeting between Haj Amin al-Husseini and Hitler in November 1941. "Hitler didn't want to exterminate the Jews at the time, he wanted to expel the Jews. And Haj Amin al-Husseini went to Hitler and said: 'If you expel them, they'll all come here [to Palestine].'" According to Netanyahu, Hitler then asked: "What should I do with them?" and the mufti replied: "Burn them." Netanyahu chose not to reveal how he had uncovered the transcript of the conversation.
This shift in Israeli historical perspective, illuminated by Netanyahu, is timely and welcome. In recent days it has become clear that Palestine is not willing to accept the Zionist presence on its land any longer and this feeling is more than understandable. Time is overdue for the Jews to move on and invent a new phantasmic promised land.  Germany is obviously the ideal candidate. Angela Merkel loves immigration and she is probably willing to take a few million Israeli humus eaters to balance the victims of Ziocon wars who are fleeing into her Germanic haven.
Berlin has recently become the new Jerusalem for the Israelis. Thousand of young Israelis have moved to Berlin in recent years in a migration wave that in Hebrew is called, 'Olim le-Berlin' (Ascending to Berlin). Yesterday PM Netanyahu joined the call of the Israeli youth, and he has finally vindicated Hitler and the Germans. It seems that actually it is the Palestinians who should be blamed for the Shoah. In the Hebraic sphere they like to keep the equation simple – the eternal victim (the Jew) is the constant factor, the anti-Semite is the variable element. The anti Semite keeps changing, it never stops changing.
Some boring Israeli historians are not yet willing to follow Netanyahu's revisionist shift. They still insist that maintaining German guilt is essential. Professor Dan Michman, head of the Institute of Holocaust Research at Bar-Ilan University said, "while Hitler did indeed meet the mufti this happened after the Final Solution began." I am always confused by Jewish scholarship and the way Jewish scholars fiddle with facts to make them fit ever-changing Jewish interests. According to the Zionist Holocaust religion, the "Final solution" was first established in the Wannsee Conference in January 1942. But Hitler met the Mufti in November 1941.
Alternatively, try to follow to the depth of Israeli scholarship. Professor Dina Porat, told the Israeli news website Ynet, that Netanyahu's claims were "incorrect".  Her profound argument:  "You cannot say that it was the mufti who gave Hitler the idea to kill or burn Jews. It's not true. Their meeting occurred after a series of events that point to this." As I pointed out in 'The Wandering Who?', there is no such a thing as Jewish history. Instead its history is the institutional concealment of Jewish shame that results in an unabashed, inconsistent, kosher zigzag.
MK Itzik Shmuli called on Netanyahu to apologise to Holocaust victims.  "This is a great shame, a prime minister of the Jewish state at the service of Holocaust deniers." Thankfully we now possess a very effective litmus tests for Holocaust deniers. If Netanyahu is the Holocaust denier that MK Shmuli suggests, he will soon express his support for Jeremy Corbyn and our revolutionary Labour party. I am not actually holding my breath.
________
Gilad Atzmon is an Israeli-born British jazz saxophonist, novelist, political activist and writer.
Atzmon's album Exile was BBC jazz album of the year in 2003. Playing over 100 dates a year,[4] he has been called "surely the hardest-gigging man in British jazz." His albums, of which he has recorded nine to date, often explore the music of the Middle East and political themes. He has described himself as a "devoted political artist." He supports the Palestinian right of return and the one-state solution in the Israeli-Palestinian conflict.
His criticisms of Zionism, Jewish identity, and Judaism, as well as his controversial views on The Holocaust and Jewish history have led to allegations of antisemitism from both Zionists and anti-Zionists. A profile in The Guardian in 2009 which described Atzmon as "one of London's finest saxophonists" stated: "It is Atzmon's blunt anti-Zionism rather than his music that has given him an international profile, particularly in the Arab world, where his essays are widely read."
His new book The Wandering Who? is now availble at Amazon.com
ATTENTION READERS
Due to the nature of independent content, VT cannot guarantee content validity.
We ask you to
Read Our Content Policy
so a clear comprehension of VT's independent non-censored media is understood and given its proper place in the world of news, opinion and media.
All content is owned by author exclusively. Expressed opinions are NOT necessarily the views of VT, other authors, affiliates, advertisers, sponsors, partners or technicians. Some content may be satirical in nature. All images within are full responsibility of author and NOT VT.
About VT
-
Read Full Policy Notice
-
Comment Policy