Terrorists, as far as I can tell, are made not born. They come in all colors. White, Brown, Black and mix of colors.
They also come from all faiths — Islam, Christianity, Judaism, Hinduism — and they come in all sizes, fat, skinny, beautiful and ugly — mostly poor or unhappy, with troubled social skills; marginalized, dehumanized, rejected by family, friends, and society.
Terrorists are not only "loners", but come in "groups" as well. Terrorism is individual, as much as it is "institutional/ state". One comes with explosive belt and Kalashnikov AK-47, and the other with F-16 and smart bombs.
However, there is a different perception and reaction to terrorist acts committed by "Browns", versus those committed by "Whites". There is a different perception and reaction for those acts committed in the Middle East, versus those committed in the US and Europe — the "Browns" committed by Muslims or Hindus, and the "Whites" committed by Christians and Jews.
Depending on which side you are on, there is a clear difference in how we react and how we label the same or similar acts. There is also a different perception and lack of reaction when terrorism and terrorists acts are committed by "state institutions", such as by armies or air forces and those committed by individuals or cells.
What happened in Paris a few weeks ago is no different from what happened the night before in Beirut, and what happens every day in Iraq, Syria, Egypt or Palestine. The difference is our own reaction and perception.
The world mourns those who died in Paris and rightly so, but did not mourn those who died in Baghdad or Beirut or Ramallah and wrongly so. Is it a question of different values we assign to the lives of "White" and those we assign to "Brown" or Black? Of course, it is because we, deep down are" racists" in how we value life and value death.
The late General Westmoreland, the commander of US forces in Vietnam once described the "Yellow" life of the Vietnamese as cheap and without much value.
Bibi Netanyahu and Mahmoud Abbas and world leaders hurried to Paris to protest Charlie Hebdo's 11 victims who died in the terrorist attack in January 2015. But no world leaders – certainly not Abbas or Netanyahu – condemned Israel's acts of terrorism and the wrongful death of the more than 5,000 Palestinian civilians targeted by Israel in its wars on Gaza in 2006, 2008, 2012, and 2014.

Mahmoud Abbas is yet to travel to Gaza to see first-hand the devastation that his partner Israel wrought. Israeli supporters all over the world went to the streets to celebrate and cheer Israel's "terrorist" machine with no sense of shame.
While the world rightly condemned the terrorist acts committed by Palestinian "suicide bombers" during the Second Intifada in '94, '95 and '96, killing more than 200 Israelis, no one dared to label the Israeli acts of terror that killed some 3,000 Palestinians during the same period. While Israel always enjoyed the right to self-defense, the Palestinians were always denied the right of self-defense, even when they resist an armed military occupation.
The difference between "Brown" and "White" terrorists acts, the difference between "Islamic" terrorism and "Jewish" terrorism: it is OK for one but not OK for the other.
In 1994, American born Dr./Rabbi Baruch Kopel Goldstein, carrying his Israeli army-issued M-16, walked in the Ibrahimi Mosque/Cave of  the Patriarch and began shooting Muslims during their morning prayer, killing 29 and injuring 125. The world reaction was muted, compared to the terrorist acts committed by the Palestinians. The Israelis make sure they demolish the family homes of all suicide bombers and more; the Israelis built a shrine for Baruch Goldstein celebrating his murder and his terrorist crimes with large followings among us here in the US.
In Europe, terrorist acts in Paris, London or Madrid committed by "Browns" are for the most part politically, socially and religiously motivated by a disgruntled, marginalized, angry "religiously-incited" hateful young man.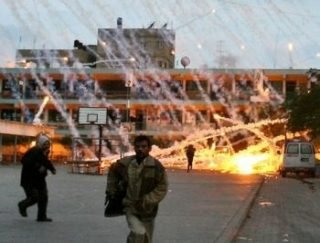 Terrorist acts in the Middle East are for the most part promoted and incited by "religious sectarian" hate, with deep roots in failing political, economic and social systems, and fanned by political and religious sectarian leadership and competing Western powers. Modern day terrorism is deep rooted in the US invasion of Iraq and murder of more than 500,000 Iraqi civilians and the destruction of an entire country.
In the US is it a different story. While there have been "terrorist" acts like Ft. Hood, Texas and Boston Bombing incited and prompted by "religious" values or feelings of anger and frustration with US foreign policies, the majority of mass killings and shootings committed by individuals with social and economic issues are incited by political and religious leadership with certain religious or family values and sharing a common hate for the institutions of government, such as in the Oklahoma City bombing, or in some cases incited by simple and pure racism, such as that of Charleston, South Carolina.
The big debate in the US is when a mass shooting or killing become "terrorist" acts, versus when it is an individual act. For the most part, that will depend on whether the perpetrator of the crime is Brown or Muslim or White. The classification is color- and religion-based, and has little to do with the act itself.
In cases of international terrorism, it takes the support of many to commit a single act of terror. That includes recruitment, training, and logistics, technical and financial support. No one on his own can simply commit such acts or terror as we saw in Paris, Madrid or London.
Terrorists are carefully selected, recruited and trained to commit these heinous acts. Terrorists are made by failing institutional support in housing, educations, jobs, opportunities, broken down families, drugs, prostitution and contempt by the majority. Pure racisms make these young men prime candidates for recruiters, by means of "born again Islamists".
In the US the story is quite different. Here political institutions, Congress, the NRA, a culture of guns and violence, common hate and mistrust of the Federal government, and some racism can promote mass killings by loners or individuals acting along. There is no need for logistical and financial support. Mental illness and marginalization, failing careers and the daily feed of hate for governments and abundance of guns, all are contributing factors.
In the Oklahoma City April 1995 bombing, Timothy McVeigh expressed deep hostility for a federal government, and was incited by local and national politicians, media and religious leadership.
The shooting at the Emanuel African Methodist Episcopal Church on June 17, 2015 by Dylann Roof was motivated by racism that continues to run deep in our society, when Whites perceive Blacks as the source of their failing life and misfortunes.
There are too many cases of mass shootings, too numerous to list — mass killings committed by individuals with no group affiliation driven by deep physiological and social issues.
However the "state" remains the only officially sanctioned major perpetrator of "terrorism", whether it is the massive bombings of Dresden in Germany, or the My Lai massacres, or the invasion of Iraq or the frequent massive attacks on Gaza, or the concentration camps or the holocaust of Asia.
___________
Sami, a Palestinian-American and a US Army Veteran (66-68), recipient of the "soldier of the month award and leadership award from the 6th Army NCO Academy, is an international legal and business consultant with over 40 years of international experience, in construction, hospitality services, conservation, and defense, in the Middle East, Europe, and North Africa. Sami is a holder of BA, MPA in Public and Environmental Affairs, Jurist Doctor from Indiana University. While at IU he was elected class president, student government president and chairman of the Indiana Students Association,
Active in peace movement as a co-author of the pre-amble for the One State for All of its people and voluntary service program SalamNation. A frequent contributor on national and international affairs. He resides in the United States.
ATTENTION READERS
Due to the nature of independent content, VT cannot guarantee content validity.
We ask you to
Read Our Content Policy
so a clear comprehension of VT's independent non-censored media is understood and given its proper place in the world of news, opinion and media.
All content is owned by author exclusively. Expressed opinions are NOT necessarily the views of VT, other authors, affiliates, advertisers, sponsors, partners or technicians. Some content may be satirical in nature. All images within are full responsibility of author and NOT VT.
About VT
-
Read Full Policy Notice
-
Comment Policy