And so does the Arab League, Lebanon, Britain, France,  John Kerry, Human Rights Watch…and a growing list.
GADDAFI'S "FISH IN A BARREL" ARMY  ADVANCES ON BENGHAZI WHILE THE WORLD FIDDLES
*** Update: 03-19-11, 9:45 EST.  Tragic comedy unfolding in Libya. Tripoli accepts ceasefire while bombarding Misrata and launching night attacks on Benghazi and shelling the city now. Rebel jet shot down over Benghazi. Foreign ministry send out letters and a request  for oil workers to return as the country is 'returning to normal'.  Germany and Turkey to supply 'No fly zone' logistics support. NFZ participants meeting in Paris as I type. We suspect they are working out final command responsibilities and initial targeting list. VT suspects that micromanagement could severely hamper the robust flexibility a field cmdr would need to respond to a 'fluid' situation. This is another big people killer for which politician accept no responsibility. ***
Dear Folks, This additional 'we told you so' piece is not about stroking our egos, but about saving the Libyan revolution and the momentum of ridding Libya of its Neanderthal dictator and his corrupt regime. This by no means guarantees that democratic reform will keep them free, as elite corruption has rendered that institution a sock puppet for international  mobsters, loyal to no country, or people…only to themselves.
Modern democracies are very talented at repression. They just have a different game, something we will be detailing in future articles.  Gaddafi was able to play America and its "feet of clay" president like a 50 cent harmonica.  The neocon's and their oil money friends were always with Gaddafi, the brutal dictator with deep pockets, Gaddafi who funded Sarkozy, Gaddafi who funded through his corporate connections, a dozen or more congressional races, all behind GOP candidates.
From The Australian:
Colonel Gaddafi's son Saif said yesterday Libya had secretly paid for Mr Sarkozy's 2007 campaign and now wants its money back from "this clown".

"Sarkozy must first give back the money that he took from Libya to finance his electoral campaign," Saif al-Islam Gaddafi said.

"We have all the details and are ready to reveal everything. The first thing we want this clown to do is to give the money back to the Libyan people."
Gaddafi financed alot of "clowns," bought and paid for.  What we have been reading and seeing in the media and hearing from pundits, the endless games, this has been Gaddafi calling in his markers.
Gaddafi, with his "rented" friends from Israel, tens of thousands of mercenaries and the full backing of AIPAC, the propaganda and espionage arm of Israeli intelligence in America, has managed to control American public opinion for three vital weeks.  Aided by progressives, "liberals" and self-hating Americans banded together with big oil and the neocons, this "marriage from hell" has worked hard  to keep the a brutal Cold War relic in power.
[youtube bCDxW6fJ3P8]

VT took its Libyan stand on February 25th with Gordon Duff's America Must Attack Gadaffi Now.  We were immediately attacked for this stance with the usual 'war mongering-imperialist' taunts, despite a very plain English motivation, which acknowledged well known and well criticized past American disastrous Mideast  and NearEast foreign policy.
"America feels it no longer has moral authority to act for decent democracy loving people, not since the brutal and mindless acts of the Bush administration.  We can't allow an era of criminality to define America as a castrated giant"…Gordon Duff.



VT has a large number of staff writers and extensive world wide military and intelligence sources, many of them older folks who have had front row seats to slow motion train wrecks where unnecessary carnage was the result.  We at VT have an old fashioned concept that leadership actually requires getting out in front of issues, not sitting back with the proverbial finger in the air and reacting to them.  On the 25th we saw the fiddling as Lybia burned as virtually a certainty.
We planted our flag so it would be there to look back on a few weeks, months or years later. Events proved us right. On March 11th, I thought is was time to torment our detractors with a followup: VT was Right.
" But what has happened now  is the old deer in the headlights syndrome. Obama … miscalculated. We gave the crazy man with tons of money time to regroup and plan his counterattack. Thousands more Libyans will die now. Oil could go up to $150 a barrel….Media video clips [of rebel units] showed no fire control whatsoever, nor officers or noncoms present to effect any discipline."…Jim Dean
Within 12 hours of this being posted there were no more video clips being aired showing the faces, disorganization and poor tactics being used by the rebels which had been a dream come true for the Tripoli people planning their counter offensive.  After 24 hours we began to
see some mass media beginning to mention that the 'deer in the headlights' endless international discussions were revealing an multi week window for Gadaffi to counterattack.  International media, military and intelligence entities are a major part of our readership. We did all we could to turn the light on and save some wasted carnage.
Here are some excerpts from the NY Times today:
The administration, which remains deeply reluctant to be drawn into an armed conflict in yet another Muslim country, is nevertheless backing a resolution in the Security Council that would give countries a broad range of options for aiding the Libyan rebels, including military steps that go well beyond a no-flight zone.

Administration officials — who have been debating a no-flight zone for weeks — concluded that such a step now would be "too little, too late" for rebels who have been pushed back to Benghazi. That suggests more aggressive measures, which some military analysts have called a no-drive zone, to prevent Colonel Qaddafi from moving tanks and artillery into Benghazi.

The rapid advance of forces loyal to Colonel Qaddafi, combined with rising calls from the Arab world to prevent a rout of the opposition, has changed the calculations of the administration, which had clung to a belief that interfering in a Middle East uprising could provoke an anti-American backlash.
"The turning point was really the Arab League statement on Saturday," Secretary of State Hillary Rodham Clinton said Wednesday to reporters traveling with her in Cairo. "That was an extraordinary statement in which the Arab League asked for Security Council action against one of its own members."

Clinton Libya remarks

Some administration officials voiced the hope that the mere threat of military action could prompt Colonel Qaddafi to show some restraint.

Still, interviews with several administration officials suggested that events on the ground were forcing its hand. "The regime's military gains have gotten everyone's attention," said a senior official, speaking on condition of anonymity.

President Obama is under pressure from both foreign leaders and allies in Congress to take decisive action. The French president, Nicholas Sarkozy, sent a letter to the United States and other members of the Security Council, urging them to vote for the Lebanese resolution authorizing a no-flight zone, saying that the world had only days, or even hours, to head off a Qaddafi victory.

Senator John Kerry, the Massachusetts Democrat who is chairman of the Senate Foreign Relations Committee, said he regretted that the debate in Washington over how to respond to Libya had dragged on so long, allowing Colonel Qaddafi to regain his footing.

"I don't like that we've lost this time," Mr. Kerry said during a speech in Washington. "It's compacted the choices, diminished the options. And it's changed the state of play somewhat."
So folks, that is a lot of confirmation that we are now in a much worse situation for resolving this with less bloodshed than on Feb 25th or even March 11th.  But to ease any 'who is going to pay for its concerns' you will read below that the frozen Libyan funds could be used for this…along with foreign (Arab) soldiers. I am still surprised that with the mercenaries that Gadaffi has had fighting for weeks now that, the fiddle players still find rebel trained manpower support a delicate subject.
Among the other measures being proposed by the United States: sending foreign soldiers to Libya to advise the rebels, or financing them with some of the $32 billion belonging to the Qaddafi regime, which have been frozen by the Treasury

Gadaffi and 'daughters' ?

Department. Rebels could use the money to buy weapons, officials said.

Neither of these steps, however, would come in time to stave off an assault by Colonel Qaddafi's forces on Benghazi."What everybody is focused on is drawing a line, literally in the sand, around Benghazi, to prevent Qaddafi's forces from capturing the city and staging a bloodbath," said Tom Malinowski, the Washington director of Human Rights Watch. "If Qaddafi wins, it could kill the moment in the entire Middle East." 
The line in the sand that needed to be drawn was a  Gadaffi command and control strike plus neutralizing the air force and naval bombardment capability of the coastal cities. Tripoli's having brought large mercenary forces into the country to fight the Libyan  rebels was ample moral justification. There has been no fiddle playing by Muammar & Sons.
With the United States already fighting in Iraq and Afghanistan, the administration is fearful of straining an already overstretched military and of being seen as engaged in nation building in the region. "The United States is pretty busy with two wars, and we don't want a third," a senior official said.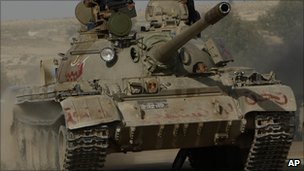 This was bogus. There will be no third war.  Gadaffi's forces cannot move where they are exposed to air attack. They can't even get back to Tripoli or be reinforced.  His ability to do any counter attacking can be eliminated in two days. After that it would be just a process of moving rebel forces back into cities to stop the ongoing purges. With no air cover, no armor or heavy weapons that can be deployed, the mercs will be looking for cars to steal and head for the border. And the palace guard will be planning their next smart play.
This would already be over if we had acted in February. Oil production could have been back to normal by April and price speculation would have ended.  The other brutal regimes would then have had more to think about when it came to violent repression of the freedom movements.
We shall see what the hypocritical American regime does about the Saudi backed violence against the very peaceful protesters there. Don't be shy folks about calling the Saudi, Bahrain, and don't forget the UAE embassies and give them an earful. And I would suggest you think about pressure on the UN for sanctions against them.  I am wondering if at their next meeting the Gulf Arabs are going to vote to intervene against themselves, and ask our support. More on that later.
We have confirmed that the Israeli Lobby has made their muscle available to Gadaffi & Sons and will have more on that later.  There is a growing consensus in military and intelligence services around the world for regime change in Israel due to their continued offensive operations in numerous conflicts, where one of their major tools are terrorist attacks. It's an international scandal for the U.S. as we have been aware of it for ages and say nothing, thereby becoming an aider and abettor, which justly exposes us to retribution attacks under the Bush doctrine.
UPDATE: Breaking News:
A source at UN headquarters in New York said military forces could be deployed "within hours" of a new security council resolution calling for states to protect civilians by halting attacks by Muammar Gaddafi's forces by air, land and sea.

The resolution would impose a no-fly zone over Libya – but a no-fly zone was no longer enough, the source said. "The resolution authorizes air strikes against tank columns advancing on Benghazi or engaging naval ships bombarding Benghazi," he said.

[youtube 0fhtsStBUl0]

 

  
Jim W. Dean was an active editor on VT from 2010-2022.  He was involved in operations, development, and writing, plus an active schedule of TV and radio interviews.
ATTENTION READERS
Due to the nature of independent content, VT cannot guarantee content validity.
We ask you to
Read Our Content Policy
so a clear comprehension of VT's independent non-censored media is understood and given its proper place in the world of news, opinion and media.
All content is owned by author exclusively. Expressed opinions are NOT necessarily the views of VT, other authors, affiliates, advertisers, sponsors, partners or technicians. Some content may be satirical in nature. All images within are full responsibility of author and NOT VT.
About VT
-
Read Full Policy Notice
-
Comment Policy