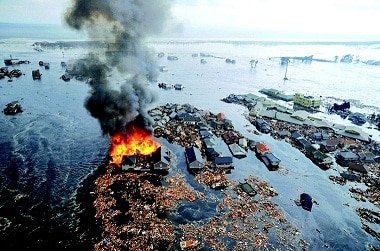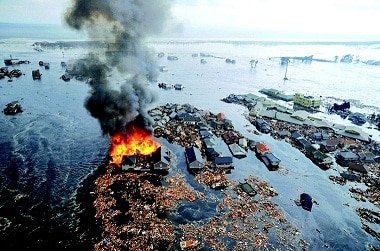 We Are Lied To So….What's New?
Nuke meltdown in Japan has taken a toll on clear thinking— and not because of radiation damage effects— because of our "conditioned hype effects."
Whoa! Take a breath. While the Japanese earthquake/tsunami disaster was certainly a reality bigger than a lot of Hollywood productions. The destruction of the Nuclear power plants is not a world-ending disaster, no matter how many milliseiverts you read about in the plethora of scare stories in the news.
The mainstream media has done its best to make the disaster in Japan much worse for the future of the world than it is. I speak with authority in this matter,  because I hosted over radio, for several years, a guest who had more "hands on" experience in the Industry than any other individual. His name was Galen Winsor, an outspoken, irascible, knowledgeable "Nuclear chemist and engineer" who, at one time or another during much of the 20th century held every job in the industry.
This is not a simple story, so bear with me; first we will look at the industry itself—a fascist monopoly with many dirty secrets, which is why the Japan disaster is being used to tighten the screws on us stupid, lazy, misinformed Lemmings who evidently love getting kicked the teeth.

My Radio Free America broadcasts were small potatoes in the scheme of things, and I've forgotten a lot, therefore it is gratifying to see how the broadcasts managed a surprisingly large outreach so many years later.
To illustrate; the following can be gleaned by using Google and Galen's name:
"On January 23, The SPECTRUM received a phone call   from one of our respected subscribers recommending that we speak  with nuclear energy expert Galen Winsor, who has been a frequent guest on Tom Valentine's radio program over the last decade.  Galen Winsor has been around the nuclear power scene for decades, and he knows quite a  bit about the true costs and politics of electrical generation that  are not  being mentioned  in the controlled media versions of the current California "emergency" situation that can rapidly spread to other areas. We know you will agree with us that this is not only an insightful conversation in terms of revelation of greed, but an extremely timely and important  one—particularly if his recommendations are noticed by those truly efforting to get to the bottom of this so-called "emergency" in California."
Then, the editor of Spectrum transcribed the kind of information I had broadcast for years. It provides us with overview of the nuclear problems worldwide, and we can thank the money mongers of
International Finance (always comes back to them, doesn't it?
Martin:  We received a call from one of our subscribers, and he suggested I have a conversation with you, on the record, about the current energy shortage.

Winsor:  [Laughter]  What shortage?

Martin:  Out here in California they keep leading us to believe that there is an electricity shortage.    I  understand  you  might  feel  that  is not the case?

Winsor: Electricity is not just a commodity. What they are talking about is electrical generating  capacity. And if you've got capacity, you have to use it. They haven't been using it. To answer your question, is Rancho Seco operating and on-line in Lodi, California?  Is Humbolt  Bay? How about Diablo Canyon? How about San Onofre, I & II?

Martin:   You're mentioning these nuclear facilities?

Winsor:  Yeah, and if you've got a nuclear facility and you don't use it, then it's your own damn fault.

Martin:  Do you think there is a conspiracy among those involved in the power companies to withhold power in an effort to glean profit?

Winsor:   I can name the date when it started. The 28th of March, 1979, at Three Mile Island-II.

Martin:   And what was so significant at Three Mile Island that would cause this kind of withholding from the public?

Winsor: There was nothing wrong at Three Mile Island-II.

Martin:  Oh, really?

Winsor:  The fuel didn't melt-down, in accordance with the [movie] version in China Syndrome, which is a farce.

(It's still a farce today—TV)

Martin:  That's really interesting, because that was sure a block-buster movie, and it sure created a lot of  concern among the general public.

Winsor:  The one that Jack Lemmon was in?

Martin:  Right.

Winsor:  The one that Dale Bridenbaugh and Greg Minor and Dick Hubbard wrote the script for?

Martin:  Yes.

Winsor:   I worked with those guys at General Electric Company, years ago.

Martin:   Really?  That's  fascinating.  Tell us about this.

Winsor:  When President Jimmy Carter, on the 29th of March, 1979, sent Harold Denton of the Nuclear  Regulatory Commission, into Harrisburg, Pennsylvania, to personally pull the operating license  of  Three Mile  Island-II; and while he was at it, because TMI-I was the same kind of reactor, they pulled it too.

Martin:  And why did they do that?

Winsor:  There are several reasons, but one of them was that if you lost the plant, according to  the  insurance  that  was  owned  by  the  nuclear insurers, American Nuclear Insurers
if you lost your  plant,  then  their  insurance  policy  would pay off  $300 million.  And that was collected. Now, why could American Nuclear Insurers pay-off $300 million?
(shades of building seven, and this was in 1979 dollars)

Martin:  Who got the money?

Winsor: Well, Metropolitan Edison got the money.

Martin:  And what did they do with it, do you think?  Any theories?

Winsor:  [Laughter] What they did, it gave them an excuse to buy electrical power in Canada, cheaply—Ontario  Hydro in this case, and sell it for any price that they wanted to, south of the border.

Martin: That's amazing.

Winsor: And the American public would sit still for it.

Martin: The American public is largely ignorant of these
facts.

Winsor:  [Sigh] Yes. Let's zero-in on the problem. The
thesis of China Syndrome was that the fuel would melt-down and go clear through to China. It's a false premise. But, I'll tell you, 9 out of 10 who you talk to on the street think it's  real.
Interesting stuff, no? This is only the tip of the rotten, filthy, fiat money grubbing government-Industry-Insurance (fascist by definition) monopoly Galen informed us about, over several years time—next, we cover the long-standing misinformation about radiation levels used to scare us dummies into complacent lockstep.
ATTENTION READERS
Due to the nature of independent content, VT cannot guarantee content validity.
We ask you to
Read Our Content Policy
so a clear comprehension of VT's independent non-censored media is understood and given its proper place in the world of news, opinion and media.
All content is owned by author exclusively. Expressed opinions are NOT necessarily the views of VT, other authors, affiliates, advertisers, sponsors, partners or technicians. Some content may be satirical in nature. All images within are full responsibility of author and NOT VT.
About VT
-
Read Full Policy Notice
-
Comment Policy