Does This Man Own Your Congressman?
Dictator, Accused War Criminal Buys Washington…Wholesale
Is Your Mama Doin' the "Nasty" with a War Criminal?
When the same crowd, the "neocon/chickenhawks" keeping America's younger generation on their opium babysitting mission in Afghanistan for a decade, maybe two, began shedding tears for Colonel Gaddafi, the cat was out of the bag.
Colonel Gaddafi has opened his coffers, a network of corporations, banks, investment houses and hedge funds that channel money into Americas press and slimy politicians through his secret lobbying firm headed by a former NYC major and presidential hopeful.
Every politician and member of the press who has taken up spewing his ridiculous propaganda, every "peace organization," every "think tank" being paid off is on the pad of a war criminal.  This is illegal, a criminal act, acting as an unregistered agent for a foreign power.
It doesn't matter how many law firms and public relations agencies are laundering the cash, how many accounts in the Cayman Islands or how many corporate Political Action Committees, all involved, including 3 dozen or more running for office or planning to on Gaddafi blood money, all face prison.
All you have to do is watch the news or read your emails.  You can smell the money but what you should be smelling is lies and the liars who tell them.
HOW IT BEGAN
As soon as fighting started in Libya, Gaddafi made his calls to Washington and New York.  He had been buying Americans for some time.  This is how he got to keep his WMD's, his bio-weapons program and his poison gas, though he had promised years ago to end his illegal programs.
America sat by quietly, perhaps with selected individuals raking in a bit of cash, when, in 2006, Gaddafi built a new chemical weapons facility.  With Americans kidnapping and torturing innocent people by the hundred, killing thousands, who would notice or care if Gaddafi kept on with his old plans, perhaps his nuclear weapons facilities too.
We have learned that officials of both the Bush and Blair administrations were aware that Gaddafi was actively violating weapons accords during the period they were informing the world that Libya had totally disarmed.

In fact, the Daily Telegraph reported a few days ago:

Scientists from Britain and America visited the chemical weapons facility as it was being built in August 2006.
The cable, a copy of which was leaked to the WikiLeaks website and seen by The Daily Telegraph, detailed a visit by the scientists to a military facility in Tajura, on the outskirts of Tripoli.

The communique reports: "US and UK experts were both told that a lab under construction at the facility would be for chemical weapons defensive purposes."

Andy Oppenheimer, editor of Chemical and Biological Warfare Review, said the facility described in the cable was "quite clearly" being used to develop chemical and biological weapons agents.

"The Libyans may well claim that this facility is for defence, but that's a very thin argument because in order to defend against chemical weapons you have to build them and test them first," he said.

He continued: "Libya clearly did develop chemical weapons. There was a load of mustard gas and blistering agent that that was being destroyed under the terms of the Chemical Weapons Convention, but there are now fears that the Libyans are lying and that they have stocks which haven't been declared.

Libya is estimated to have 13.6 metric tonnes of sulphur mustard and 556 metric tonnes of CW precursor chemicals by the OPCW.

Why would Libya not only be allowed to keep its WMD's, all the while the American people were assured they had been destroyed, but build new facilities as well?
Nobody really checked, he was allowed to "slip through the cracks" as it were.
MISPLACED WIKILEAKS CABLE SAYS LIBYA ARMED "TO THE TEETH" WITH WMD'S

In fact, Libya had agreed, in 2003, to destroy all chemical weapons. However, in this Wikileaks cable, one not made public in the United States, we learn that as late as 2011, Libya maintains its stocks of chemical weapons. Gaddafi had been allowed extensions year after year claiming he had no money. (A Wikileaks "double secret," kept secret from US by our government and again by Wikileaks)
Thus, when things began to go awry in Tripoli, the mobs circling the palace and his private Bastille up in flames, he knew just how to play it.  He called on his American friends, ones who loved him even when he was a mad terrorist dictator, long before he was rehabilitated by his good friend Tony Blair. After all, who cares if you drop a planeload of tourists on some Scottish backwater anyway.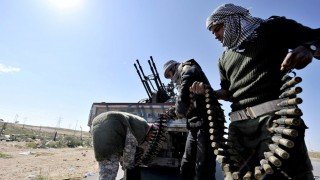 This is how they did it;
First they tried to tell us the rebels were refusing American aid.  Gaddafi paid for that lie and hundreds, perhaps thousands died.
Then they claimed the rebels were Al Qaeda.  America went in anyway, perhaps too late, but the decision was made.
Then the stories got more bizarre.  Gaddafi became the great liberal savior of Africa, a man of the people although after taking power in 1969, has never stood for election.  Newspapers told us that every Libyan drove a Mercedes, went to lawschool or medical school and got to ski in Gstad, top of the season, mind you.
I was ready to move to Libya myself.
What was the problem anyway?  No elections?  Dictatorship?  Secret police?  Repression?  Sounds like John Ashcroft's version of heaven.
Hitler was elected, ruled for 12 years.  Gaddafi seized power and has held it for 42 years.  American conservatives love them both.  Read your history!
More bizarre still, despite massive shelling of civilian areas, Gaddafi's snipers shooting up hospitals and reports of organized rape on a massive scale, not only are the rebels bad but even worse:
We are told the revolution was organized by the CIA.  There is no proof, mind you, not one single shred.  Odder still, isn't the CIA American?  When did the CIA become the sworn enemy of the Republican Party?  Didn't we all think they were permanently joined at the hip?
Then we went totally over the top.  The proof now, spread across America by the ragtag mob of half baked presidential candidates, dozens of them, names few have heard of or care to, is a wild story tying Egypt to Libya.
Seems like, when the need fits, bizarre anti-American conspiracy theories flow out of America's "right."  Back when the CIA was torturing poor cab drivers, they were the beloved children.  Now, Obama's new "commie" CIA is accused of fostering free elections and pushing democracy.
Anything but that….and, of course, the CIA does "anything but that" as we all know only too well.   Imagine the people who believe this crap, somewhere between monster truck rallies and professional wrestling.  We call them "Republicans."
This is what they are saying:
The revolution in Egypt that overthrew America and Israel's puppet in Egypt, Hosni Mubarak, was the CIA too!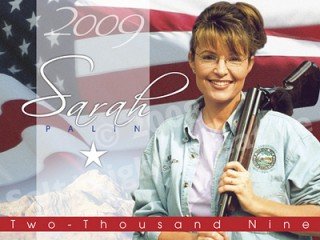 Most Americans believe the CIA works directly with Israel on an hourly basis.  Some Americans believe the CIA is controlled by Israel.
Most Americans believe their government is very closely aligned with Israel.  Some Americans believe Israel controls the American government.
Now, coming out of the woodwork like a demented pack of roaches on crack, politicians, mostly Republicans but some Democrats also, are claiming "America" started the revolution in Egypt.
They fail to tell us who this "America" is that they are referring to.  It obviously isn't the government or CIA.  It obviously isn't the military.
What we want to know is exactly what America people like Sarah Palin and even Ron Paul are saying organized the overthrow of a close American ally in Egypt, one practically "married" to Israel?
HOW DIRTY, HOW MANY?
Every single individual and group opposing military activity in Libya is involved.  The worst part is that the Libya operation is a total failure.  Gaddafi has bought half of Washington, half of America's press and has proven himself survivable.  He has also been overshadowed by brutal rulers in Bahrain, Syria and, of course, that other special country in the Middle East that America's news isn't allowed to discuss.
Gaddafi is only one of many leaders murdering their people.
Will the FBI Do Anything ?
TREASON IS TREASON/LAW IS LAW
Democrat or Republican, we have a chance here.  Making a list of those who have thrown in their lot with Gaddafi has never been so easy.
"They" think "they" are covered, immune from law.  The group is easy to recognize, for the most part.  Most are clearly slimy, clearly corrupt.  Some are surprising, this is where the fun comes in.
Money makes for "strange bedfellows."
HOLES IN THE LAW
Two years ago, the US Supreme Court voted 5/4 to allow anything that chose to call itself a corporation to buy Americas congress, even the presidency.
What they did was put a price tag on every political candidate or office holder, from the dog catchers to the highest offices in the land.
What they did was put the "corporate shield" in front of political criminals, giving full immunity to anything that chose to call itself "corporate."
The message Washington got was that foreign money, bribes from dictators would no longer be looked at.
The FBI would be permanently asleep, its claws removed.  Washington could now be publicly auctioned off and the first buyer is Colonel Gaddafi.
The "creepie crawlies" he bought?  They are challenging "war powers."  They are challenging "strategic interests." Some are writing imaginative stories.
Today, the worst of them named a poor, hapless cleric who can't operate a mobile phone as head of Al Qaeda, the mythical terror organization invented to cover Bush era political crimes.  He had to be an Egyptian.  He had to have a beard.  Better still, his spokesman, Adam Perlman, a nerdish Jewish boy from the Bronx, long outed as an Israeli agent.
It just doesn't get any better than this:
[youtube GsUtvOW6SR0]
---
WIKILEAKS GADDAFI WMD CABLE
Header: VZCZCXRO1980PP RUEHTRODE RUEHTRO #0795/01 2781540ZNY SSSSS ZZHP 051540Z OCT 09FM AMEMBASSY TRIPOLITO RUEHC/SECSTATE WASHDC PRIORITY 5334INFO RUEHTC/AMEMBASSY THE HAGUE PRIORITY 0088RUEHLO/AMEMBASSY LONDON PRIORITY 1173RUEHFR/AMEMBASSY PARIS PRIORITY 0844RUEHRO/AMEMBASSY ROME PRIORITY 0624RHEFDIA/DIA WASHINGTON DCRUEAIIA/CIA WASHINGTON DCRHEHAAA/NSC WASHINGTON DCRUEHTRO/AMEMBASSY TRIPOLI 5881
Tags: PARM,PREL,PGOV,CWC,OPCW,LY
S E C R E T SECTION 01 OF 02 TRIPOLI 000795 NOFORN SIPDIS DEPT FOR NEA/MAG AND ISN/CBC (FERGUSON); NSC FOR MCDERMOTT E.O. 12958: DECL: 10/5/2019 TAGS: PARM, PREL, PGOV, CWC, OPCW, LY SUBJECT: LIBYA'S CHEMICAL WEAPONS DESTRUCTION CHIEF DEFENDS EXTENSION REQUEST REF: A) STATE 100809; B) TRIPOLI 490 CLASSIFIED BY: Joan Polaschik, CDA, U.S. Embassy Tripoli, U.S. Department of State. REASON: 1.4 (b), (d)
1.(S/NF) Summary: Dr. Ahmed Hesnawy, head of Libya's chemical weapons destruction program, defended Libya's Chemical Weapons Convention (CWC) extension request….
HESNAWY JUSTIFIES EXTENSION REQUEST
2.(S) During a September 30 meeting, Pol/Econ Chief jointly delivered ref a demarche with French DCM to the head of the chemical weapons destruction program at Libya's National Chemical Weapons (CW) Authority, Dr. Ahmed Hesnawy. During the meeting, Hesnawy also provided a detailed briefing on his progress toward meeting Libya's Chemical Weapons Convention (CWC) commitments.
3. (S) Hesnawy gave a long explanation of the reasons for the extension request, including resistance from the local community when construction work began at the building site…..
3.(S/NF) Hesnawy then explained that the next problem he confronted was with the "civil defense people," who…..
UK EMBASSY WARNS OF HESNAWY'S CONFIDENCE9.(S) In a separate meeting, xxxxxxxxxxxx told P/E Chief that while the MFA IO officer Tajouri Shiradi had made the same request for support for Libya's CWC requests, he did not provide as much detail on the progress of the Libyan program. xxxxxxxxxxxx expressed surprise that Hesnawy had met with us, relating that he was an elusive character….
10.(S/NF) Bio info: Hesnawy is a charismatic and gregarious character, who spoke fluent American English. He used American expressions and slang with ease and was clearly trying to endear himself to P/E Chief. He said that he has been head of Libya's Chemical Weapons Program for the last 12 years and was intimately aware of every technical detail relating to that program. According to xxxxxxxxxxxx, Hesnawy may be working with National Security Advisor, Muatassim al-Qadhafi, on missile purchase requests
Gordon Duff posted articles on VT from 2008 to 2022. He is a Marine combat veteran of the Vietnam War. A disabled veteran, he worked on veterans and POW issues for decades.
Gordon is an accredited diplomat and is generally accepted as one of the top global intelligence specialists. He manages the world's largest private intelligence organization and regularly consults with governments challenged by security issues.
Duff has traveled extensively, is published around the world, and is a regular guest on TV and radio in more than "several" countries. He is also a trained chef, wine enthusiast, avid motorcyclist, and gunsmith specializing in historical weapons and restoration. Business experience and interests are in energy and defense technology.
ATTENTION READERS
We See The World From All Sides and Want YOU To Be Fully Informed
In fact, intentional disinformation is a disgraceful scourge in media today. So to assuage any possible errant incorrect information posted herein, we strongly encourage you to seek corroboration from other non-VT sources before forming an educated opinion.
About VT
-
Policies & Disclosures
-
Comment Policy
Due to the nature of uncensored content posted by VT's fully independent international writers, VT cannot guarantee absolute validity. All content is owned by the author exclusively. Expressed opinions are NOT necessarily the views of VT, other authors, affiliates, advertisers, sponsors, partners, or technicians. Some content may be satirical in nature. All images are the full responsibility of the article author and NOT VT.