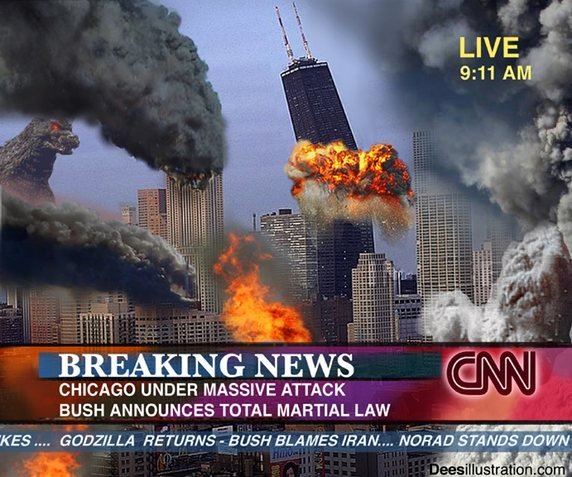 SUNDAY, 6/19/11 — The New American Century, with its radioactive warfare, genocide and unnatural disasters, is killing as many people as the Thousand Year Reich, with which it shares many characteristics.
In both cases law-abiding citizens of the aggressor nations were told that they were facing an insidious Semitic foe who danced in celebration when he terrorized nations and started wars. This is what the Germans said about the Jews in the Thousand Year Reich. It is what the Jews say about the Arabs in the New American Century. It's what the Arabs say about the Jews in Occupied Palestine — adding that the Jews are the new Nazis.
Friday we published the introduction of our 2011 Summer False Flag Forecast, a short explanation of what we are writing and why we are writing it. Within hours Islamic Intelligence came under cyberattack. Our mission is serious, as our enemies have learned, not erroneous, as our friends have been taught by our enemies. It is neither easy nor safe, so we strengthen ourselves with the belief that we please God by fighting devils like the terrorist tyrants and merchants of menace who run the Global War.
Both of us have lived in various levels of the underground, from using noms de guerre to going into hiding. We both know agents and agencies that don't like us and our work. In their bizarre reality, our efforts to alert the internet in order to avert a false flag attack constitute a threat to national security. We're far down the road to being labeled terrorist alarmists, it we're not there already.
The Al Qaeda scarecrow got a new face Thursday, with bin Laden lieutenant Zawahiri reported as its new leader. The media programming of 9/11/2B, the next 9/11, intensified accordingly. Al-Qaeda's new leader could launch 'big' attack on the West:
"Ayman al-Zawahiri, Al-Qaeda's new leader, could launch a 'big' attack on the West as he tries to stamp his authority on the embattled movement, according to counter-terrorism experts: 'He will focus on attacking the West in a big way, to avenge bin Laden's death, but also to make himself even more effective and relevant.'"
This ominous story line has been under development since the Chicago FBI announced in late March that it had received nuclear terror threats. After the reported bin Laden death the nuclear menace was renewed with reports that Al Qaeda was planning a nuclear revenge attack.
In the background many federal agencies and military units are rehearsing weapons of mass destruction attacks, including mass casualties, mass deaths and mass burials. In mid-May it was National Level Exercise 2011 (NLE 11); in early June it was Red Dragon; last week it was Point Defender; and this week it will be Eagle Horizon, in which thousands of emergency officials will react to a simulated U.S. nuclear terror attack.

The U.S. is at high risk of a nuclear false flag attack this summer, and the most likely targets are those which have been set up for attacks in the past. For quick reference, we offer the imperiled public a list of times and places when and where there have been false flag attacks or attempts. Each item is well documented by mainstream and alternative media, and in every case an ad hoc internet coalition mounted a public affairs campaign to counter the threat. Detection is the best protection!
United States False Flag Attacks and Attempts
(in reverse chronological order)

In conclusion, the three most likely U.S. targets this summer are CHICAGO, HOUSTON and PORTLAND, the same three detailed in the prototype of this article, False Flag Prospects, 2008 — Top Three US Target Cities.
Recommended Reading:
Ephesians, Chapter 6, Verse 12

"For we wrestle not against flesh and blood, but against principalities, against powers, against the rulers of the darkness of this world, against spiritual wickedness in high places."
This article is dedicated to my father, Harry H. May, who is hospitalized while recovering from surgery.
Happy Father's Day, Daddio!

ATTENTION READERS
Due to the nature of independent content, VT cannot guarantee content validity.
We ask you to
Read Our Content Policy
so a clear comprehension of VT's independent non-censored media is understood and given its proper place in the world of news, opinion and media.
All content is owned by author exclusively. Expressed opinions are NOT necessarily the views of VT, other authors, affiliates, advertisers, sponsors, partners or technicians. Some content may be satirical in nature. All images within are full responsibility of author and NOT VT.
About VT
-
Read Full Policy Notice
-
Comment Policy