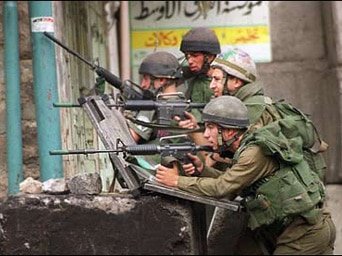 Exactly three years after Operation Cast Lead, Israel is threatening another invasion on Gaza while Hamas leaders order a halt to all attacks on Israel.
This year's week between Christmas and New Years reaped at least three Palestinians killed by Israeli air strikes on Gaza and several rockets fired from Gaza into Israel without reports of damage.
Israeli military chief Benny Gantz said a new offensive would be "Swift and painful. Sooner or later, there will be no escape from conducting a significant operation." [1]
An Israeli army commander in the Gaza Division said, "We are preparing and in fact are ready for another campaign…to renew our deterrence, if we are called on to restore full quiet to the communities [in the south]." [Ibid]
Haaretz reported that the Israeli plan calls for the next Gaza operation to be shorter then Operation Cast Leads three-week onslaught and will employ even greater firepower.
Haaretz also reported that Hamas leader Khaled Meshaal ordered the movement's military wing to cease its operations against Israel and quoted unidentified sources from Fatah who said the instructions were issued as part of the reconciliation talks between the two factions in Cairo. The Cairo meet-up managed to focus the two groups on the people powered popular struggle against the Israeli occupation in the spirit of the pro-democracy demonstrations that spontaneously erupted in the Arab world this past year.
A Little History:
On April 3, 2009 the President of the United Nations Human Rights Council commissioned a fact-finding mission "to investigate all violations of international human rights law and international humanitarian law that might have been committed at any time in the context of the military operations that were conducted in Gaza during the period from 27 December 2008 and 18 January 2009, whether before, during or after."
The Council appointed the Jewish Justice Richard Goldstone, a South African Constitutional Court judge and the former chief prosecutor of the United Nations International Criminal Tribunals for Rwanda and the former Yugoslavia.
Justice Goldstone issued the 575-page report on September 29, 2009 and the Goldstone Report accused both Israel and Hamas of war crimes perpetuated during the 22 days of assault on Gaza which began two days after last Christmas day, when the Israeli military launched Operation Cast Lead; a full-scale attack on Gaza that killed 13 Israelis and 1,400 Palestinians.
Over 5,000 Palestinians were injured, 400,000 were left without running water, 4,000 homes were destroyed, rendering tens of thousands who are still homeless because of Israel's targeted attacks upon them, their schools, hospitals, streets, water wells, sewage system, farms, police stations and UN buildings.
US-supplied weapons enabled the 22 days of Israel's attack on the people of Gaza and we the people of the US who pay taxes provide over $3 billion annually to Israel although Israel has consistently misused U.S. weapons in violation of America's Arms Export Control and Foreign Assistance Acts.
America is the worlds largest arms supplier to Israel and under a Bush negotiated deal with Israel, we the people who pay taxes in America will also provide another $30 billion in military aid to Israel over the next decade.
During the 22 days of Israeli assault on Gaza, "Washington provided F-16 fighter planes, Apache helicopters, tactical missiles, and a wide array of munitions, including white phosphorus and DIME. The weapons required for the Israeli assault was decided upon in June 2008, and the transfer of 1,000 bunker-buster GPS-guided Small Diameter Guided Bomb Units 39 (GBU-39) were approved by Congress in September. The GBU 39 bombs were delivered to Israel in November (prior to any claims of Hamas cease fire violation!) for use in the initial air raids on Gaza." [2]
In a 71-page report released March 25, 2009, by Human Rights Watch, Israel's repeated firing of US-made white phosphorus shells over densely populated areas of Gaza was indiscriminate and is evidence of war crimes.
"Rain of Fire: Israel's Unlawful Use of White Phosphorus in Gaza," provides eye witness accounts of the devastating effects that white phosphorus munitions had on civilians and civilian property in Gaza.
"Human Rights Watch researchers found spent shells, canister liners, and dozens of burnt felt wedges containing white phosphorus on city streets, apartment roofs, residential courtyards, and at a United Nations school in Gaza immediately after hostilities ended in January.
"Militaries officially use white phosphorus to obscure their operations on the ground by creating thick smoke. It has also been used as an incendiary weapon, though such use constitutes a war crime.
"In Gaza, the Israeli military didn't just use white phosphorus in open areas as a screen for its troops," said Fred Abrahams, senior emergencies researcher at Human Rights Watch and co-author of the report. "It fired white phosphorus repeatedly over densely populated areas, even when its troops weren't in the area and safer smoke shells were available. As a result, civilians needlessly suffered and died." [Ibid]
In November 2006, Father Manuel, the parish priest at the Latin Church and school in Gaza warned the world:

"Gaza cannot sleep! The people are suffering unbelievably. They are hungry, thirsty, have no electricity or clean water. They are suffering constant bombardments and sonic booms from low flying aircraft. They need food: bread and water. Children and babies are hungry…people have no money to buy food. The price of food has doubled and tripled due to the situation. We cannot drink water from the ground here as it is salty and not hygienic. People must buy water to drink. They have no income, no opportunities to get food and water from outside and no opportunities to secure money inside of Gaza. They have no hope.

"Without electricity children are afraid. No light at night. No oil or candles…Thirsty children are crying, afraid and desperate…Many children have been violently thrown from their beds at night from the sonic booms. Many arms and legs have been broken. These planes fly low over Gaza and then reach the speed of sound. This shakes the ground and creates shock waves like an earthquake that causes people to be thrown from their bed. I, myself weigh 120 kilos and was almost thrown from my bed due to the shock wave produced by a low flying jet that made a sonic boom.

"Gaza cannot sleep…the cries of hungry children, the sullen faces of broken men and women who are just sitting in their hungry emptiness with no light, no hope, no love. These actions are War Crimes!"
During Operation Cast Lead, the UN Security Council, Amnesty International, International Red Cross and global voices of protest rose up and demanded a ceasefire but both houses of Congress overwhelmingly endorsed resolutions to support a continuation of Israel's so called "self defense."
This Citizen of CONSCIENCE for House of Representatives 2012 is on the Record saying NO to another assault on Gaza and an End to the Occupation of Palestine in 2012!
1. Israeli army plans new invasion of Gaza
Eileen Fleming founded WeAreWideAwake.org. She produced videos "30 Minutes with Vanunu" and "13 Minutes with Vanunu".  She has authored many books including; A USS Liberty Remembrance of 50 years USA Government Cover-Up of Israel's 8 June 1967 Attack on USA Spy-Ship, Wabi Sabi Body ETERNAL SPIRIT, and Heroes, Muses and the Saga of Mordechai Vanunu. Click here to see her latest books. Visit Eileen's YouTube Channel
ATTENTION READERS
Due to the nature of independent content, VT cannot guarantee content validity.
We ask you to
Read Our Content Policy
so a clear comprehension of VT's independent non-censored media is understood and given its proper place in the world of news, opinion and media.
All content is owned by author exclusively. Expressed opinions are NOT necessarily the views of VT, other authors, affiliates, advertisers, sponsors, partners or technicians. Some content may be satirical in nature. All images within are full responsibility of author and NOT VT.
About VT
-
Read Full Policy Notice
-
Comment Policy