Video on the real Odessa massacre by Pravy Sektor
Links below for all photos and video
… and an Odessa eyewitness to the bestial May 2 massacre
[ Editor's Note:  This was very unpleasant work to have to do this morning, but we have always represented the dead here at VT as best we could.

The US and EU have ignored all requests to use their extensive leverage to either have Kiev reign in Right Sector, meaning disarm and disband it as a national security threat.

But the Western powers, having gotten away with using terrorist para-military proxy troops in Syria and other places, has developed a "no fear" policy for their continued use. The underlying problem is the almost blanket diplomatic immunity the politician and government perpetrators have enjoyed.

I have written here a number of times that countries all over the world need to take a new look at diplomatic immunity. One of the carrots driving the close relationship between international crime syndicates and top level political structures is protecting the nasty things they do, crimes against humanity and war crimes charges, by hiding them behind security classifications and then immunity from prosecution.

We at VT have been warning all along that if Right Sector was allowed to operate independently, then it was just a matter of time before a "demonstration massacre" took place, despite the low level of violence so far in East Ukraine.

But one of our concerns has been the Western powers wanted something like this to happen to have the Russians move in so they could then say, "We told you so", and proceed with a major sanctions program. And yes, this is definitely evil enough to do something like that, and a lot more.

Hell on earth comes to Odessa

Most of us know that no Western government gives a hoot about the Ukrainian people. The West is there to exploit them, pure and simple, exactly what we used to accuse the Soviets of doing.

While VT would not be unhappy to see the Russians move in now to provide security and round up the nationalist terrorists in Odessa… the real ones, for now it is time to put the flame thrower on the UN.

It is also time to let the citizens of the US and Europe have one last chance to scare the hell out of their various crooked government entities.

Why? Because if there is not hell to pay, politically and diplomatically by all those involved in the Ukraine escalation, then we are looking at a template that will be used against the rest of us at the time and choosing of our rogue element elites. I guarantee you that will happen… Jim W. Dean ]
_____________________________
VT would like to thank Mr. Engdahl for this excellent example of investigation journalism. As you will read below, corporate media is keeping the two words "Right Sector" out of the coverage, revealing themselves as aiders and abettors.
________________________
The following video is from a woman who is a resident of Odessa and who managed to survive in the center of the horror day of May 2, when more than 40 people perished and hundreds were injured.
The extensive photos and videos taken are increasingly documenting  a savage, deliberately-planned assault by members of the Ukraine Pravy Sektor armed mafia thugs, with connivance of the Ukrainian regional police and Kiev government.
What follows is a summary from a Ukrainian speaking friend who just wrote me, "In this video is a woman from Odessa who survived the horror day of May 2. She is an important eye-witness and tells what she saw and what she heard. Here is a brief summary of her comments in the YouTube video:
 ________________________________
–The "pro-Russian" activists had no weapons, only sticks or bats.

— The molotov cocktails came from outside the building.
–The (pro-Kiev or anti-Russian) radicals (later identified as mainly Pravy Sektor-w.e.) stormed the Trade Union house, and in a short time managed to break in.

— The woman in the video said she, along with three other women, and around twelve men, also with two dead men who were already dead (suffocated from the fire of the Molotov cocktails and the smoke), were in another room. The men had brought the two dead men to the women for first aid but it was too late… They then managed to blockade the entry to their room with cabinets and boxes and managed to hold the door for about 15 minutes.
–In this time all 16 barricaded people heard shots in the hallway.

–Then someone banged on the door and pleaded they let them get out of the hall. They said they were also pro-autonomy (i.e. anti-Kiev) activists.
–After a brief reflection and discussion, the men inside the room wanted to move the cabinets blocking the door, leaving only a small crack of the door open, to see what the situation was. Then the young thugs (they had lied) began immediately to shoot through the tiny door opening into the room where the 16 were.

–The woman (in the video) looked one of the thugs in the eye. He wore a black mask and, laughing, shot her with his pistol, but thank God, missing, and then shouted to his buddies, "I killed a Koloradin!", slang for those seeking federal autonomy for the regional province.
-Then the thugs threw maybe 4 aerosol ballons with some sort of gas, into our room and 2-3 minutes later after the gas affected our men, they managed to break open the door and enter our room.

–And then immediately they shot all the men; and those who still were alive, they beat to death with hard bats. This with their words, "Let's save the bullets and kill them so…" These beasts also beat the two dead men, despite the fact the women cried out that they were already dead…

–Then the thugs discussed that they wanted to bring the dead into the cellar.
-The four women begged them for mercy… and this woman (in the video-w.e.) told them that she had a small child and so…

– The four women were taken into the hallway and there was a real Hell. Many dead bodies lay everywhere, even on the stairway. Many of the terrorist thugs with dirty jokes, dragged the dead together, to be thrown into the cellar.

– Then the thugs grabbed one of the four women and shoved her somewhere. The witness (in the video) only heard her screams… then no more from the woman.
– The woman (in the video) was then interrogated for about fifteen minutes. The terrorist thugs demanded that she tell them the truth that she was a Russian. But she had a Ukrainian passport with her residence listed in Odessa.

– In the midst of all the chaos, she managed to flee the house where, by then, firemen and police stood. The firemen came after 1-hour 20-minutes, even though a fire station was directly across the street from the trade union house. They claimed they had been blocked from acting by the terrorist thugs.
All Ukrainian politicians in Kiev had praise for the massacre of the innocent civilians. And the terrorist thugs got bonus money.
In the basement of the house afterwards, many more dead bodies were found. Many others simply vanished.
Those who had been taken to hospitals soon fled from their beds because the Ukraine SBU security police were siezing all personal data from them, in order later to get further revenge."
_________________________________

The video in Ukrainian:
http://www.youtube.com/watch?v=ovX9tVTq6KI
And here is a second video from another source in English with a similar reportage:
http://ersieesist.livejournal.com/813.html
As of latest reports from journalists, the woman in the Odessa video has since been threatened and is urgently seeking to get asylum outside Ukraine.

Only the start…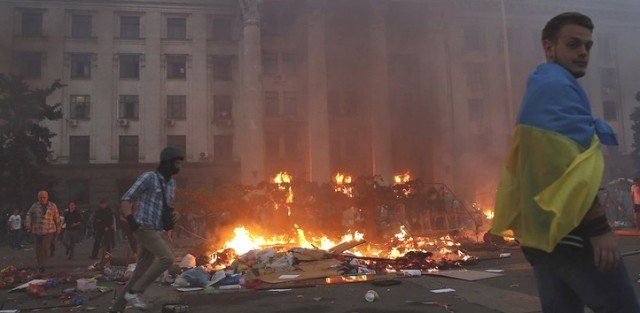 With full backing from Washington at the moment, the Pravy Sektor apparently feels it has carte blanche to wage their terror and criminal beastiality.
The latest Tweet reports from RT eyewitness peace-correspondent, Irina Galushko, who reports from Odessa, say that Ivan Katerinchuk — the name of the new regional police chief whom some say was instrumental in Friday's clashes — told the Pravy Sektor (Right Sector) terrorist thugs in Odessa afterwards that he had also been on the Maidan Square (Where Right Sector controlled the protest sites with extreme violence-w.e.), and that he "hopes the Right Sector will be helpful and diligent (sic)."
He opened his initial speech to the public with a traditional Pravy Sektor chant, "glory to heroes." The crowd answers with traditional "death to enemies."[1] On being named the new regional Police head, Katerinchuk immediately declared that "separatism is illegal, unlawful, so is its propaganda," to the cheers of thugs from Right Sector.[2]
Eyewitness reports further say that thousands of such Right Sector thugs and other neo-nazis are streaming into eastern Ukraine and Odessa regions. On April 24, eight days before the Odessa massacre by alleged Right Sector thugs, Dmitry Yarosh, the head of the Right Sector band, and their presidential candidate (sic and sick), announced that the group has moved its headquarters from Kiev to eastern Ukraine.
"I moved my headquarters to Dnepropetrovsk. The purpose is to prevent the spread of the Kremlin infection," Dmitry Yarosh announced at a press conference in Dnepropetrovsk.
He also acknowledged creation of a new paramilitary brigade of some 800 trained terrorist paramilitary thugs in the east, a special squad of fighters called "Donbass."

Yarosh added that "We coordinate all of our actions with the leadership of the National Security and Defense Council of Ukraine, the Ministry of Internal Affairs and Security service of Ukraine."[i] The coup-installed head of the National Security and Defense Council is Andriy Parubiy, a co-founder of the neo-nazi Social-National Party of Ukraine together with Oleh Tyahnybok, the virulently anti-semitic head of Svoboda party.
It is strongly suspected by knowledgeable sources that Donbass fighters include the deadly, "dirty war" NATO-trained Ukrainian National Assembly- Ukrainian People's Self-Defense which has been engaged on behalf of NATO as a sort of Gladio-B since the dissolution of the Soviet Union, killing Russian soldiers and civilians in Chechnya and Georgia and now in their home turf, Ukraine. Local media reports that the Donbass unit will comprise some 800 thugs of the type that massacred innocent civilians in Odessa on May 2.
The stage is being set for a full-scale civil war in eastern Ukraine between some ten million Russian-speaking citizens and the rest of the country. The mainstream western media to date is stone silent on the role of the Pravy  Sektor criminals in the events.
God forbid if this insanity is allowed to spread further, as it will likely at some point draw Putin in and then Victoria Nuland, Susan Rice, Samantha Power and CIA head John Brennan might have their world war slaughter they devoutly crave.
Endnote:
---
[i] RT, Ukraine's far right leader moves HQ to the east, forms new squadron, RT.com, April 24, 2014,
---
[1]
Irina Galushko, Tweets accessed in https://twitter.com/IrinaGalushkoRT
Frederick William Engdahl (born August 9, 1944) is an American writer based in Germany. He is an economic researcher, historian, and freelance journalist.
He is the author of the best-selling book on oil and geopolitics, A Century of War: Anglo-American Oil Politics and the New World Order. It has been published as well in French, German, Chinese, Russian, Czech, Korean, Turkish, Croatian, Slovenian, and Arabic. In 2010 he published Gods of Money: Wall Street and the Death of the American Century, completing his trilogy on the power of oil, food, and money control.
Mr. Engdahl is one of the more widely discussed analysts of current political and economic developments, and his provocative articles and analyses have appeared in numerous newspapers and magazines and well-known international websites. In addition to discussing oil geopolitics and energy issues, he has written on issues of agriculture, GATT, WTO, IMF, energy, politics, and economics for more than 30 years, beginning the first oil shock and world grain crisis in the early 1970s. His book, 'Seeds of Destruction: The Hidden Agenda of Genetic Manipulation has been translated into eight languages. A new book, Full Spectrum Dominance: Totalitarian Democracy in the New World Order describes the American military power projection in terms of geopolitical strategy. He won a 'Project Censored Award' for Top Censored Stories for 2007-08.
Mr. Engdahl has lectured in economics at the Rhein-Main University in Germany and is a Visiting Professor in Economics at Beijing University of Chemical Technology.
After a degree in politics from Princeton University (USA), and graduate study in comparative economics at the University of Stockholm, he worked as an independent economist and research journalist in New York and later in Europe, covering subjects including the politics of energy policy in the USA and worldwide; GATT Uruguay Round trade talks, EU food policies, the grain trade monopoly, IMF policy, Third World debt issues, hedge funds, and the Asia crisis.
Engdahl contributes regularly to a number of international publications on economics and political affairs including Asia Times, FinancialSense.com, 321.gold.com, The Real News, Russia Today TV, Asia Inc., GlobalResearch.com, Japan's Nihon Keizai Shimbun, Foresight magazine. He has been a frequent contributor to the New York Grant'sInvestor.com, European Banker and Business Banker International and Freitag and ZeitFragen in Germany, Globus in Croatia. He has been interviewed on various geopolitical topics on numerous international TV and radio programs including Al Jazeera, CCTV and Sina.com (China), CCTV (China) Korea Broadcasting System (KBS), and RT Russian TV. He is a Research Associate of Michel Chossudovsky's well-respected Centre for Research on Globalization in Montreal, Canada, and a member of the editorial board of Eurasia magazine.
Mr. Engdahl has been a featured speaker at numerous international conferences on geopolitical, GMO, economic, and energy subjects. Among them is the Ministry of Science and Technology Conference on Alternative Energy, Beijing; London Centre for Energy Policy Studies of Hon. Sheikh Zaki Yamani; Turkish-Eurasian Business Council of Istanbul, Global Investors' Forum (GIF) Montreaux Switzerland; Bank Negara Indonesia; the Russian Institute of Strategic Studies; the Chinese Ministry of Science and Technology (MOST), Croatian Chamber of Commerce and Economics.
He currently lives in Germany and, in addition to teaching and writing regularly on issues of international political economy and geopolitics, food security, economics, energy, and international affairs, is active as a consulting political risk economist for major European banks and private investors.  A sample of his writings is available at Oil Geopolitics.net
ATTENTION READERS
We See The World From All Sides and Want YOU To Be Fully Informed
In fact, intentional disinformation is a disgraceful scourge in media today. So to assuage any possible errant incorrect information posted herein, we strongly encourage you to seek corroboration from other non-VT sources before forming educated opinion. In addition, to get a clear comprehension of VT's independent non-censored media, please read our
Policies and Disclosures
.
Due to the nature of uncensored content posted by VT's fully independent international writers, VT cannot guarantee absolute validity. All content is owned by the author exclusively. Expressed opinions are NOT necessarily the views of VT, other authors, affiliates, advertisers, sponsors, partners, or technicians. Some content may be satirical in nature. All images are the full responsibility of the article author and NOT VT.
About VT
-
Comment Policy