.
C-SPAN interviews Architect Richard Gage, Founder of  Architects and Engineers for 9/11 Truth.

.
On Aug 1, 2014, Richard Gage, AIA and founder of AE911Truth.org was invited to bring evidence for the explosive demolition of the Twin Towers and Building 7 to C-SPAN's Washington Journal segment, hosted by Peter Slen.
Gage's excellent 45-minute appearance essentially blew the whistle on the continued government coverup of the 9/11 false flag to a huge sophisticated audience of mainstream viewers.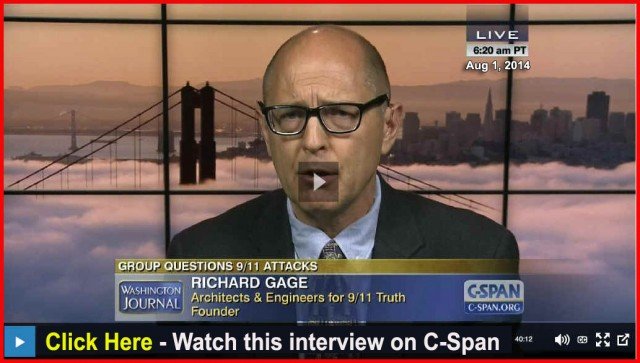 Interview also available on Youtube
Gage explained that the 2,200 architects and engineers, petitioning for a valid investigation, are focused on the science of the event rather than pointing fingers. He encouraged viewers to visit the AE911Truth.org website and watch the landmark 2008 evidentiary video "Blueprint For Truth" that follows the scientific method with conclusive evidence beyond a reasonable doubt, for controlled demolition of the Twin Towers and WTC, Bldg. 7.
In 2008, a "Blueprint For Truth" DVD was forwarded to the FBI suggesting the evidence in Gage's analysis is grounds for a new investigation. The FBI's division of counterterrorism responded in writing that the evidence presented in the DVD is "…backed by thorough research and analysis." (PDF)
BLUEPRINT FOR TRUTH – Architecture of Destruction
[youtube OQgVCj7q49o]
The more recent documentary – 9/11: Explosive Evidence – Experts Speak Out – includes testimony from architects, engineers and building professionals who ask questions that further highlight the government coverup of the events of 9/11.
Richard Gage pleaded to the audience:

"Every one of our C-SPAN viewers today should be calling their Congressmen and Senators and finding out why they're not investigating the worst act of mass murder in U.S. history and the third-worst structural failure in modern history," … "This is an extraordinary and unacceptable situation.".
Host Peter Slen admitted he had  been placed under pressure to interview Gage by an extraordinary number of phone calls demanding the issue of 9/11 be covered by C-Span in their obligation to provide a public forum.
Gage took the opportunity to explain how the National Institute of Standards and Technology (NIST) had failed to address the many instances of forensic evidence that AE911Truth's building and technical experts have published.
Most impressive were the callers who overwhelmingly supported Richard Gage, the engineers with courage to petition for a new investigation and C-Span, for finally bringing this important issue of national security to mainstream public awareness.
Gage's appearance on C-Span, in addition to the upcoming High-Rise Safety Initiative in NYC to challenge the controlled demolition of building 7,  are significant events that show the value of organized persistence.
Gage made it clear to supporters that he is,
"…quite encouraged to finally be treated in a fair and balanced manner in a mainstream media TV interview.  I also appreciate Washington Journal's commitment to providing a forum for all voices concerning the important issues that affect our country. When it comes to the controlled demolition evidence, the question is;  how soon before other networks learn from C-SPAN's example?"
Experts Speak Out

[youtube Ddz2mw2vaEg]
The Disinfo Squads: Attempts to divide and conquer Richard Gage's AE911Tuth group have been numerous.
Scientist, Judy Wood presented honest alternate theories of how the twin Towers were destroyed.  Although she never contended that there were no acts of murder or high treason, some of her followers saw an opportunity to attack Richard Gage using Judy Wood's assertions.

One of the issues attempts to "debunk" the finding that thermite, nano-thermite or super-thermite was used –  in addition to more conventional explosives – in the destruction of the Twin Towers and WTC-7.
This issue is basically addressed in "Thermite Hypothesis" versus "Controlled Demolition Hypothesis", a work that thoroughly addresses the use of thermitics and exposes how the confusion was developed as a deliberate  attempt to subvert sound scientific methodology developed by researchers at AE911Truth.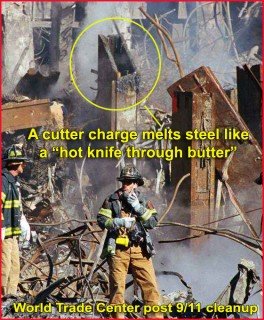 Analysis by Pilots for 9/11 Truth

9/11 Intercepted
[youtube vUdJ41J_L8o]
Journalist Chris Brollyn on Organized Disinformation Trolls
[youtube eP7NqKv7Ik0#t=33]
Harold Saive is a Vietnam era Veteran (USAF) His civilian career spans 30 years as hospital administrator, electronics specialist, musician, Amateur radio operator and private pilot.
Activist interests include: (1) Prosecution of perpetrators in the deliberate demolition of the Twin Towers and Building 7 on 9/11/2001. (2) Expose media and government agency disinfo to bring an end to climate manipulation via covert aerosol dumps, that poison the breathable atmosphere with neuro-toxins and heavy metals and infect the human body and natural ecosystems with bio-engineered pathogens. (3) End the Federal Reserve, an unconstitutional private central banking system.
ATTENTION READERS
Due to the nature of independent content, VT cannot guarantee content validity.
We ask you to
Read Our Content Policy
so a clear comprehension of VT's independent non-censored media is understood and given its proper place in the world of news, opinion and media.
All content is owned by author exclusively. Expressed opinions are NOT necessarily the views of VT, other authors, affiliates, advertisers, sponsors, partners or technicians. Some content may be satirical in nature. All images within are full responsibility of author and NOT VT.
About VT
-
Read Full Policy Notice
-
Comment Policy