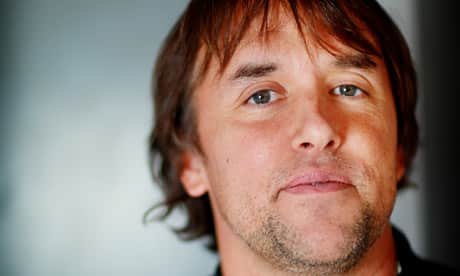 Who is the best working director in America today?
If you ask the usual Hollywood suspects, they'll give you a top-ten list featuring the usual Hollywood schlockmeisters. Sure, some are good at what they do. A few have occasionally produced breakthrough works of cinematic art. But even the "best filmmakers in Hollywood"  tend to keep their heads firmly ensconced in Hollywood – that "plastic asshole of the universe" in the immoral words of William Faulkner.
As far as I can tell, there are only two genuinely great American directors: David Lynch and Richard Linklater – and both are 9/11 truthers. Their greatness is in direct proportion to their willingness to tell Hollywood to stick its Oscars where the sun don't shine. By supporting 9/11 truth, Linklater and Lynch are pointedly refusing Hollywood's illusion du reel – its orchestrated obliteration of the audience's ability to discern the difference between cheesy mythic fantasy and actual reality, in politics and social life as well as in the movies.
So I wasn't really surprised when Linklater, a major force for 9/11 truth in Hollywood, was denied an Oscar for Boyhood, a movie that kicks the Hollywood style up and down Hollywood Boulevard and then punts it all the way to Texas, burns it to the ground, and reconstitutes filmmaking from the ground up as something far more beautiful and infinitely more real than anything ever dreamed of by the Plastic Assholians.
Instead, the Best Picture Oscar went to another anti-Hollywood opus, Alejandro Iñárritu's Birdman. Far be it from me to seriously badmouth Birdman, especially since I haven't seen it yet. But from what I hear, it's another of those anti-Hollywood black comedies, like the Coen brothers' Barton Fink. It's said to be a technical tour de force, looking like it was all filmed in one shot, like Hitchcock's Rope. But unless I miss my guess, it probably doesn't have a whole lot of humanity, humaneness, or heart.
By refusing to hand the Best Picture Oscar to American Sniper, a typically Hollywoodian bit of satanic genocide propaganda, and instead giving it to the "artsy, anti-Hollywood" Birdman, Hollywood's Elders of Zion pointedly avoided acknowledging the genius of 9/11 truther Richard Linklater, whose even more "artsy, anti-Hollywood" films engage heart, soul and mind.
Hollywood PR flacks sold Linklater's Boyhood by emphasizing its unique artifice: Filmed over a dozen years or so, it shows the actors (and the characters they play) aging before our eyes. But unlike Hitchcock's artifice in Rope (and, I'll bet, Iñárritu's in Birdman), Linklater's helps reveal the souls, and thereby the beauty, of ordinary human beings living very ordinary lives.
The Hollywood Elders don't give a damn about ordinary Americans or their ordinary lives, and they wouldn't recognize the human soul if it snuck up and bit them on the ass. They're too busy snorting cocaine in their hot-tubs and dreaming up soul-killing propaganda movies like American Sniper and Zero Dark Thirty and Argo and 9/11: Zelikow's Scripted and Storyboarded Snuff Film.
So it was actually something of a miracle that Linklater's Boyhood even managed an Oscar nomination. Somebody must have screwed up.

As Linklater himself has said, it was even a miracle that his movie ever got made. "Pro-9/11 truth anti-Hollywood director wants funding for a project that will take twelve years to film?!"  Normally that would be a non-starter.
So hats off to Richard Linklater and the crew that made Boyhood – a film that's helping keep a tiny spark of decency and humanity alive in the vast wasteland of what passes for America.
Dr. Kevin Barrett, a Ph.D. Arabist-Islamologist is one of America's best-known critics of the War on Terror.
He is the host of TRUTH JIHAD RADIO; a hard driving weekly radio show funded by listener donations at Patreon.com and FALSE FLAG WEEKLY NEWS (FFWN); an audio-video show produced by Tony Hall, Allan Reese, and Kevin himself. FFWN is funded through FundRazr.
He also has appeared many times on Fox, CNN, PBS, and other broadcast outlets, and has inspired feature stories and op-eds in the New York Times, the Christian Science Monitor, the Chicago Tribune, and other leading publications.
Dr. Barrett has taught at colleges and universities in San Francisco, Paris, and Wisconsin; where he ran for Congress in 2008. He currently works as a nonprofit organizer, author, and talk radio host.
ATTENTION READERS
Due to the nature of independent content, VT cannot guarantee content validity.
We ask you to
Read Our Content Policy
so a clear comprehension of VT's independent non-censored media is understood and given its proper place in the world of news, opinion and media.
All content is owned by author exclusively. Expressed opinions are NOT necessarily the views of VT, other authors, affiliates, advertisers, sponsors, partners or technicians. Some content may be satirical in nature. All images within are full responsibility of author and NOT VT.
About VT
-
Read Full Policy Notice
-
Comment Policy