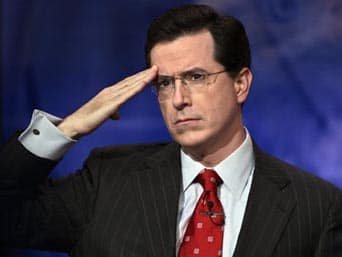 Amnesty International is celebrating fifty years in support of free speech at a comedy show on March 4th in my homeland-New York City with the import of The Secret Policeman's Ball; a British-based music and comedy festival with roots in four Amnesty benefit shows produced beginning in 1976.
Among the acts that have signed on for the happening at Radio City Music Hall for the concert to benefit Amnesty International are Stephen Colbert.
Recently on The Colbert Report, Stephen balled out when it came to nailing where Nuclear Weapons are in the Middle East, as was aced here by Israel's Nuclear Whistle Blower Vanunu Mordechai:
That Colbert Report can he seen here: www.colbertnation.com
During his interview with Robert Kagan, Colbert told the neo-con "to grow a pair" regarding going after Iran's nuclear program yet when he asked, "Where are there nuclear weapons in the Middle East?"
And Kagan replied "Israel" Stephen hushed him up in Hebrew and that got my Irish up as I know a copy of BEYOND NUCLEAR: Mordechai Vanunu's FREEDOM of SPEECH Trial and My Life as a Muckraker: 2005-2010 made it through the door of The Colbert Report last summer and that story can be read here:
Two degrees of Kevin Bacon and Message through The Door of the Colbert Report

On 18 June 2010, Malcolm Smart, Director of Amnesty International's Middle East Programme issued this statement:
"Mordechai Vanunu should not be in prison at all, let alone be held in solitary confinement in a unit intended for violent criminals. He suffered immensely when he was held in solitary confinement for 11 years after his imprisonment in 1986 and to return him to such conditions now is nothing less than cruel, inhuman or degrading. Mordechai Vanunu is a prisoner of conscience. The prison authorities might claim that he has been put in isolation to protect him from the risk of attack by other inmates, but if the Israeli government is really concerned for his safety it should release him without delay. His re-imprisonment is both harsh and unjustified. The restrictions on Mordechai Vanunu arbitrarily limit his rights to freedom of movement, expression and association and are therefore in breach of international law. They should be lifted and he should be allowed to start his life again as a free man."
Vanunu addresses Israel's intentions by torturing via solitary confinement in this excerpt from "30 Minutes with Vanunu" taped just weeks after his freedom of speech trial began in 2006, here:
Juan E. Méndez was appointed by the UN Human Rights Council as the Special Rapporteur on torture and other cruel, inhuman or degrading treatment or punishment on 1 November 2010. He is currently a Professor of Law at the American University – Washington College of Law and Co-Chair of the Human Rights Institute of the International Bar Association.
On 18 October 2011, the expert on torture called on all countries to ban solitary confinement of prisoners except in very exceptional circumstances and limited time, with an absolute prohibition in the case of juveniles and people with mental disabilities.
Méndez told the UN General Assembly's third committee, which deals with social, humanitarian and cultural affairs that punishment by solitary confinement amounts to torture:
"Segregation, isolation, separation, cellular, lockdown, Supermax, the hole, Secure Housing Unit… whatever the name, solitary confinement should be banned by States as a punishment or extortion technique.

"Social isolation is one of the harmful elements of solitary confinement and its main objective. It reduces meaningful social contact to an absolute minimum. A significant number of individuals will experience serious health problems regardless of the specific conditions of time, place, and pre-existing personal factors".

"Indefinite and prolonged solitary confinement, in excess of fifteen days, should also be subject to an absolute prohibition," the expert said noting that scientific studies have established that some lasting mental damage is caused after a few days of social isolation.

"Considering the severe mental pain or suffering solitary confinement may cause it can amount to torture or cruel, inhuman or degrading treatment or punishment when used as a punishment, during pretrial detention, indefinitely or for a prolonged period, for persons with mental disabilities or juveniles.

"Solitary confinement should be used only in very exceptional circumstances, for as short a time as possible. In the exceptional circumstances in which its use is legitimate, procedural safeguards must be followed. I urge States to apply a set of guiding principles when using solitary confinement.

"States should also follow internal and external safeguards in order to provide the greatest possible protection of the rights of detained individuals when solitary confinement is used." [1]
Vanunu delivers his freedom of speech manifesto just prior to being tortured by way of solitary confinement for 78 days in 2010, essentially because he spoke to foreign media in 2004:
[youtube http://www.youtube.com/watch?v=CTsimUZDtNM&feature=channel_video_title Vanunu's Freedom of Speech Manifesto]
Vanunu explained The Media fails to report on the denial of his human rights because "None of them wants problems with the Israelis." Read more…
For more about The Secret Policeman's Ball click the icon below:
For the story of Vanunu's FREEDOM OF SPEECH Trial and Israel's Administrative torture and lawless captivity of Vanunu that has been enabled by US collusion in Israel's policy of nuclear ambiguity/deceptions learn lots in my third book and only fundraising vehicle in my run for US HOUSE of Representatives:
I am eileen fleming and I approve of this message.
Eileen Fleming founded WeAreWideAwake.org. She produced videos "30 Minutes with Vanunu" and "13 Minutes with Vanunu".  She has authored many books including; A USS Liberty Remembrance of 50 years USA Government Cover-Up of Israel's 8 June 1967 Attack on USA Spy-Ship, Wabi Sabi Body ETERNAL SPIRIT, and Heroes, Muses and the Saga of Mordechai Vanunu. Click here to see her latest books. Visit Eileen's YouTube Channel
ATTENTION READERS
Due to the nature of independent content, VT cannot guarantee content validity.
We ask you to
Read Our Content Policy
so a clear comprehension of VT's independent non-censored media is understood and given its proper place in the world of news, opinion and media.
All content is owned by author exclusively. Expressed opinions are NOT necessarily the views of VT, other authors, affiliates, advertisers, sponsors, partners or technicians. Some content may be satirical in nature. All images within are full responsibility of author and NOT VT.
About VT
-
Read Full Policy Notice
-
Comment Policy